"The well dressed man is he whose clothes you never notice," wrote novelist W. Somerset Maugham (1874-1965). It's a snippet which often pops up on lists of "Style Quotes to Live By", yet feels somewhat outdated in today's interconnected world – where the definition of what constitutes "menswear" is fluid and no longer set in stone. Now, at a moment of unprecedented creativity in fashion and reflection on gender, London's Victoria and Albert Museum brings its history into focus. Notably, the show pushes beyond binary definitions of gender, highlighting how designers through the ages have fed into changing ideas of masculinity – and how practitioners today are reinventing them further. Drawing from the V&A's own collection and loans from other institutions, Fashioning Masculinities reveals how global tailors and artists – and their clients and sitters – have "constructed and performed masculinity, unpicking it at the seams."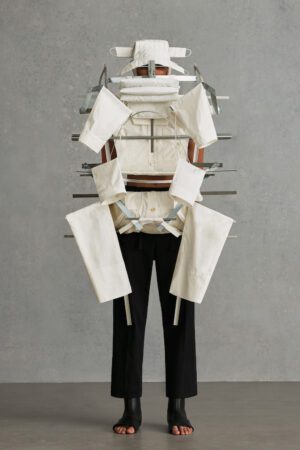 Instead of following a chronological narrative, co-curators Claire Wilcox and Rosalind McKever tease out links between past and present in a "journey across time and gender." Fashioning Masculinities shows how classical sculpture inspired Jean-Paul Gaultier, for example. Elsewhere, the show features photographer Omar Victor Diop. In Jean-Baptiste Belley (2014), the artist poses in the 18th century Haitian politician's military finery whilst cradling a football – a modern take on a portrait by Girodet. Looking back to 18th century Europe, men's apparel was made of luxurious patterned textiles, with large cuffs, gilded stitching, laced shirts, britches and silk stockings. These were worn by wealthier individuals; one such figure was Charles Coote, first Earl of Bellamont, who is shown in a painting by Joshua Reynolds.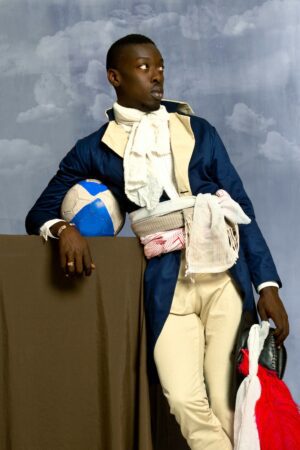 Arguably, no item of clothing is so synonymous with menswear as the suit. Indeed, it's a suit that opens the exhibition: a postmodernist 'deconstructed' version by Craig Green. In the photograph, shot by Amy Gwatkin, the model's face is mostly hidden, although their toes are on show. Sections of white material hang around the torso like sails on a ship. Throughout the 100 looks and 100 artworks on display in the three stages of the show – titled Undressed, Overdressed, and Redressed – the story of men's fashion and bodily aesthetics appears as a continual tug of war between convention and subversion. Cultural figures and moments – from Marlene Dietrich's suits to Bimini Bon Boulash's gowns – show that gendered norms in attire and beauty are not fixed, but as fluid as we choose to make them.
---
Fashioning Masculinities: the Art of Menswear runs until 6 November at the V&A, London
Words: Rachel Segal Hamilton
---
Image Credits:
1. Orange Culture, Autumn Winter 2020 Flower Boy two-piece set, photographed by Mikey Oshai, image courtesy of Adebayo Oke-Lawal © Orange Culture
2.  CRAIG GREEN SS21, photography by Amy Gwatkin
3. Omar Victor Diop, Jean-Baptiste Belley, 2014. Courtesy MAGNIN-A Gallery, Paris. © Omar Victor Diop