"Without community, there is no liberation … but community must not mean a shedding of our differences." – Audre Lorde (1934-1992). The winners of the 2019 Aesthetica Art Prize (AAP) – Jenn Nkiru and Maryam Tafakory – are trailblazing women practitioners upholding Lorde's values, creating a space for a more inclusive society. Their poignant films are making waves in the industry, each filled with a powerful sense of self that communicates beyond the screen.
British-Nigerian director Jenn Nkiru (b. 1987) has been awarded the Main Aesthetica Art Prize, receiving £5000 courtesy of Aesthetica Magazine. Selected by a jury of organisations such as BALTIC, Frieze Magazine and Open Eye Gallery, she joins previous winners Rachel Ara, John Keane and Sybille Neumeyer. Nkiru's winning work, Rebirth Is Necessary, explores the magic and dynamism of Blackness through past, present and future. Shot on vibrant 35mm, it pieces together a wealth of archival footage from across history – including clips of Afrofuturism pioneer Sun Ra, musician Alice Coltrane and the Black Panther Party. "[These figures] take an expansive approach to Blackness," the artist explains for Protein Journal. "I really want people to understand their power and the potency of it." The result is a wide-reaching and continually shifting exploration of culture. "This film is jazz," Nkiru says. "It's black magic in motion. I hope it can be a source of inspiration, affirmation and healing to others as it has been to me, especially the black diaspora."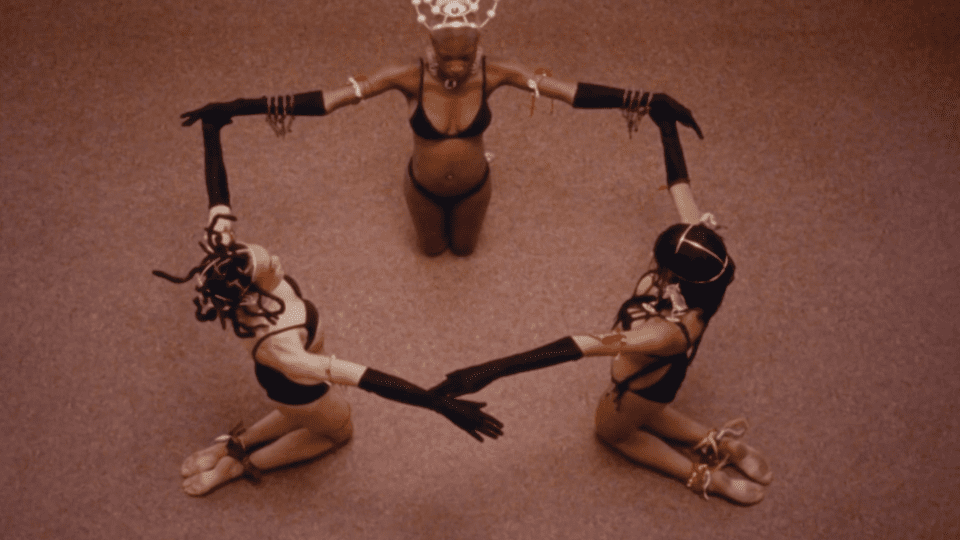 Viewing the piece is an immersive and eye-opening experience. Quotes are repeated, clips are played in reverse. A sense of movement permeates the piece – collected footage depicts performers, families and communities. Figures dance against varying landscapes. Crisp fashion images and dance videos are shown alongside historic footage of interviews, concerts and rituals. Each vignette is punctuated with impactful words and music from figures such as novelist James Baldwin and civil rights activist Audre Lorde.
Sound is key to Nkiru's approach, referencing jazz, hip-hop and blues. She notes: "Music is where, as Black people, we have actualised ourselves and it is the best collective material marker we have of our potential. I play with this in Rebirth Is Necessary. I'm sampling, I'm digging." This process – which is also applied to circling, chopped up visuals – results in a non-linear and revelatory timeline. The boundaries are blurred between time and space. This highlights what Nkiru refers to as an infinite "spectrum of Blackness." When viewed together, the many scenes ask questions about representation – filling in gaps and encouraging wider discussion. "The film has started an incredible dialogue," she comments.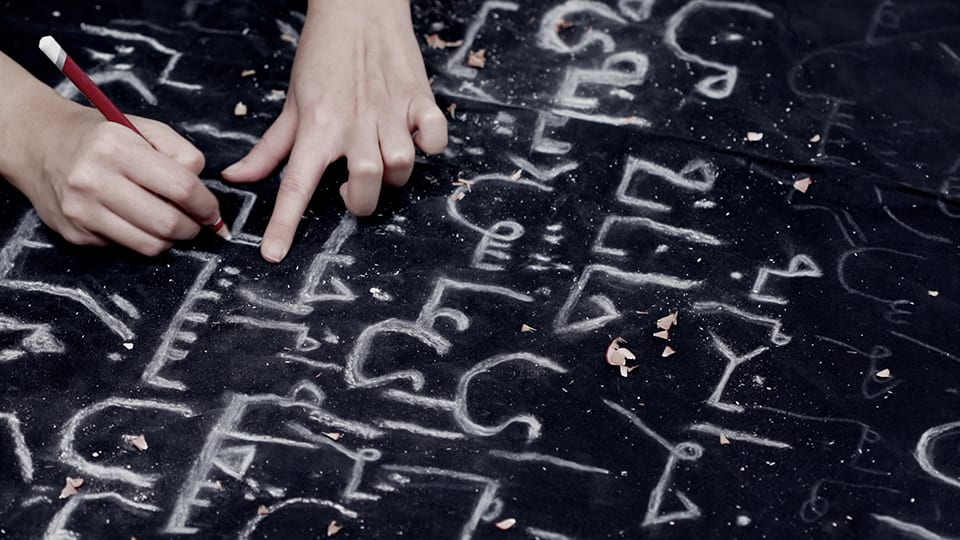 In a similar way, Maryam Tafakory (b. 1987), the winner of the AAP Emerging Prize, investigates identity politics with I Have Sinned A Rapturous Sin. Fragments of Iranian poet Forough Farokhzad's (1935-1967) Sin are read out against Islamic clergies advising women on how to control their lust. Recognised as an advocate for liberation, Farokhzad wrote with sensuality and a political consciousness that pushed boundaries in the 1950s and 1960s. Tafakory continues this conversation, bringing the poem to life through film. "A sense of self unfolds in a shifting series of gestures and bodies," she describes. "I offer a collage of visual and textural materials that, at times, contradict each other. The spoken and written elements are in perpetual conflict, undoing and rewriting one another."
I Have Sinned A Rapturous Sin builds stepping narratives, drawing on the notion of "personal as political." Part performance, it navigates womanhood and rites of passage, interweaving poetry, self-censorship" and religion. "Having lived within and outside an Islamic identity, I am interested in the contradictory images of women and how they are portrayed through religion," she says. As in Nkiru's practice, there is a mix of archive footage, lyricism and rhythm, opening pathways of the human condition.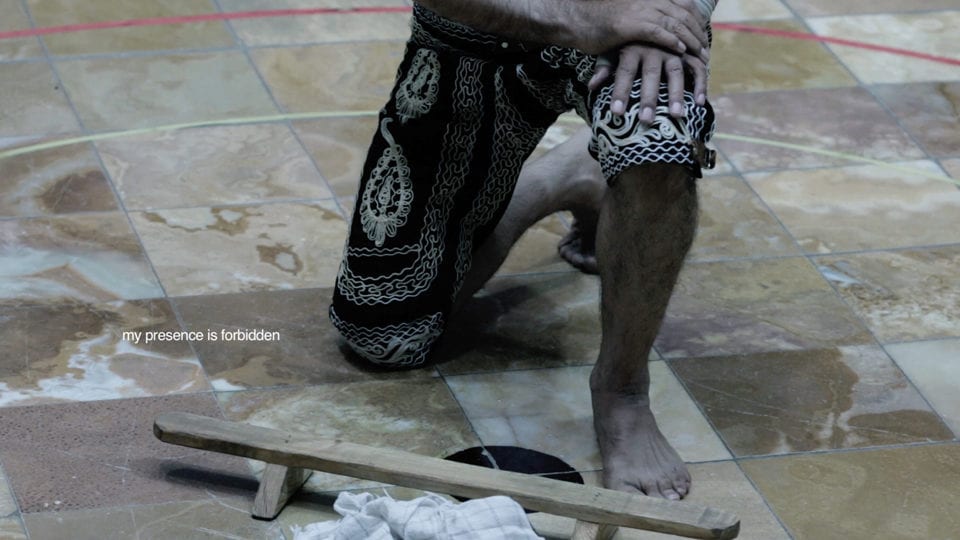 Tafakory has made several pieces that explore selfhood and community, including Absent Wound which won the AAP Emerging Prize, 2017. The work considers the rituals of Persian warrior training alongside a young girl who is coming to terms with her impending womanhood. The physical strength of wrestling is brought into proximity with the advent of a menstrual cycle. By juxtaposing these stories, Tafakory disrupts gender stereotypes, whilst playing with modes of communication on-screen.
Representation is a key issue being considered by all. In the film industry, releases including Jordan Peele's latest, Us, harness popular genres to tap into wider social issues. The film foregrounds a black family who come face to face with unsettling versions of themselves. On its opening weekend it made $70 million – the most ever for an original horror; twice as much as projected by Hollywood. In a genre where 67% of releases (BFI, 2016) feature no black actors in a leading character role, the popularity for Us (and indeed, Peele's first feature Get Out) demonstrates a demand for new voices. "There has been a lack of imagination in Hollywood, which sets us up to bring in really new, creative ways of storytelling," Peele says. "The truth is, we haven't invested in diversity. We haven't invested in artists. So there's a lack of courage, and I think. When you take leaps and you bring courage and confidence to projects, it works." (Variety, 2018)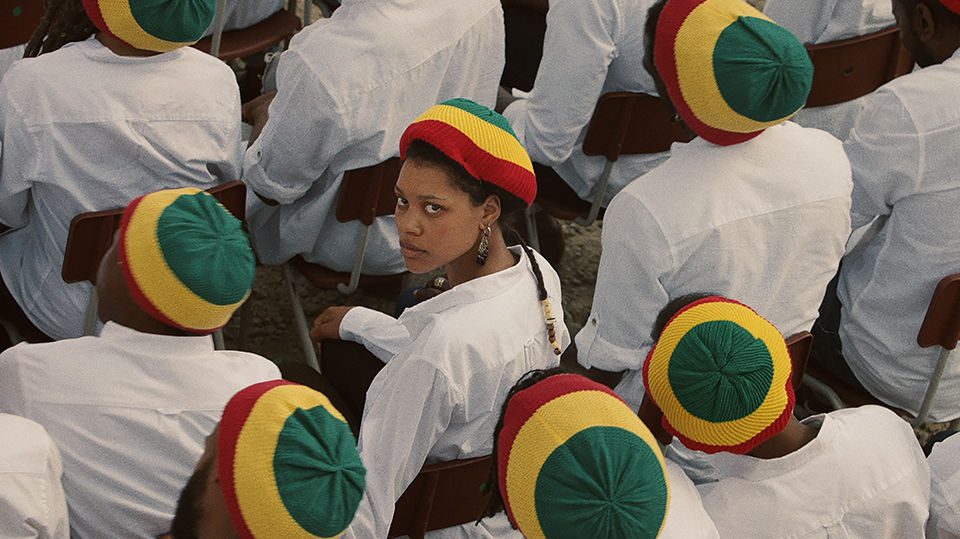 This is also true of the art world. Indeed, current exhibitions such as Get Up, Stand Up Now at Somerset House – which features Nkiru's visuals for Neneh Cherry's protest song Kong – are looking at generations of black creative pioneers. The institution highlights 100 interdisciplinary artists from the post-war era to the present day, demonstrating how each has broken new ground. Curator Zak Ové explains: "This exhibition is cross-disciplinary and cross-generational, something which has never really been seen before on such a scale. I hope the show will demonstrate how we can reflect upon the past to reshape the future."
These types of exhibitions and releases are essential, especially in regard to female talent. In 2016, Directors UK commissioned a report on gender inequality in the industry. It revealed that women are making up just 14 per cent of directors. Nkiru and Tafakory are redressing the balance, producing influential content which sheds light on women on and off-screen. "I'm invested in shifting the gaze to women and Black people because we're simply not spoken to in mainstream media," Nkiru explains. She is doing so to striking effect. In 2018, Rebirth Is Necessary screened before Black Panther at the BFI preview in London. During the same year, Nkiru won the Voice of a Woman award at Cannes Film Festival and her music video for Beyoncé and Jay-Z's Apeshit went viral. The practitioner has also been commended by visionary photographer Rankin, and has credits with Condé Nast, Channel 4 and Tate productions.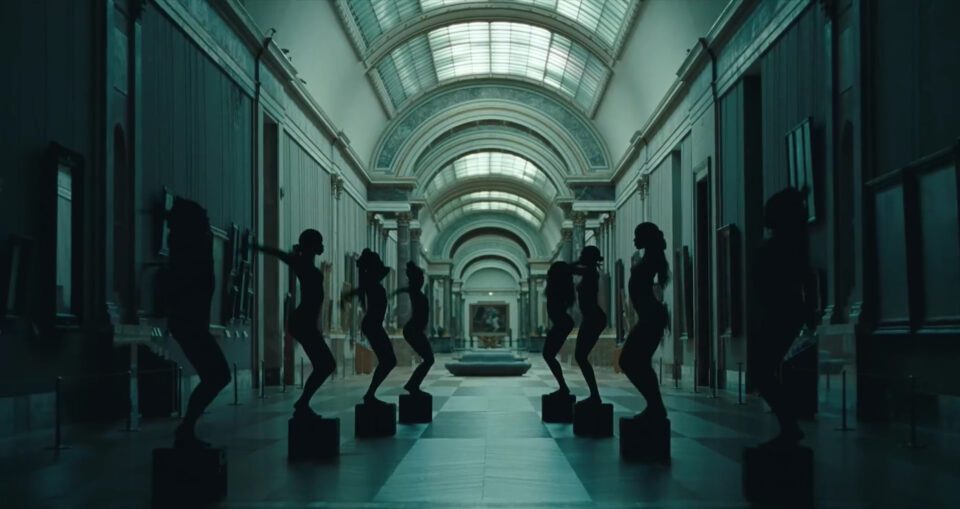 At the crux of Rebirth Is Necessary is a quote from Ghanaian writer Ayi Kwei Armah (b. 1939): "When you get into an accident, you have to go to sleep, because if you are awake, you won't survive." Nkiru and Tafakory position the moving-image as a wake-up call from this slumber – as a medium which can open our eyes to wider and more inclusive society. "I think we're at the point of Armah's quote," Nkiru says. "We're at the end of the 'accident,' trying to regain consciousness and heal." By looking at Black and Islamic identities in a non-prescriptive way, the AAP 2019 winning works encourage viewers to question and consider the representation of cultures with depth of emotion and through an experimentation of media. "It's an interesting time to be alive," Nkiru concludes. "This current cycle of history is coming to an end and up until now, Black people have just been coping. We're not thriving yet, but we are trying to return to previous cycles where we were thriving. I can feel that."
---
The Aesthetica Art Prize is open for entries. A celebration of excellence in art from across the world, it offers both emerging and established artists the opportunity to showcase their practice to a wider audience. Submissions are open until 31 August. Find out morehere.
See the winning pieces in the Aesthetica Art Prize Exhibition 2019, open at York Art Gallery until 14 July.
Get Up, Stand Up Now at Somerset House, London, runs 12 June-15 September.

Lead image: Jenn Nkiru, Still from Rebirth Is Necessary.