Design Museum, London, unveils its latest exhibition, REBEL: 30 Years of London Fashion. The ground-breaking show celebrates the work of over 300 young UK-based creatives and is dedicated to alumni of NEWGEN, a programme started by the British Fashion Council in 1993 to support upcoming talent. This year marks the 30th anniversary of the initiative. So far, it has helped countless creatives on their journey towards international renown, including the late Alexander McQueen (1969-2010), Christopher Raeburn (b. 1982), Molly Goddard (b. 1988), Simone Rocha (b. 1986), Priya Ahluwalia (b. 1992) and Grace Wales Bonner (b. 1992). From the eye-catching to the outlandish, this generation are behind some impressive looks that are now embedded into pop culture history. Many garments have caught public attention through celebrity appearances, such as HARRI's inflatable latex suit worn by singer Sam Smith (b.1992) at this year's BRIT awards. Alongside sculptural menswear, REBEL spotlights 100 iconic pieces – as well as films, drawings, memorabilia and archival materials – that are shining examples of textile artistry.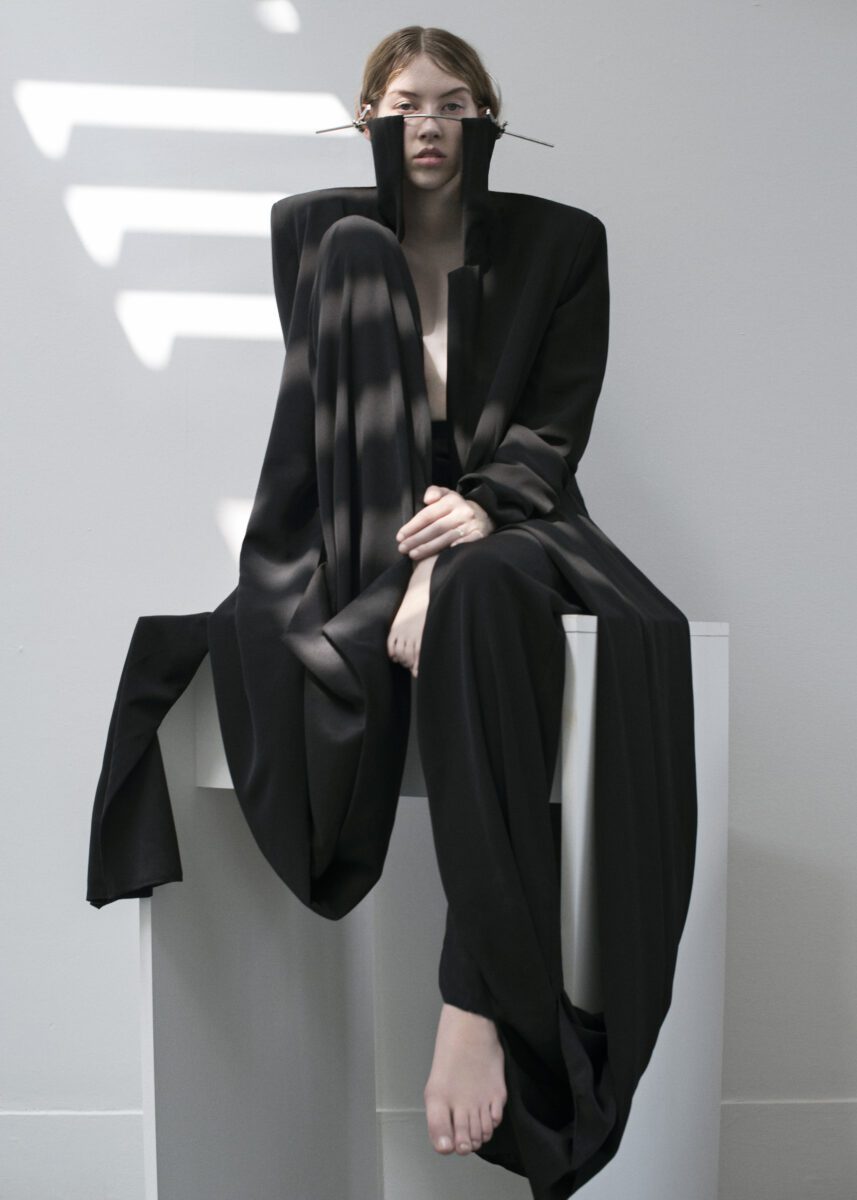 Many of the items on display are archival treasures finally seeing the spotlight again after decades away from the public eye. One such highlight is Macedonian designer Marjan Pejoski's (b. 1968) now-iconic "swan" dress. Its signature bird neckline is immediately attention-grabbing, acting as a halter that circles the wearer's throat. The dress then flows into a feathered bodice before expanding into layers of fluffy white tulle. It was originally unveiled at Pejoski's 2001 NEWGEN Autumn/Winter runway show in London amongst peacock and swan themed ready-to-wear pieces. However, its fame is connected to Icelandic singer Björk (b. 1965), who wore the gown at the Oscars later that year. Despite initially generating shock and intrigue, it has since become one of the most illustrious red-carpet looks in history. The gown went on to inspire a piece from Valentino's 2014 collection and was shown as part of MoMA's retrospective dedicated to the musician in 2015. Now, visitors can see it first-hand in its first British public appearance.
The exhibition foregrounds how heritage, identity and lived experiences are imbued into the clothes we wear. Priya Ahluwalia's eponymous label, founded in 2018, frequently features bold colours and prints inspired by her Nigerian and Indian dual heritage. Her work was part of V&A's Fashioning Masculinities: The Art of Menswear exhibition last year and pieces from the Spring/Summer 2022 collection will now be on display at Design Museum. The collection, named Parts of Me, references Afro-Caribbean hair artistry, especially those captured by Nigerian photographer J.D Okhai Ojeikere (1930-2014). His monochromatic shots show women's hair braided, twisted and sculpted into intricate patterns. These loops and whirls subtly inform her prints, seams and embroidery. For example, a  women's trench coat repeats a minimalist wave design where layers change colours from beige to blue to orange.  Brown lapels match belts wrapping around the waist and cuffs. The unexpected details, artful patterns and rich colour palette imbue the wardrobe classic with a modern twist. The brand is dedicated to inclusive, responsible and sustainable business practices. In an interview with Zak Maoui from GQ, she states: "[the brand] is really about representation and inclusion, especially looking back to my heritage as an Indian-Nigerian woman who was born in London. On the other hand, it is exploring how we can make clothing in a better way."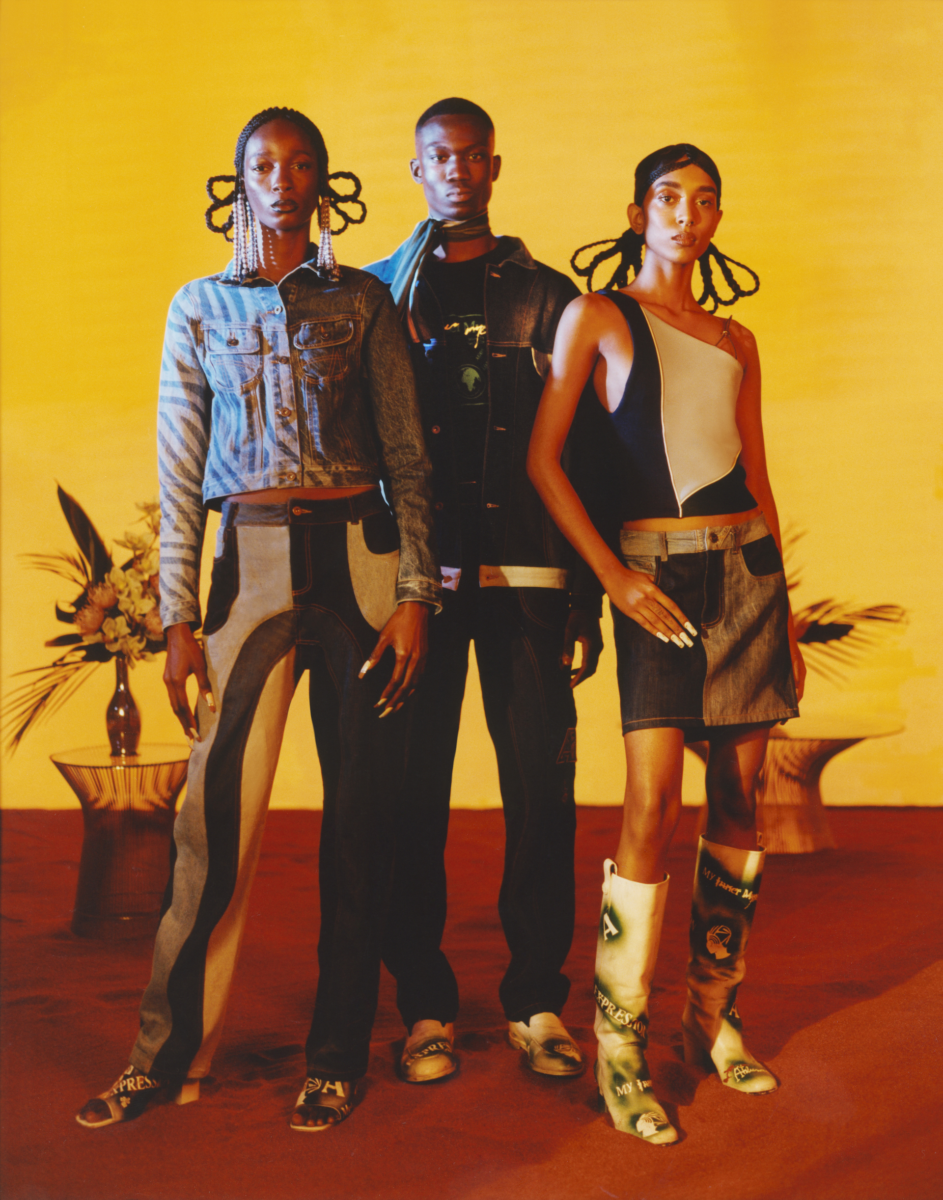 London has nurtured nearly all the NEWGEN designers since its inception, whether as the place they studied, first premiered a collection or established their network. The Design Museum, London is a world-leading museum devoted to design – it saw over 500,000 visitors in 2022, an increase of 515% from the previous year – making it the ideal setting when it comes to showcasing the influential impact of the city. Nevertheless, it is important to acknowledge the wealth of cultural and national backgrounds – spanning far beyond the capital ­– that have brought this show into being. Sarah Mower, BFC Ambassador for Emerging Talent and guest-curator for REBEL tells Vogue: "I don't want this to be mistaken as some kind of jingoistic, nationalistic view of British fashion. The list of countries that contributors hail from is enormous. People have always congregated in London because they have the freedom to be who they are." Unified by London and the NEWGEN programme, this is the widest-ranging survey of contemporary British fashion culture ever staged in the UK, and a true celebration of fearless creativity.
---
Design Museum, London: REBEL: 30 Years of London Fashion | 16 September 2023 – 11 February 2024
Words: Diana Bestwish Tetteh
---
Image Credits:
Ahluwalia, Spring/Summer 2022 collection. © Creative Director Priya Ahluwalia. Photo Laurence Ellis.
Marta Jakubowski, MA Collection, 2014. Photo Bror Ivefeldt.
Ahluwalia, Spring/Summer 2022 collection. © Creative Director Priya Ahluwalia. Photo Laurence Ellis.