Faces appear from a crown of palm leaves. Bodies collide and make abstracted shapes. Butterflies scatter within minimal portraits. Chinese artist Ren Hang's (1987-2017) images are visually arresting and complex. Plants, birds, hands and mouths come together in dreamlike, high-contrast compositions – illuminated by the camera's flash. A new exhibition at C/O Berlin celebrates the late photographer's works, which, as the gallery notes, "are a rare ode to human beings, their bodies, sexuality, beauty and vulnerability."
Anonymous friends are the subject of many images. Their bodies are often the focus, unusually arranged and captured at unexpected angles. Human limbs meld and intertwine, creating new forms. This is a unique visual language that at once references and overwrites well-known motifs and traditions from Western art. Surrealism, Dada and William Shakespeare's dying Ophelia are among the tropes that are combined with East Asian philosophy. Hang strived for, and achieved, timelessness.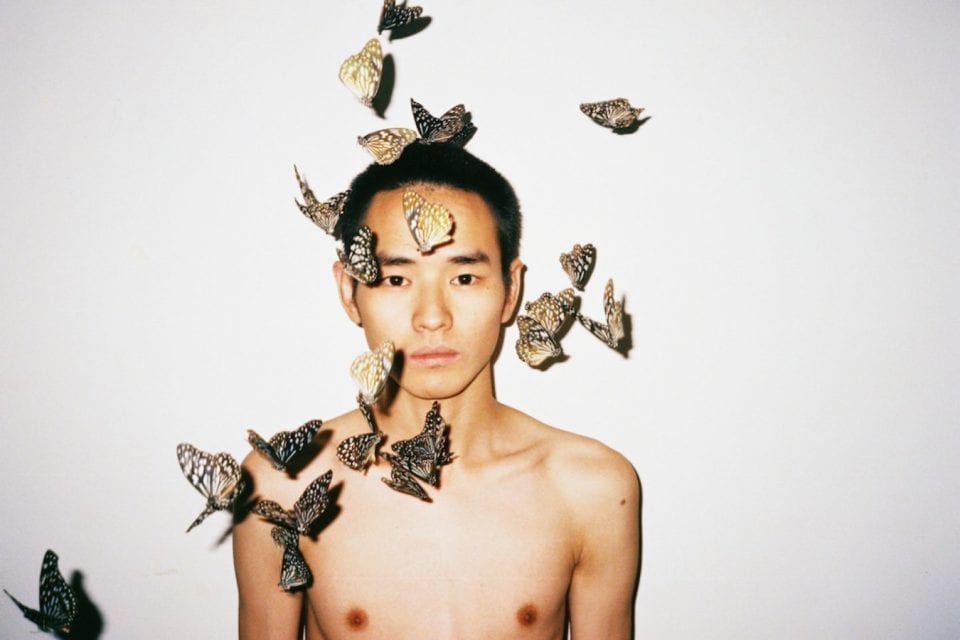 The photographs are playful and vibrant – celebrating the freedom of youth whilst hinting at the erotic. Bright red lips and fingernails stand out amongst the lush greens and blues of rice fields, lotus ponds and cacti. These carefully staged scenes – which span urban landscapes, private and outdoor spaces – are infused with the candid and fleeting nature of adolescence. The works articulate the feelings, desires, fears, and loneliness of a young generation in China: subjects gaze defiantly into the lens.
Hang's work was the subject of both controversy and critical acclaim. The photographer endured censorship throughout his career. As C/O Berlin notes: "His works stand as symbols of youth's rebellion against the conventions of a restrictive communist regime – in which nudity and sexual freedom are subject to government censure and control even up to the present day."
Love, Ren Hang runs 7 December – 29 February. Find out more here.
Untitled, 2012 © Ren Hang . Courtesy Estate of Ren Hang and Stieglitz 19, Antwerpen