We live, work and sleep surrounded by buildings. So how does architecture shape our experience of the world? This question is central to Samstag Museum of Art's 2020 Adelaide//International, a programme of exhibitions and events taking place as part of the Adelaide Festival. It looks at the social and spatial ramifications of growing urban environments, drawing attention to how structures effect our lives.
For example, Melbourne-based John Wardle's Somewhere Other, featured below, is central to Samstag's show. The timber structure was part of the 16th Venice Architecture Biennale in 2018. The piece positions buildings as "portals of experience," inviting audiences to peer through five apertures – each introducing viewers to a different scene. Two portals impossibly extend the viewers perception of the physical space, whilst others display Australian landscapes, architectural designs and artworks. The piece highlights how built environments frame how we see our surroundings.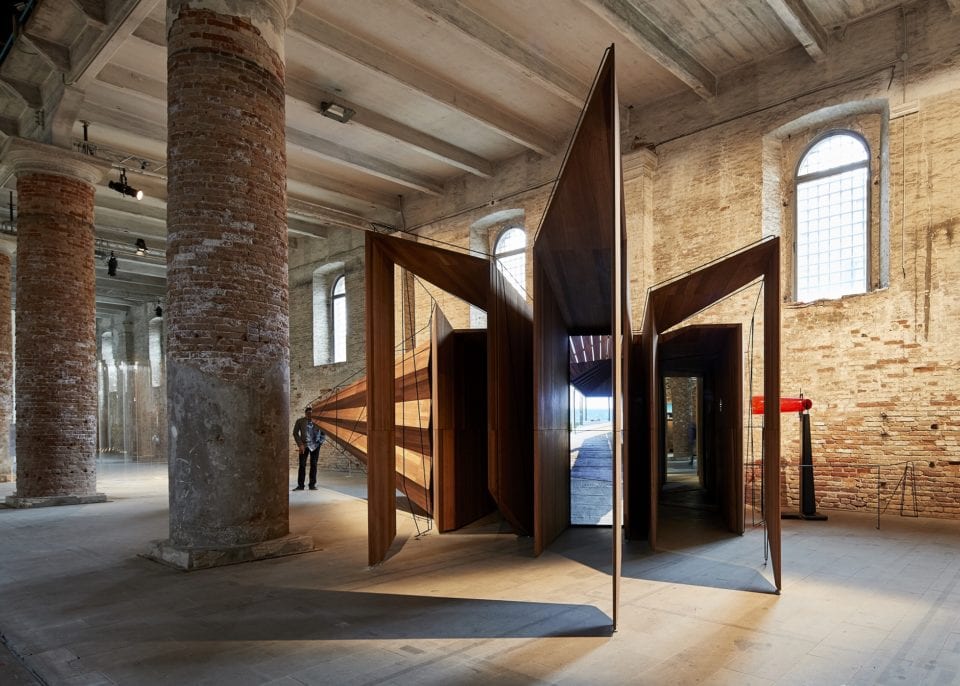 Georgia Saxelby expands on the idea of perception in Lullaby, a video installation exploring the relationship between architecture, ritual and gender. Figures dressed in red interact with the classical columns of Washington D.C's National Mall in surprising ways, creating intriguing juxtapositions between manmade spaces and the human form. Women touch, embrace and walk around the stone structure – making links from antiquity to the present day. The piece is part of a show revealing the political and gendered nature of the spaces we inhabit and the ways in which we might respond to or resist them.
History is the subject of Belgian artist David Claerbout's monumental real-time moving-image work Olympia, part of the 2020 programme. It charts Berlin Olympic Stadium's disintegration into ruins of the over the course of 1000 years. A computer-generated replica simulates the city's seasonal weather conditions – growing weeds, trees and vegetation. Plants gradually overtakes the stadium, until it is eclipsed completely. In this installation, Claerbout demonstrates how, in time, all architecture will be consumed by the power of nature.
28 February – 12 June. Find out more here.
Lead image: Georgia Saxelby, Lullaby. Still from video performance, 2017.