Every other year, the renowned Turner Prize leaves Tate Britain and is presented at a venue outside London. This year, the event is hosted at Turner Contemporary Margate. Four of the most exciting contemporary artists are shortlisted to win the prize. This year, the list includes Lawrence Abu Hamdan (b. 1985, Jordan), Helen Cammock (b. 1970, UK), Oscar Murillo (b. 1986, Colombia) and Tai Shani (b. 1976, UK).
The shortlisted candidates offer a range of critical and creative perspectives. Spanning multidisciplinary techniques and media, the projects redefine the parameters of art as a mechanism to understand our changing world and to raise awareness of deeply important issues. The layered social histories of Northern Ireland, and the role of women, are at the heart of Helen Cammock's work. The shortlisted project, The Long Note, is a film that depicts the overlooked role of women in the civil rights movement in Derry, Northern Island.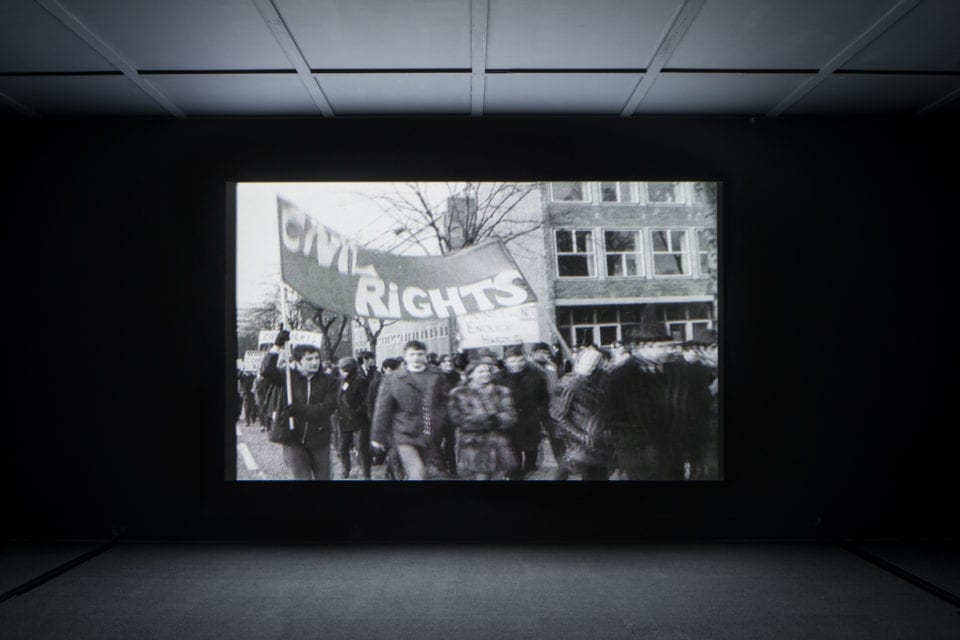 Meanwhile, Lawrence Abu Hamdan addresses the architectural qualities of sound through three time-based installations. Through research with Amnesty International and the Turner Prize-nominee organisation Forensic Architecture (based out of Goldsmiths University, London), Abu Hamdan creates physical "earwitness" testimonies. He offers physical and conceptual space to the voices of six survivors from a Syrian regime prison in Saydnaya. The resulting projects are compelling, emotive and effective, disseminating the memories of individuals and articulating their stories through the fluid movements between sound, memory, architecture and language. As Abu Hamdan expresses, emphatically: "My interest in sound is that it can't be contained, you can't put it in a box. It will always leak."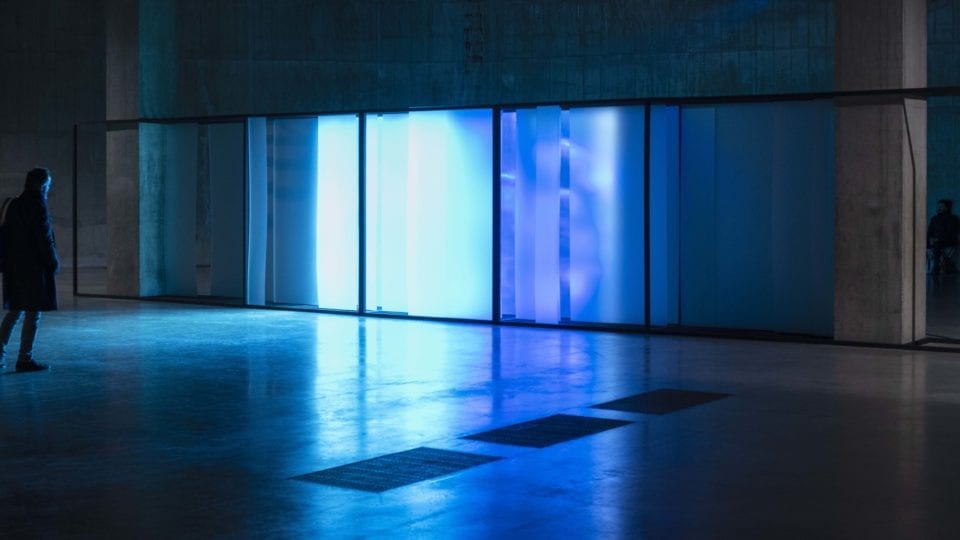 Oscar Murillo offers a pervasive use of found materials to illustrate his own sense of displacement in a group of papier mâché figures and paintings exploring the concepts of exchange and movement, migration and displacement. Tai Shani creates an allegorical city of women filled with imaginary characters. Velvet arms, geometric stairs, dismembered hands and hanging red moons are amongst the subjects in the surreal environments. The worlds are dark, fantastical and utopian, embedded in ideas of the female experience. She notes: "I'm interested in femininity, and what can be salvaged from a history of femininity, to think about ways out of where we are now."
The Turner Contemporary Margate venue was built by David Chipperfield Architects, completed in 2011. The two-storey building is designed to maximise both the dramatic setting between sea and land and the extraordinary light conditions unique to this area that inspired landscape painter J. M. Turner well over a century ago.
The Turner Prize 2019 is open until 12 January. The winner is announced 3 December 2019 at an award ceremony broadcast live on the BBC as the official broadcast partner for the Turner Prize. For more information, click here.
Credits:
1. Turner Contemporary Photo Credit – Carlos Dominguez.