Dubai Design Week (DDW) returns for its ninth edition. The global art fair welcomes more than 500 participants including architects, artists, craftspeople and creative studios from over 40 countries. During the festival, Downtown Design – the anchor event of DDW – is set to launch its largest presentation to date. There are three key exhibitions: Anatolia, Materialized and Nothing Happens if Nothing Happens, as well as more than 20 large-scale outdoor installations, that explore how design, science and technology converge. Some focus on reclaiming materials from our past, whilst others look to new sustainable forms, experimenting with palm leaves, loofah, sugar and paper pulp and 3D printed fabrics.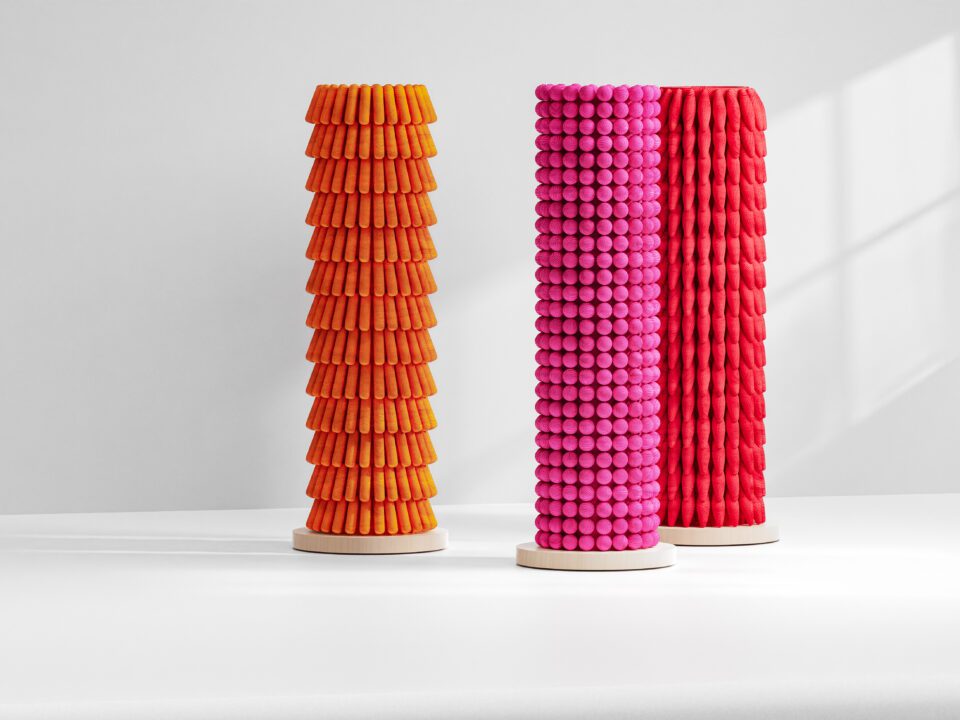 Anatolia
Anatolia – also known as Asia Minor – is the most western extension of the Asian continent on the territory of contemporary Turkey. This exhibition is inspired by the peninsula, which lies between the Black and Mediterranean Seas. The region is described as "a crossroads of ancient civilisations" and was tied to the Silk Road – a historic trade route that once bridged the East and the west, fostering cultural exchange. Now, it's the subject of projects and research by over 25 talented Turkish and Middle Eastern brands, designers and studios. The show takes visitors on a journey through time and culture, and also introduces architect Elif Resitoglu, whose booth was inspired by the structure of a Caravanserai – a resting place for travellers. It offers audiences the opportunity to share ideas, network and participate in workshops.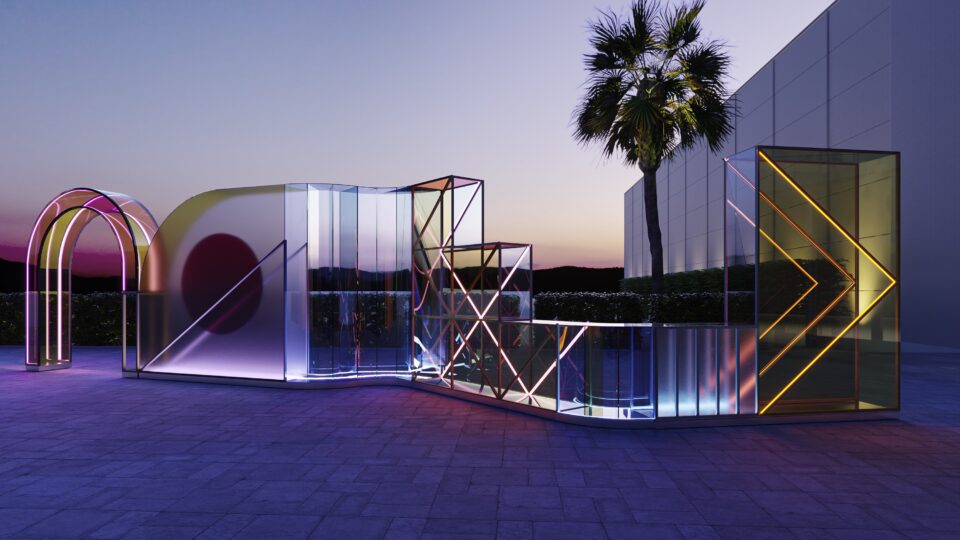 Entrance
Ultra Arte is a Dubai-based consultancy focusing on creative direction for interior design and public art. Founded in 2021 by Italian artist Anna De Florian, the initiative aims to create valuable and flexible art interventions, placemaking and styling for different kinds of projects. Entrance is a series of site-specific installations that welcomes visitors to Downtown Design upon arrival. The collection of large-scale objects is made of a steel core covered in semi-transparent colourful panels. During the day, the sun pierces through the pastel blue and purple structures, whilst they are lit up with LED strobes after sunset.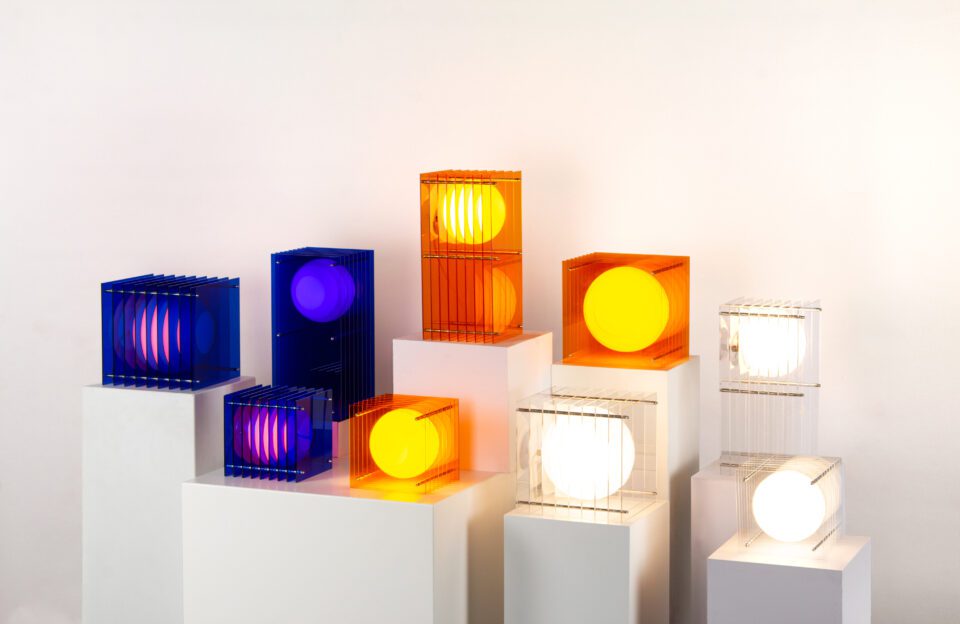 Nothing Happens If Nothing Happens
Circular design is the practice of creating durable, reusable, repairable and recyclable products that generate zero waste and support a circular economy. This collaborative exhibition positions traditional craftsmanship as integral to this kind of regenerative design, showing the creative synergy that exists between artisan techniques and sustainable innovation. We can look back to look forward. Nothing Happens If Nothing Happens is a hub for daily discussions, project presentations, workshops and networking opportunities. The display will introduce innovative objects from emerging studios such as Lớp by BẰNG. Established in 2021 by French designer Thomas Vincent, the manufacturing workshop creates sculptural lighting collections that can be interpreted as "spheres floating within layers."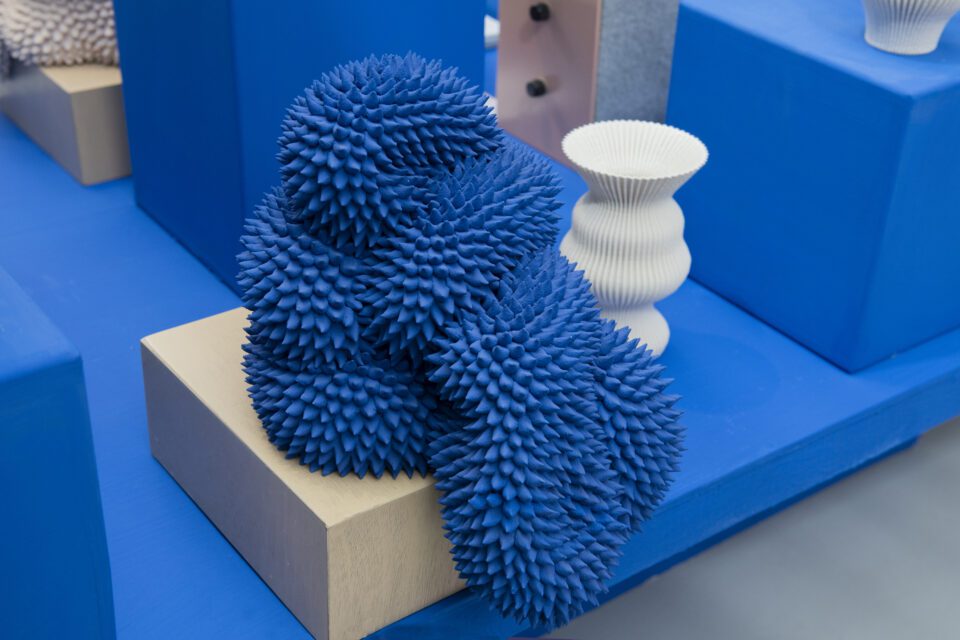 Materialized
Colab is a Dubai-based online library that collates knowledge on innovative substances. Materialized is the culmination of this project, revealing an array of cutting-edge components and bringing a fresh perspective to the fields of designing and making. The show offers an extensive presentation of market-ready products crafted from biomaterials, natural raw resources and industrial waste. Drawing from the extensive resources of Colab's archive, Materialized serves as a wellspring of inspiration and a meeting platform for architects, contractors, interior designers, manufacturers and design enthusiasts alike. The display was envisioned with sustainability in mind, and it promises to be 100% eco-friendly. This approach showcases the limitless potential of repurposing materials in a feasible and inventive manner.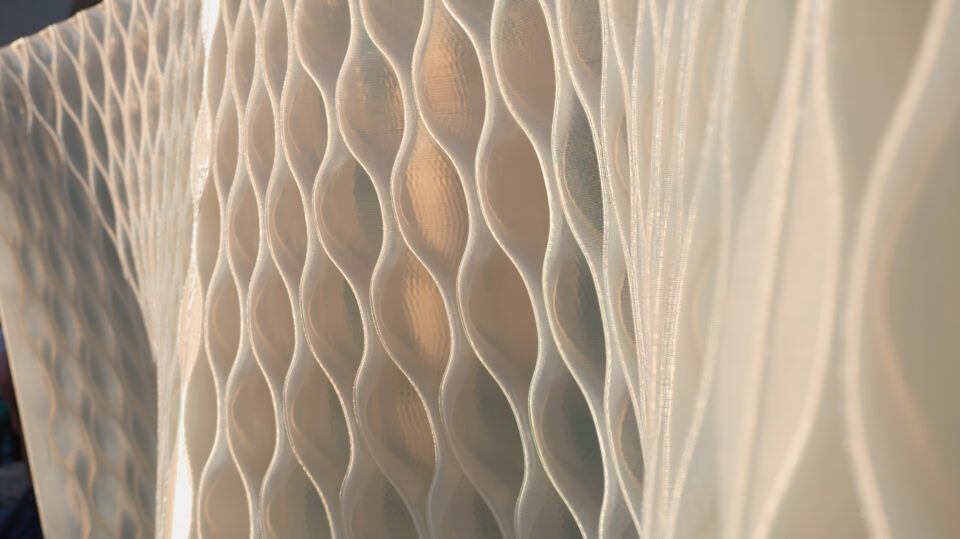 Altostrata – Therme Pavilion | Fab.Pub.
Altostrata is a 3D-printed architectural installation created by Fab.Pub, a collective of technical experts in fabrication, engraving, laser cutting and prototyping. Their architectural pavilion is constructed from a degradable, sugar-based bioplastic, made from renewable materials. Altostrata's revolutionary component promises to reshape the way we approach construction. Its panels minimise waste, reduce resource consumption and offer a flexible design that can be effortlessly reconfigured and transported – allowing for new forms and functionalities beyond its current purpose. The structure is accompanied by a mobile 3D printing platform to encourage more individuals and companies to fabricate at a local scale.
---
Dubai Design Week | 7-12 November
Words: Fruzsina Vida
---
Image credits:
1. Isola – Anatolia exhibition_Studio Monsoleil – Cosmos coffee table ©Batu Dokur
2. Isola – Anatolia exhibition_Studio Yellowdot – DilaraKanHon_OVA cabinet ©Ali Gulsener
3. Lớp by BẰNG. Designer: Thomas VINCENT. instagram.com/bangoibanga/
4. Isola Design Festival 2022_Isola Design Gallery (2) ©Salvatore Pollara
5. Entrance by Ultra Arte
6. Altostrata – Therme Pavilion by Fab.Pub.