The works of renowned sculptor Helaine Blumenfeld OBE energise landscapes throughout the world – each piece seems weightless as she strives to communicate a spiritual dimension. Blumenfeld divides her working life between Italy and the UK. She has been the subject of many monographs and films.
A: What are your current inspirations?
HB: I don't feel that the traditional concept of "inspiration" is applicable to how I work. I work intuitively. I don't start with any plans or sketches. My "inspiration" appears during the process of creating the piece, rather than preceding it.
A: In Issue 112 of Aesthetica, we featured the sculpture METAMORPHOSIS. You've noted that "the references are not figurative, but a testament to the times in which we live – transmutation and change." How is this a reflection of your continuous reinvention of yourself in a search for a vocabulary of form?
HB: METAMORPHOSIS is part of a recent group of work that reveals significant development in the emotional origins of my sculpture. The intensely personal themes I worked with in the past have broadened out to reflect the wider world. I am affected far more deeply now by the morality of that world than when I was a young woman.
Some years ago, already concerned by the refugee crisis, I met a volunteer working in Greece who described her experiences very graphically. In particular, the vast numbers of children who were dying because their parents were sold life jackets filled with straw.
Overwhelmed by what I had heard, I turned to my studio and began working in clay, too involved in what I was doing to view it critically. Only later, when a friend compared the clay form to Géricault's The Raft of the Medusa, did I realise what had inspired it.
METAMORPHOSIS also began with the theme of exodus and survival. The raft here is incorporated into the sculpture, which provides a sense of primordial energy. I've said that the ability to contradict my own forms is at the basis of every breakthrough I've ever made as an artist. This latest departure reassures me that I can still have the courage to change how I live and work.
A: It sounds like you have also been through a personal metamorphosis.
HB: Yes, definitely. New models are unlike anything I've done before, eschewing the more familiar upright forms and conforming to no established pattern. Although recent pieces are different, they are clearly related to the rest of my work. They take my concerns and transmute something painful and tragic into something beautiful and moving.
---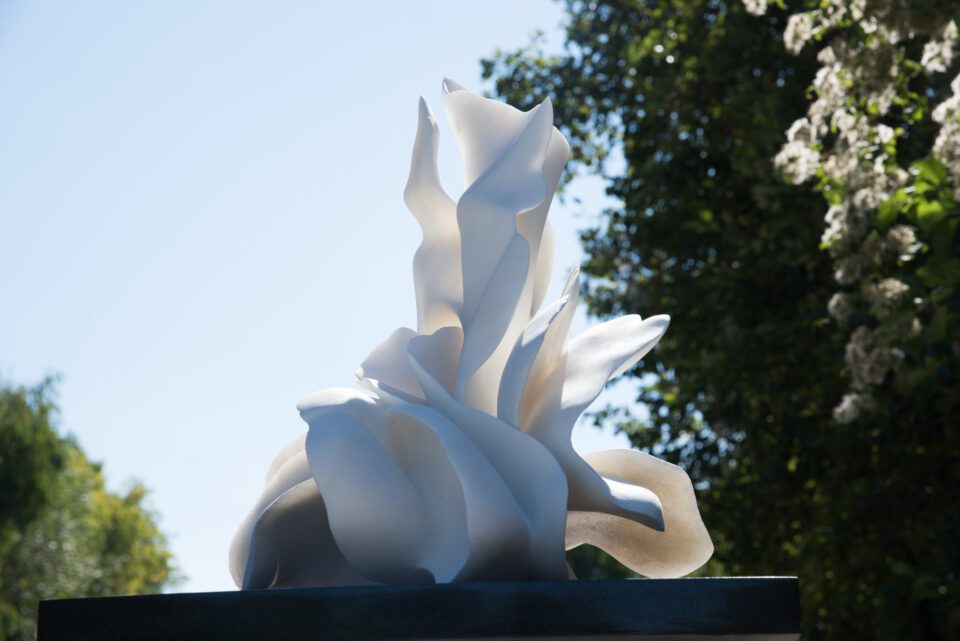 A: In light of the relatively long creative process that sculpture entails, how challenging is it for you to continually reinvent yourself?
HB: Reinvention is essential. For me, life is a commitment to risk, and reinvention is a mode of existence. It is a process or way of living right on the edge. It is a state of consciousness in which I must always be prepared to risk everything for an enlarged sense of self-realisation. It is always a struggle. There is no comfort zone.
A: So it's a way, or perhaps an approach, to live your life every day – a way of being, in order to BE creative?
HB: To be creative, I must be in touch with my inner vision. This means exposing what is most vulnerable, which requires courage. It means being able to accept and embrace uncertainty. Challenging my own aesthetic is more important to me now than ever before. Even after decades of being an artist, I feel I must go beyond the boundaries of what I have already created. There is no growth without change.
During my long career, I have felt myself balancing between a series of paradoxes which stem from my commitment to risk: between order and chaos; seclusion and participation; egoism and self doubt; discipline and spontaneity; fantasy and reality and perhaps most difficult of all, especially in earlier years, the need to balance my commitment to art with my personal relationships and my family.
A: These are threads weaved throughout your work and your life over a long period. Do you view it as a long journey? And how do you strive to communicate a spiritual dimension in your practice?
HB: Yes, mine has been a long and amazing journey – as a woman, as a sculptor, as a human being. I have often felt I was blazing a trail, trying to express ideas that illuminated the human spirit. It has been a never-ending process to develop a fluent visual language, yet I continue to be fascinated by the intensity of the creative journey and the factors that affect it.
I believe our spirit informs our body, gives it light, and lifts it to another level of consciousness. Working in bronze, giving form to this idea seemed to be an impossible challenge. When I discovered marble, I realised this could be the key. To move forward, I felt I had to master the art of carving. I needed to understand the material and what I could do with it.
Only after many years of developing my technique did I have the confidence to create works that were truly luminous. The fragility and the thinness of marble, its transparency, resonated with my idea of the soul as truly beautiful and illusive.
---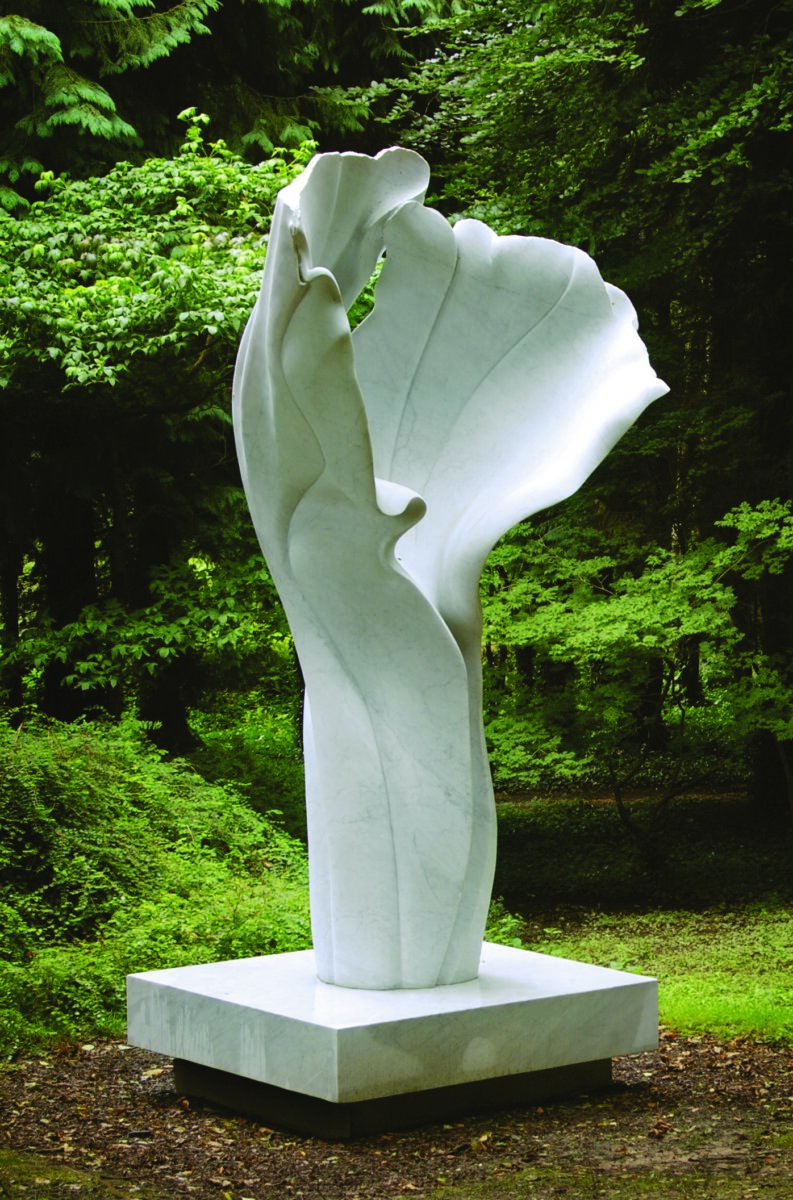 This idea has inspired many of my pieces, the effort to capture its essence is still at the basis of my work. With SPIRIT OF LIFE, for example, I wanted to convey spirit in motion. By using marble, I felt the translucency would give the work an ethereal quality and would capture my idea that what lies at our core is fragile, lyrical and intangible. The luminosity of the marble lifts and animates the form, and as the light passes through, it conveys an exhilarating optimism – a feeling of embracing renewal and change.
A: During the creative process, you enter a trance-like state in which the clay functions as a channel for liberated imagination. Is it a purely trance-like or meditative state, or is there a spiritual dimension during this phase?
HB: I always begin working with a large amount of clay. There is tremendous elation. I lose all sense of time and can work for hours and hours. I am obsessive, I have enormous energy, I feel euphoric and spurred on by the ability to throw off self-conscious control so that access to the subconscious is almost unimpeded. I work without reference to anything, and I don't look critically at the work. I am absorbed with transferring the inspiration that is coming to me from my subconscious into the clay.
When I feel the form is beginning to take shape, that is when the conscious eye begins to criticise, correct and evaluate. Here it is vital to be able to stand back and see the entire work as a unit, to absorb every aspect of it as a single entity. In that moment acute self-criticism comes into play. With an amazing clarity, I am able to judge the piece I have been working on. Often, I'll look at a sculpture, and even though I may have worked many days without sleep, I am able to "know" whether or not it "succeeds." If it doesn't, I have to accept abandoning it.
A: How do the raw materials assist you (or how do you assist them) in transition and transformation?
HB: As I have suggested, the creative "raw material" of my work comes from my subconscious. Clay is the physical material I always use in the first stage of developing a new work. Clay is malleable and I am able to use it to quickly and intuitively translate my ideas. Once the clay model is completed, I will decide whether or not to take it further. Risk can sometimes equal failure.
I will begin to think about the scale it should be, as well as what material I should create it in – marble, bronze or wood.
Marble offers me the possibility of translucency, and light creates another dimension. This highlights the contrast between the apparent fragility of the material and the strength of the form. Ultimately, the inherent spirituality of marble is enormously appealing.
---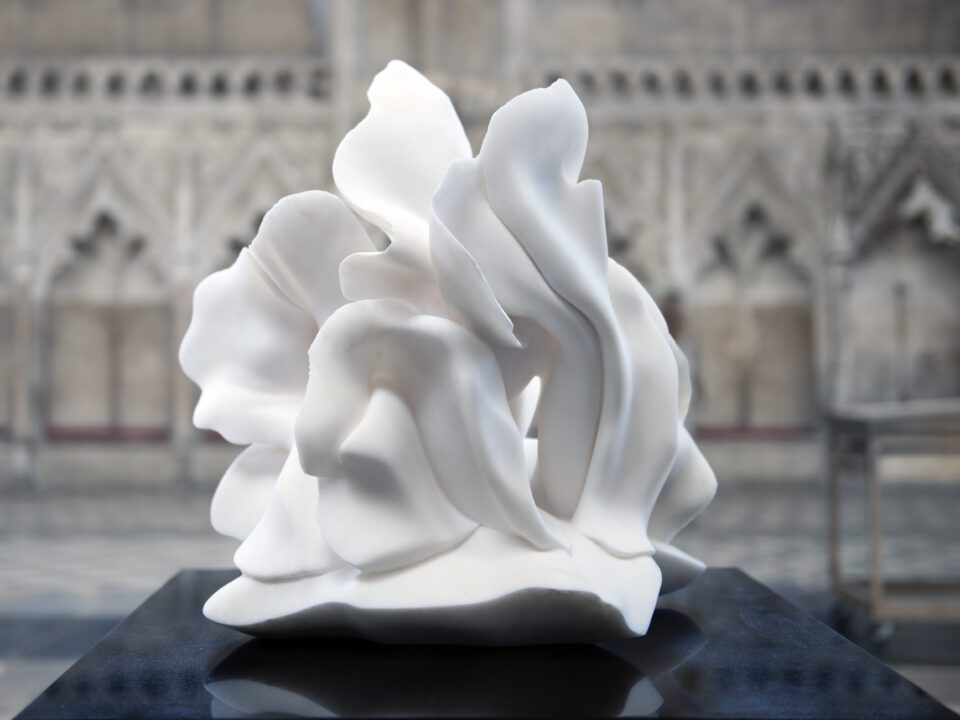 Bronze means stability, but also dynamism and boldness. Bronze offers me a variety in the colours of the patinas and different treatments of the surface, which can vary from very rough textures to reflective highly polished smooth areas.
Wood is tactile, sensual and inviting. By making use of the grain and warmth of wood a sculpture can become more organic, alive and accessible. People respond very strongly to wood as a familiar material. They are drawn to engage with it.
A: You divide your working life between Italy and the UK. What is it that drove you to work in Pietrasanta and what has kept you there for so long?
HB: My love affair with Pietrasanta started in the seventies. I went there to find a foundry to cast my bronze sculptures and left having found a way of life. When I began my career as a sculptor, I had been almost exclusively working in bronze, and I was casting in England. I had a show in New York and an important collector of mine criticised the quality of a bronze cast.
My mentor, the Argentinian sculptor Alicia Penalba, suggested that I go to Pietrasanta. She was wonderful and introduced me to the foundries there. She also saw my models and said: "You should be doing these in marble". The idea really excited my imagination and challenged me enormously. It was then that Alicia introduced me to Studio Sem and I became obsessed with marble.
That is how I came to Pietrasanta and why I have never looked back! Pietrasanta is so much more than a place to live and work, it is a community that encourages, inspires and supports the dreams that are at the centre of creativity.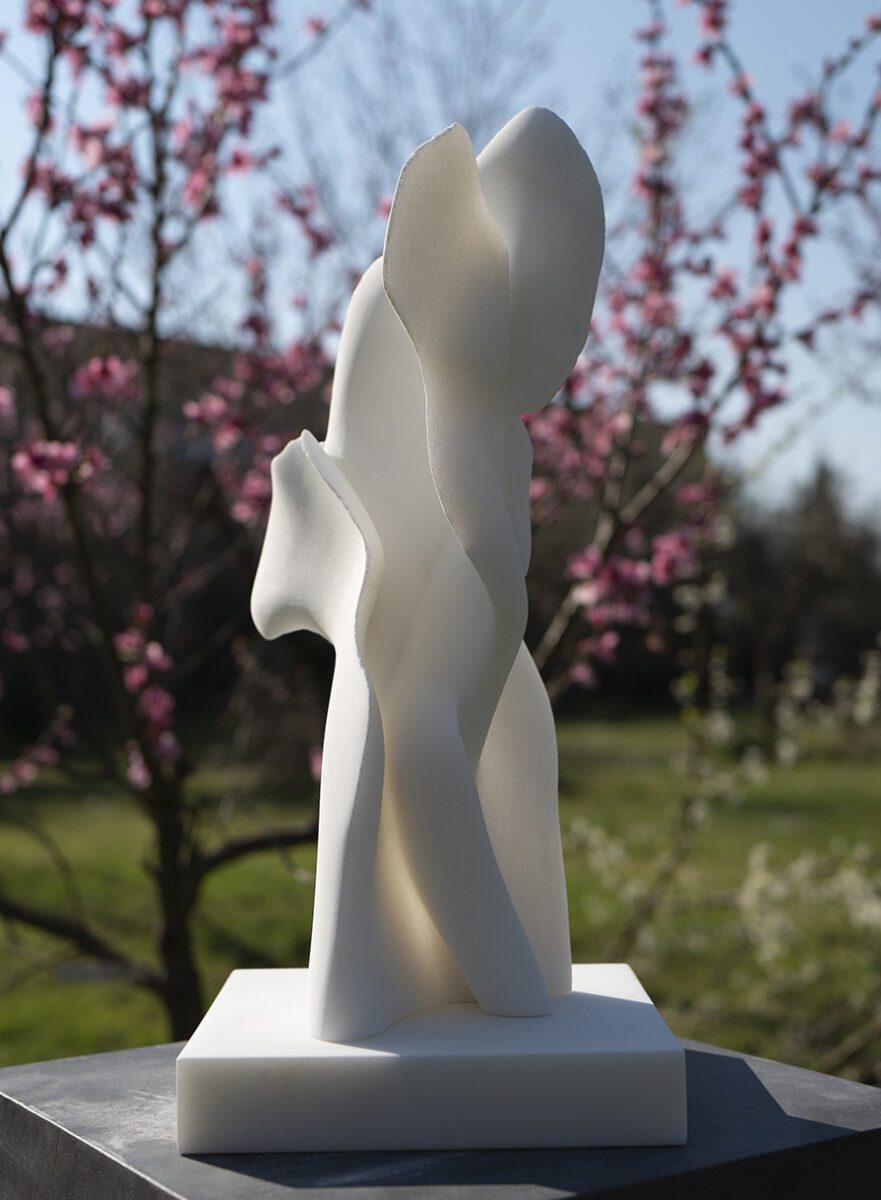 A: Was there a struggle for balance between being in the UK and Italy?
HB: Dividing my time between Italy and the UK became part of my artistic process. I had found myself caught between my commitment to my family and my commitment to my sculpture and I found it impossible to balance these two. But by coming to Pietrasanta, first for few days, and then for increasingly longer periods, I discovered a way of resolving that issue. I could be totally focused in Pietrasanta.
In England, my love and commitment to my family was constantly challenging my need to work in my studio. I felt I was failing on both fronts. In Pietrasanta, I felt I could work all night, if I wanted to, and I often did. I could use all my energy for art, without thinking about anything else.
When I returned to England, I could give myself over more fully to my family. I could really enjoy my life with them. I felt more grounded. It is difficult for artists, particularly for women, to achieve a balance between the demands of creativity and the responsibility of a family. Yet without that harmony, I don't see how my work could convey the same degree of intensity or the same sense of balance.
---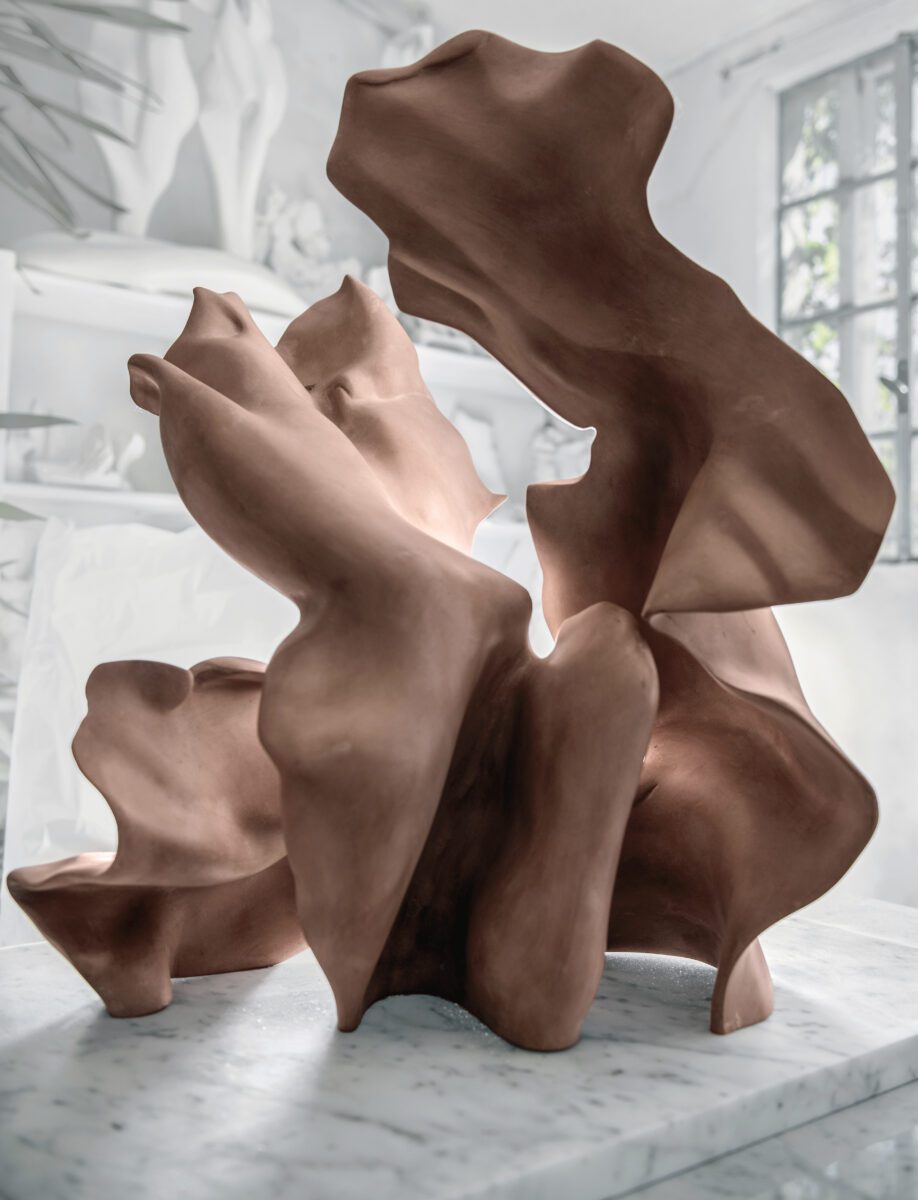 A: Your works have titles such as TAKING RISKS and your exhibitions have had titles such as LETTING GO. How and when do you choose to name your works and exhibitions?
HB: The titles of my sculptures never come to me until a series of work has been completed. For example, I did more than fifty new models during the pandemic, but only began to understand what they meant when I went back to Pietrasanta and started carving them. They were all describing the light we carry within us which defines us and allows us to survive, to get up every day and feel optimistic. The title of this series became clear to me: THE LIGHT WITHIN. Once we discover it and develop it, it can illuminate others as well. By trying to share the sense of effervescence and illumination that we all have, we can bring society closer together.
A: Your most recent solo exhibition was at The Sculpture Gallery Het Depot in the Netherlands. Tell me about the preparation for the show, which displayed 16 new sculptures and ten etchings.
HB: One of the first and most important museum shows I had was at Het Depot in 2007, so I was delighted when a few years ago they asked me to plan a solo exhibition in their new light-filled galleries. The exhibition opened in October 2022.
---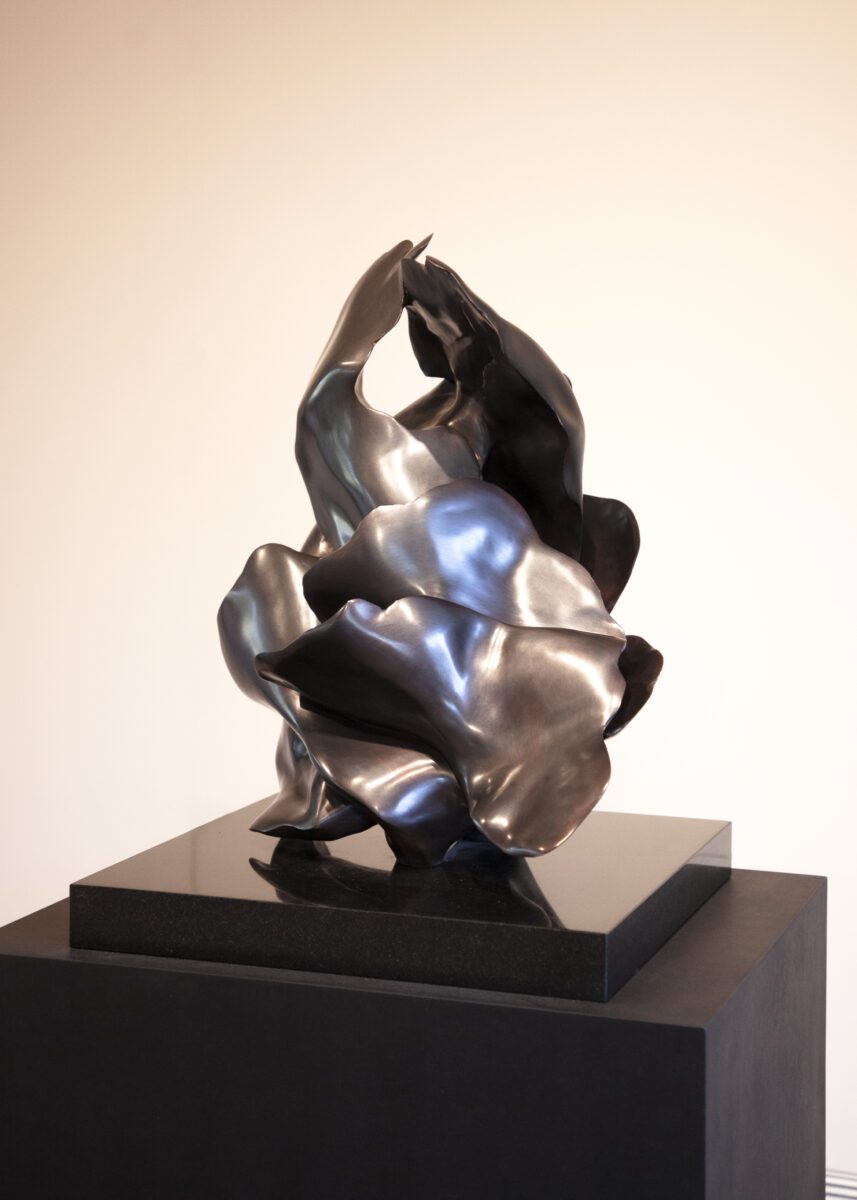 Much of the work in that exhibition was inspired by me being energised by working again in wood. Het Depot encouraged me to focus on this for the show. After the pandemic, I explored how adversity can lead to transformation, moving beyond pain and disruption to beauty, movement, and serenity. In my newest sculptures, the separate individual elements come together in harmony. There is a sense still of fragility and isolation, but also of strength and intimacy in each of them. I wanted to convey the power that results from accepting our diversity and acknowledging our shared humanity.
These are the ideas behind my cedar wood sculptures in the TOGETHER series. The eight earlier sculptures of mine in Het Depot's permanent collection were shown alongside the new pieces which, although not a retrospective, created a sense of resonance among the sculptures.
---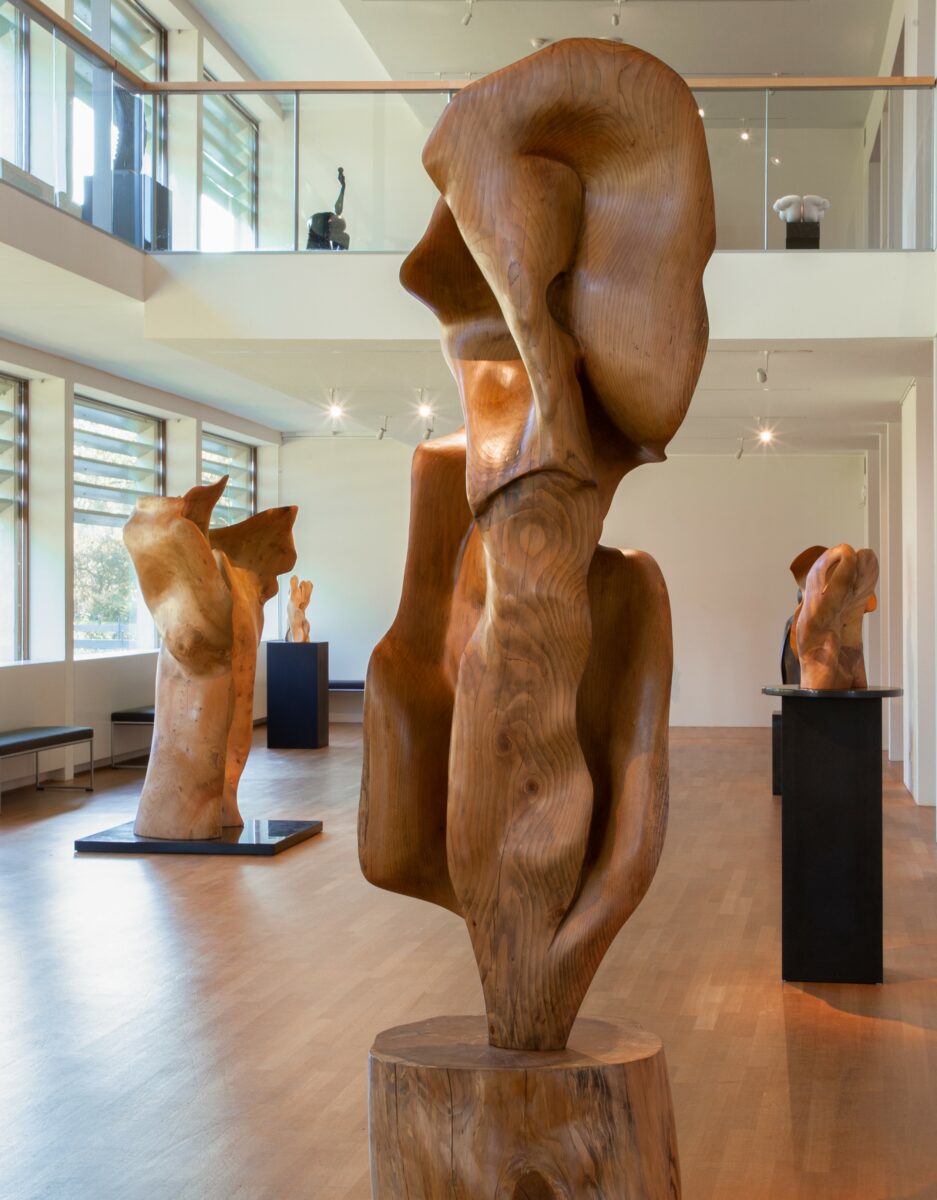 This was an extraordinarily successful show for me in terms of the visible pleasure people took in my work and the emotional responses I witnessed. I have had exhibitions in several cathedrals including at Ely and Salisbury. There, I saw how my work profoundly affected viewers in a spiritual way. I was thrilled to see similar intense responses in a completely secular context.
A: How do you think the process of working with galleries changed over the years?
HB: When I began working as a sculptor, galleries were not as important. They tended to show many different artists and were not very much involved in investing in or promoting the careers of the artists they exhibited.
Alicia Penalba warned me not to remain with the same gallery for more than two shows or they would try to take over my career, package my persona, and encourage me to create only sculpture they could sell.
This advice resonated with me, because after my second show with the initial gallery that exhibited my work, I stopped doing polished bronze forms and began carving marble. When I showed them the new pieces, they were not happy and urged me to continue with what I had been doing before. If you never get out of your comfort zone, you will never evolve as an artist.
---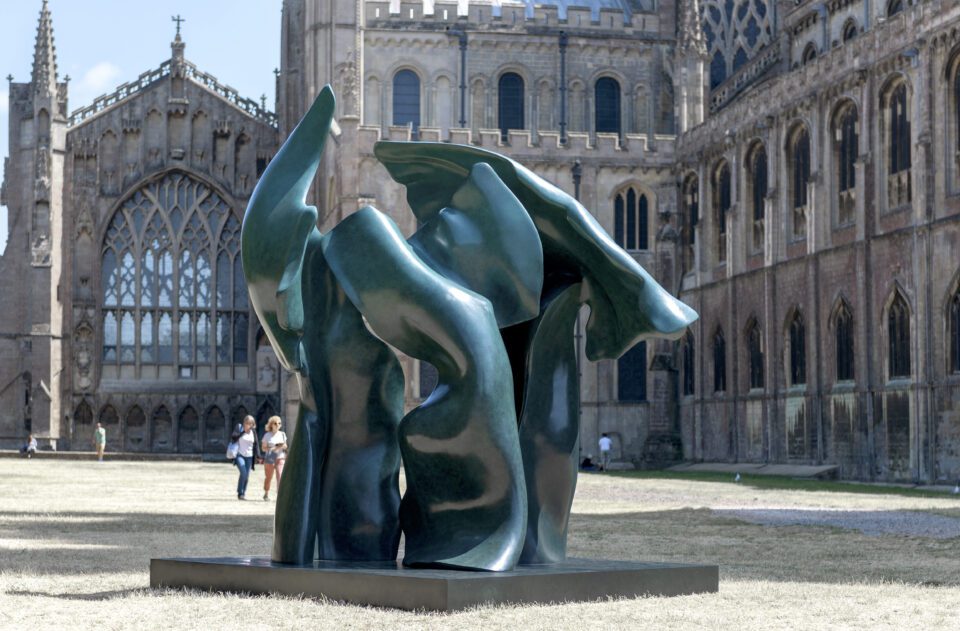 So I changed galleries and continued learning to carve. I began to create four- or five-part sculptures which could be rearranged and placed in different configurations. People loved them. But when I began to change my direction again, I had to go to another gallery in order to be shown.
Fortunately, it was easier to change galleries then. In the eighties I finally found a great gallerist in New York whom I would have stayed with forever, Alex Rosenberg. We did a show of my work alongside Henry Moore's. Alex was amazing. He really loved what I did, but more than that, he was thrilled that my work was developing and evolving. He came often to Pietrasanta and was always encouraging. Unfortunately, he became disillusioned as he felt public relations was becoming more important than talent in the gallery world and he closed his gallery.
For a long time afterwards, I chose to not have a single gallery represent me. I exhibited in many different galleries all over the world, actively avoiding publicity, and drawing support from a growing number of collectors who loved my sculpture. I recognise that my trajectory has been very unusual in its independence.
---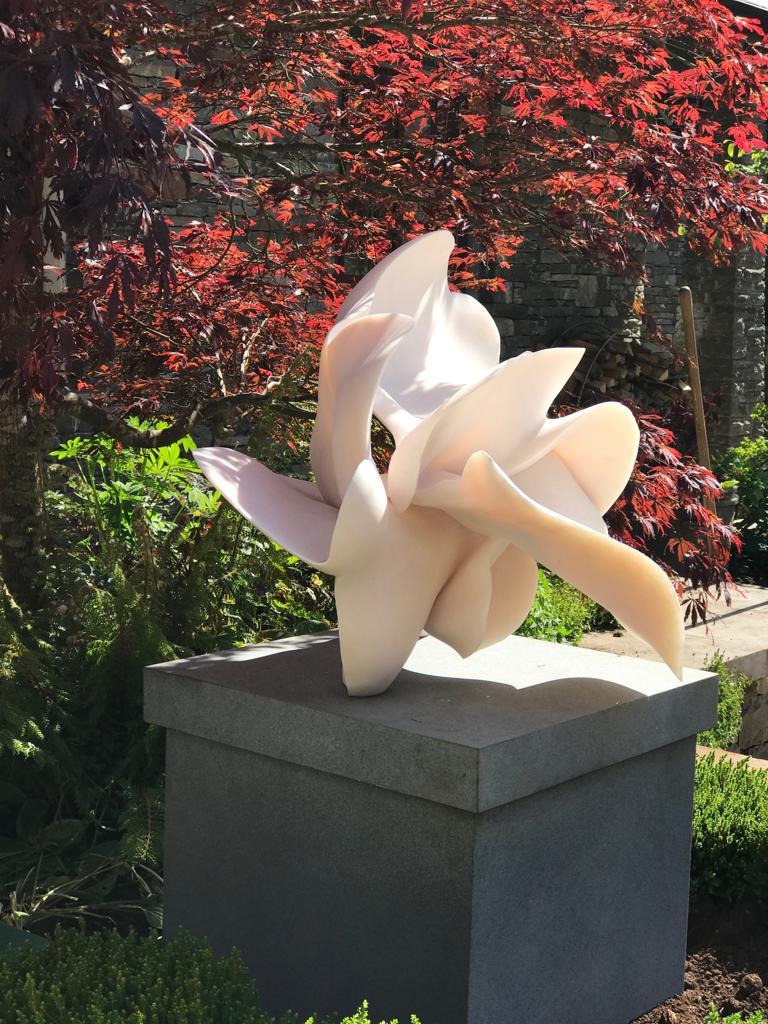 A: It's a thought-provoking and inspiring path, one on which you have stayed true.
HB: Thanks for thinking of it like that. More recently, I have felt that I wanted to leave a legacy. I want my sculpture to reach out to people. To achieve that, I came to realise that I needed to be associated with a gallery. It was a long time before I discovered one that I was happy with.
Since 2016, I have been represented by Hignell Gallery. Abby Hignell, just as Alex Rosenberg did so many years ago, takes a lot of interest in my practice and where it is going. She comes to see my work in Pietrasanta and lets me decide when I am ready for another show. I feel supported by her enthusiasm and appreciation of my sculpture.
A: It sounds like you continue to relish the freedom to take risks. How do you balance the challenges of working with those who commission a project and the desire to share your visual, tactile art with those who will view it every day?
HB: For many years I've been involved in efforts to bring sculpture out of the galleries into the streets, where it can transform the surrounding environment and actually affect people in their everyday lives. I have been involved with projects that were sited in hospitals, universities, community plazas, libraries, theatres and shopping centres. I have always been concerned with creating something that will provide a reference point to the people who experience it and that will connect the physical space to the conceptual space.
When I have a commission, it has been vital for me to be able to spend time in the community, to observe and talk to the people living and working in it and study how the proposed space will be used. Only then can I begin to conceive of a sculpture that will create a sense of place. So many elements combine to create a successful public sculpture. Involvement of the community at an early stage of planning and selection, cooperation between architects and the sculptor in creating the setting – lighting, placement, benches, and access.
---
Sculpture in a public place can create a private space for people to enjoy. For example, my sculptures at Canary Wharf have, in many ways, become part of the landscape. FORTUNA was commissioned for the new residential area going up at Wood Wharf. The sculpture was finished before its permanent site was ready, so it was put up temporarily in Jubilee Park. In a very short space of time, people began to identify the space by the sculpture. Workers used it as a location for meeting up or for sharing picnics. It showed me how people can really change their daily routine through public art.
Every time that I've ever come to Jubilee Park there have been children playing in it, trying to climb in it, crawling into the spaces of it. There have been teenagers sitting there telling me that this is where they go when they need to reflect on their lives. When word got around that the sculpture was going to be moved, people were horrified. It had become theirs. That area of Jubilee Park was meant for changing exhibitions, but FORTUNA remains there and always has people around it.
ILLUSION invites people to enter into it, invites people to touch, to learn about the forms, to understand what the sculpture means. Touch is another thing we are losing in our society. Most sculptures say: "Don't touch." All my public sculptures should be touched. Through touching, you learn the boundaries, you understand the possibilities, you discover what you can't learn just through your eyes.
A: Yes! Let's all set aside our mobile phones for moments like these – moments of exploration and touch. Thinking a little further about this, works such as ASCENT are featured in dense, highly urbanised environments. Do you think that people who live and work in these spaces see your sculptures as perhaps a kind of soothing yet energising balm?
HB: Yes, absolutely. I received a lot of emails during lockdown from people who were energised by seeing my outdoor sculptures at a time when there was little access to art.
On a visit to photograph ASCENT in Jubilee Park, I met a visitor to the park who was also photographing the sculpture. Not knowing I was the artist, he told me that he came to see the sculpture every day and that it was his point of light in the darkness. That was an amazing experience for me.
---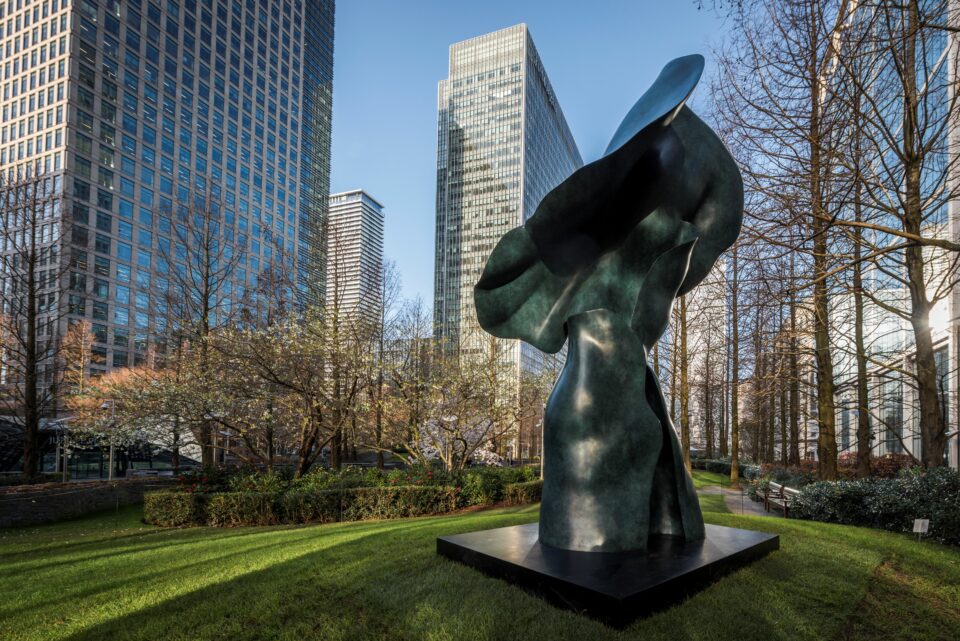 I recently heard about a study undertaken by the University of Auckland which found evidence that viewing art can be an effective remedy for stress. Following on from this, a reporter from the local news website EastLondonLines paid a visit to Canary Wharf and wrote an article about her reaction to some of the more than 100 public artworks on the Estate. She gave my sculpture SPIRIT OF LIFE a "five-star stress buster" rating saying, "Within seconds of looking at this piece, I feel energised by the power it holds – it evokes beauty, hope and creation. The top of the sculpture opens in a warm and inviting way encouraging me to let go of stress: why hold on to it when you can draw happiness and strength from your own life?"
A: Yes – people seem to want to seek solace, peace, inspiration and interaction.
HB: It's fascinating for me to observe people coming up and looking at my sculptures, walking around them. If I have the possibility, I ask them what they see or how it makes them feel. People have different ideas and reactions, but I'm always pleased when people recognise the positive power of beauty, of hope, of optimism and of creation. That's what public sculpture can impart.
A: So where to next? What projects and exhibitions do you have coming up throughout 2023 and 2024?
HB: In terms of exhibitions, I am planning a solo show with a major gallery in Paris for the autumn of 2023. In 2024 The Hignell Gallery is organising a retrospective of my work in New York.
In terms of projects, I remain interested in encouraging governments to support a worldwide program established using the model of the Public Works of Art Project (1933–34) and the Federal Art Project (1935–43) that President Franklin D Roosevelt endorsed during the Great Depression.
The pandemic has had a sudden and overwhelming impact on the arts all over the world. So many artists as well as those working for institutions that support the arts have lost employment. Artists are demoralised. People are demoralised. As an artist and sculptor, I feel strongly that we need to do something to revitalise artists, arts institutions, and by extension, our communities at large. The world has never been in greater need of the restorative power of art.
---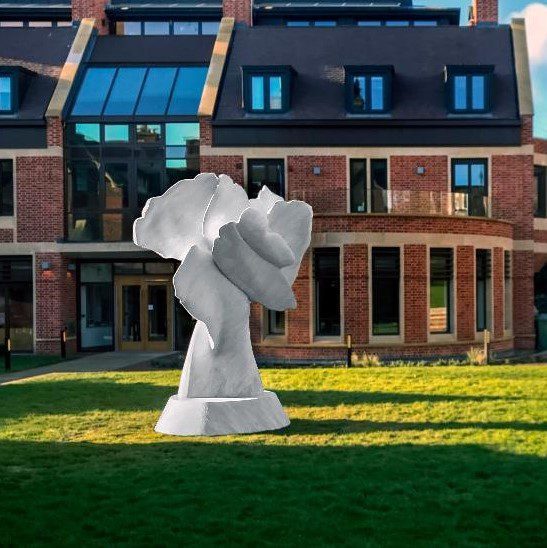 I also remain committed to public art, especially in therapeutic contexts. Although they are not generally considered to be "first responders" artists are often among the first to address the emergent crises of modern life in their work. Particularly in the last year we have seen how society is increasingly moving towards a precipice caused by isolation, lack of empathy and a breakdown in trust. We need to transcend the limits of our own perspectives and seek out a profound knowledge of each other to develop an increased sense of community.
Engaging with art can help promote mental and physical health by providing a message that connects on an emotional level rather than a purely rational one. It mediates between the public and personal spheres, translating complex concepts into feelings and giving people ways to think about hope, healing and resilience.
Public art can give people a sense of belonging and mediate the enormity of the difficulties of the world around them. The transformative and regenerative power of art has never been needed more than it is now.
---
All images courtesy of Helaine Blumenfeld OBE.
The work of Helaine Blumenfeld OBE appears in Issue 112 of Aesthetica. Click here to visit our online shop.
---
Images:
METAMORPHOSIS. Commissioned by the Canary Wharf Group, London. Photo: Henryk Hetflaisz.
EXODUS III. Photo: Erio Forli.
SPIRIT OF LIFE. Photo: Julian Jans.
EXODUS at Ely Cathedral. Photo: Henryk Hetflaisz.
POESIA DELLA VITA. Photo: Erio Forli.
TAKING RISKS. Photo: Henryk Hetflaisz.
INTIMACY AND ISOLATION: EMPATHY at Het Depot, the Netherlands. Photo: Sifra Kock.
AURORA at Het Depot, the Netherlands. Photo: Sifra Kock.
ILLUSION at Ely Cathedral. Photo: Henryk Hetflaisz.
TWO SIDES OF A WOMAN. Photo: Yorick Blumenfeld.
FORTUNA. Commissioned by The Canary Wharf Group, London. Photographed in Jubilee Park, Canary Wharf by Sean Pollock.
ASCENT at Jubilee Park in Canary Wharf. Photo: Sean Pollock.
TREE OF LIFE: ENCOUNTER at The Woolf Institute, Cambridge. Photo: Henryk Hetflaisz.