The Other Art Fair returns to London with bold colours and bright ideas. A curated selection of work by 120 emerging and independent artists takes over Victoria House in Bloomsbury, offering an arena for the discovery of new talent. The 2019 edition is a hotbed for boundary-pushing artwork, including the latest in photography, painting, sculpture drawing and installation. Selected practitioners explore conceptual ideas surrounding the landscape and climate action.
The environmental crisis is the theme of Aphra Shemza's real-time data visualisation piece. Lights are connected to four news sources from various countries. Each time climate change is mentioned in the news the lights change, serving as a reminder of the urgent action that needs to take place. British artist Lauren Baker also engages with these themes, looking specifically at the destruction of the Amazon rainforest. The fair's entrance installation is a three and a half metre white tree – supporting the reforestation of the region through the One Tree Planted charity.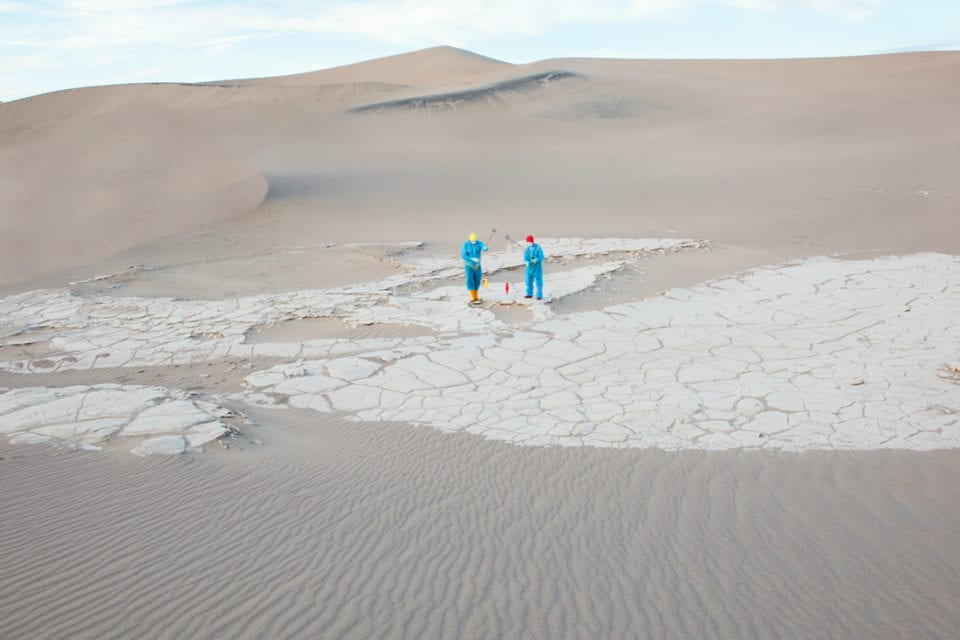 More spectulative ideas are explored by Romania-born Simple-T, whose photography is featured above. "My images manifest my feelings, dreams, experiences and encounters," the artist notes. "I like people who are curious to find out what is behind a facade.'' The photographs are inventive and often surreal. Superheroes relax within vast deserts. Blue-clad characters fish in dried-up salt flats. Sportspeople play amongst Iceland's glaciers. Deeply tied to the natural world, the pieces ask wider questions about how we interact with the environment.
Concepts of space are observed by Paris-based photographer and and graphic designer Emilie Möri. The Dream on Ocean series follows an anonymous figure around a bright white architectural landscape. Blank forms are set against a piercing blue sky. Linear elements create abstracted geometric compositions. As the character looks out towards an unblemished body of water, Möri poses questions about what happens next. The practitioner's wider oeuvre includes ethereal portraits and obscured figures, often within desolate landscapes.
The Other Art Fair is presented by Saatchi Art, and runs 3-6 October. Find out more here.
Lead image: Emilie Möri, Ocean.