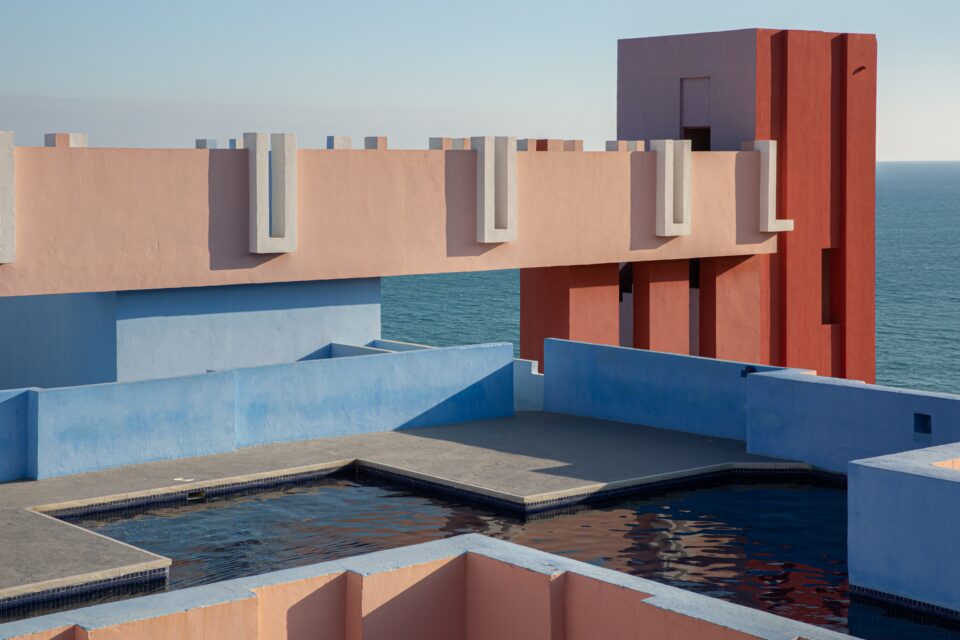 La Muralla Roja, Calpe, Spain | Ricardo Bofill, 1968
La Muralla Roja, which means 'The Red Wall' in Spanish, is a postmodern apartment complex. The building references Mediterranean architecture and is listed amongst the most iconic works of Catalan architect Ricardo Bofill (1939-2022). The exterior directly responds to its surroundings; the bright red and salmon pink facades are in contrast with the landscape, whilst blue and indigo surfaces respond to sky and sea. Its plan can be compared to that of a labyrinth, integrating five blocks that are connected to a central courtyard via a maze of staircases. In 2020, a monograph by architectural photographer Sebastian Weiss documented the site's mesmerising colours and unique atmosphere. Its timeless, recognisable look has led to popularity on social media, providing inspiration for the set design of Netflix's Squid Game (2021).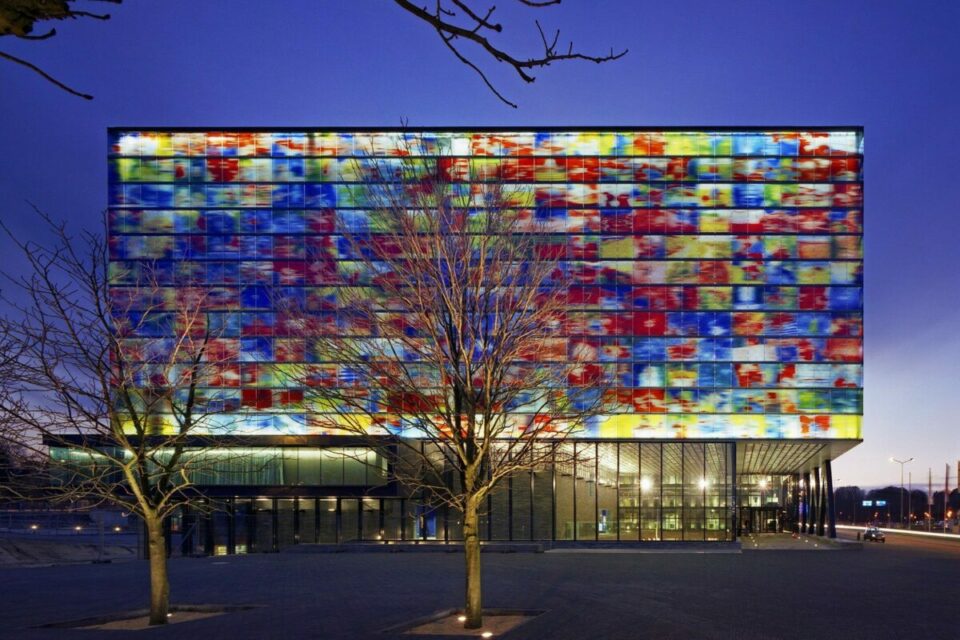 Institute for Sound & Vision, Hilversum, Netherlands | Neutelings Riedijk Architects, 2006
Located in the city of Hilversum, the Institute for Sound & Vision contains over 70% of Dutch audiovisual heritage. It houses more than 750,000 hours of film, television, music and radio dating from 1898 to now, and its collection is growing daily. Beneath the vibrant Euclidian cube, underground storage is laid out as if within subterranean necropolis. The design was implemented according to strict climatic guidelines to provide suitable conditions for the sensitive collection. Its striking façade is made of 2100 different glass panels – created by graphic designer Jaap Drupsteen – which depict iconic moments from the history of Dutch television. The result is a celebration of popular culture and collective memory.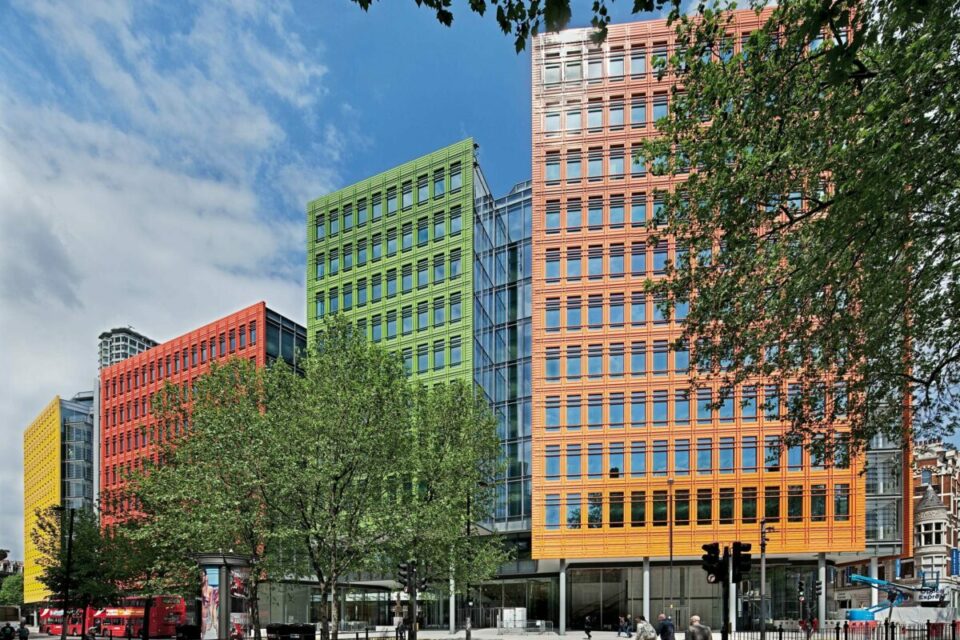 Central St. Giles Court, London, UK | Renzo Piano + Fletcher Priest Architects, 2010
Central St. Giles Court is a 15-storey office and apartment complex in the heart of London. The site was Italian architect Renzo Piano's (b. 1937) first work in the UK. He states that: "The challenge was to create a development that brings heart and soul into this rich part of London's urban fabric." Arranged around a public courtyard, the project incorporates a selection of shops and restaurants. Its vibrant façade is covered with 134,000 glazed tiles in vivid shades: orange, red, lime green and warm yellow. Each of these surfaces is distinct: varying in height, direction and how it interacts with sunlight. Central St. Giles Court stands out from the city, and there's a playful interaction between it and the otherwise grey urban jungle.
Biomuseo, Panama City, Panama | Gehry Partners, 2014
Frank Gehry's (b. 1929) first project in Latin America, the Biomuseo, is an affiliate of the Smithsonian Institute. The complex – which stands out for its bright, origami-like metal roof – was inspired by Panama's biodiversity, comprising the main building, exhibition spaces and surrounding park. Inside the venue, eight showrooms immerse visitors in Panama's natural environments and the geological history of the country. A publicly accessible garden illustrates real-life interactions between local plants and animal species. At the centre of the Biomuseo is a covered atrium which connects the various wings of the museum whilst protecting visitors from extreme weather – including blazing sun and wind-driven rain. The venue features a café, several gathering areas, temporary and permanent exhibition spaces and a museum store.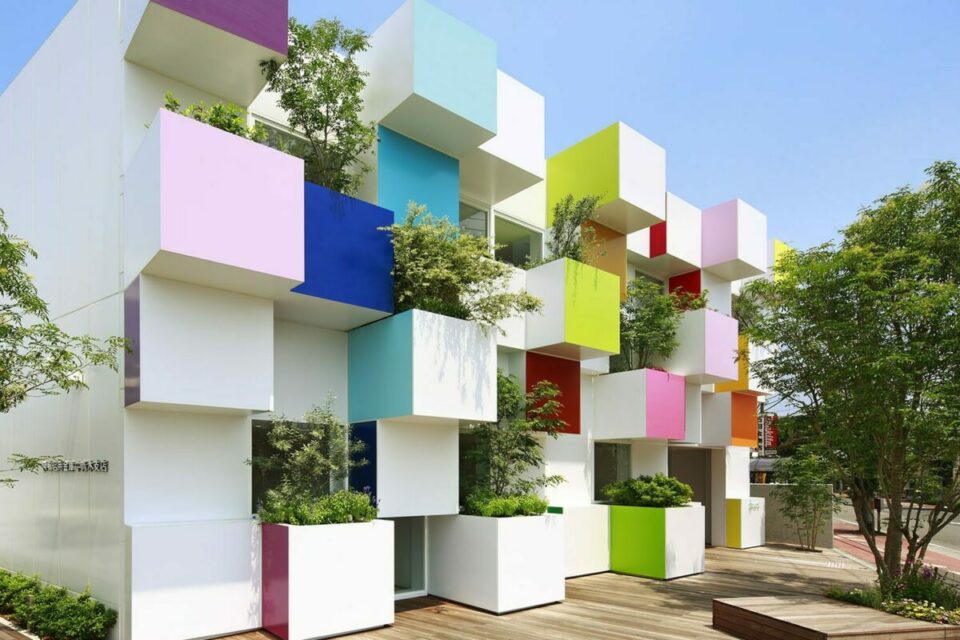 Sugamo Shinkin Bank, Nakaaoki, Kawaguchi, Japan | emmanuelle moureaux architecture + design, 2014
The works of Tokyo-based architect Emmanuelle Moureaux (b. 1971) employ colour in three-dimensions. Nakaaoki is the fourth Sugamo Shinkin branch to be designed by Moureaux. Each of her buildings utilises a signature colour palette, with tinted surfaces bouncing off one another to evoke feelings of joy. Here, the concept of 'rainbow melody' is carried through the façade, where: "colours appear in and out from the rhythmical repetition of cubes, dancing like musical notes." This idea directly responds to the building's location: a major intersection with frequent movement. Furthermore, the elevated cubes are home to seasonal flowers such as marigolds and lavender – creating life within the built environment. Passersby are invited to examine different sides of the building by walking around and viewing it from various angles.
---
Words: Fruzsina Vida
---
Image credits:
1. La Muralla Roja, Ricardo Bofill, 1973. Image by Zhifei Zhou
2. Institut for Sound &Vision, Neutelings Riedijk Architects, 2006. Image by Scagliola Brakkee
3. Central St. Giles Court, Renzo Piano + Fletcher Priest Architects, 2010. Image by Michel Denancé
4. Biomuseo, Gehry Partners, 2014. Image by Fernando Alda
5. Sugamo Shinkin Bank, Nakaaoki branch, emmanuelle moureaux architecture + design, 2014. Image by Daisuke Shima / Nacasa & Partners