The sea serves as an eloquent reminder of just how vast and profound nature can be, with endless cycles of waves crashing on the shore. The organic world is supreme, powerful and authoritative, despite our consistent efforts to control, deplete or damage it. In Joakim Eskildsen's Skagen IX (2008), a woman stands alone, ankle-deep in the ocean, and takes a selfie, with the horizon serving as the water's only limit. Her skin and blond hair find their mirror image in the sand visible beneath, the blue of her dress echoed in the waves.
The print belongs to a series of photographs by four artists from Denmark, Germany, the Netherlands and Norway that engage in a dialogue with the MKdW's collection of paintings and prints from Romanticism to Modernism in celebration of the museum's 10th anniversary. The countries all share coasts along the North Sea, and the everyday lives of people serve as the artists' canvas and inspiration. A family of five warms up by a fire, squinting through the smoke on the side of Norway's Godfarfossen waterfall in Mette Tronvoll's image of the same name (2013). Only the blaze and sunlit rocks are sharp; the trees and figures are all more of an evocation, an impressionistic moment. In another print, a woman washes fish roe in a composition that's all light and reflections.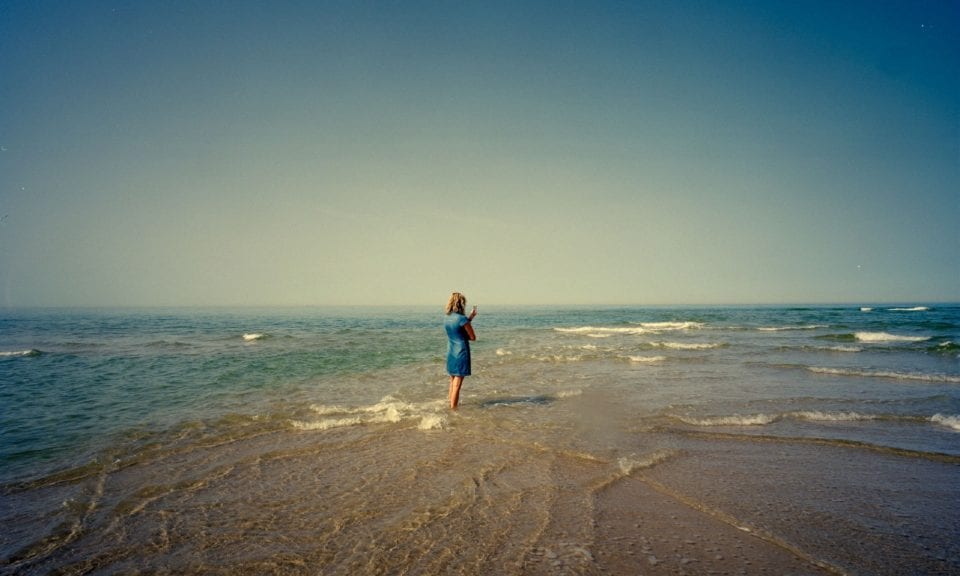 MKdW's collection includes more than 800 paintings, oil sketches and works on paper created between 1830 and 1930 by painters such as Max Liebermann, Emil Nolde, Edvard Munch and Piet Mondrian, as well as contemporary creations by Joakim Eskildsen, Nan Hoover and Mila Teshaieva. Hints of Norwegian Romanticism, the realistic leanings of the Hague School and other stylistic influences can be found in the featured photographs as well. Ellen Kooi's stand-out pieces are especially painterly, with the airy quality of an Andrew Wyeth piece as a woman makes her way through tall grasses to reach a house upon a dune under a gloomy sky in Bergen – Dünenhaus (2009).
In Oosterplas – Cairn (2018), a figure stands submerged in a lake; a young child rests upon his head, looking out towards the background scenery. It is both visually arresting and slightly unnerving, as the presumed father sinks into the glassy water – silhouettes stacked as a totem in the reflection. Dramatic landscapes also feature in prints by Anja Jensen, who has previously held a residency at Alkersum on the island of Föhr. In Ahnung (2019), a woman clambers up an uneven dune, her back turned to the orange and red streaks across the sky whilst dressed in a traditional costume. The title means "idea," so she may not be so impervious to the scenery after all. A violent storm has left large puddles and caused the sky to bleed out in Witterung (2019). There, a woman loads her shotgun nonchalantly, gazing past the viewer. Each of the four practitioners also has a single piece on view at the upscale Namine Witt bistro in Nieblum.
Until 12 January. Find out more here.
Olivia Hampton.
Lead image: Bergen – Dünenhaus, 2009. C-print, Diasec, 100cm x 156cm.© Ellen Kooi, Courtesy Torch Gallery Amsterdam. VG Bild-Kunst, Bonn 2019.