Artist and author Harland Miller (b. 1964) has always been surrounded by books. He is best known for making paintings inspired by Penguin's iconic orange dust jackets. Inspiration came whilst living in Paris during the 1990s, when Miller discovered a cardboard box of Penguin titles outside an English bookshop near Notre Dame. The vintage volumes led to a world-renowned body of work – combining text and colour to offer humorous personal and cultural commentary. The largest exhibition of these bright, large-scale images is now open in the artist's home city of York.
"I grew up in Yorkshire in the seventies – during the miners' strike and the reign of the Yorkshire Ripper," Miller reflects. "Looking back, these times seemed quite dark, quite literally when you had the power cuts too. Though it never really struck you as a kid why, instead of watching telly, you were suddenly playing Monopoly by candlelight with your family. It did bring people together though – as a family that is the only thing I remember us doing together." Early experiences, alongside an interest in Abstract Expressionism and Pop Art, informed the Pelican Bad Weather Paintings – part of the show at York Art Gallery.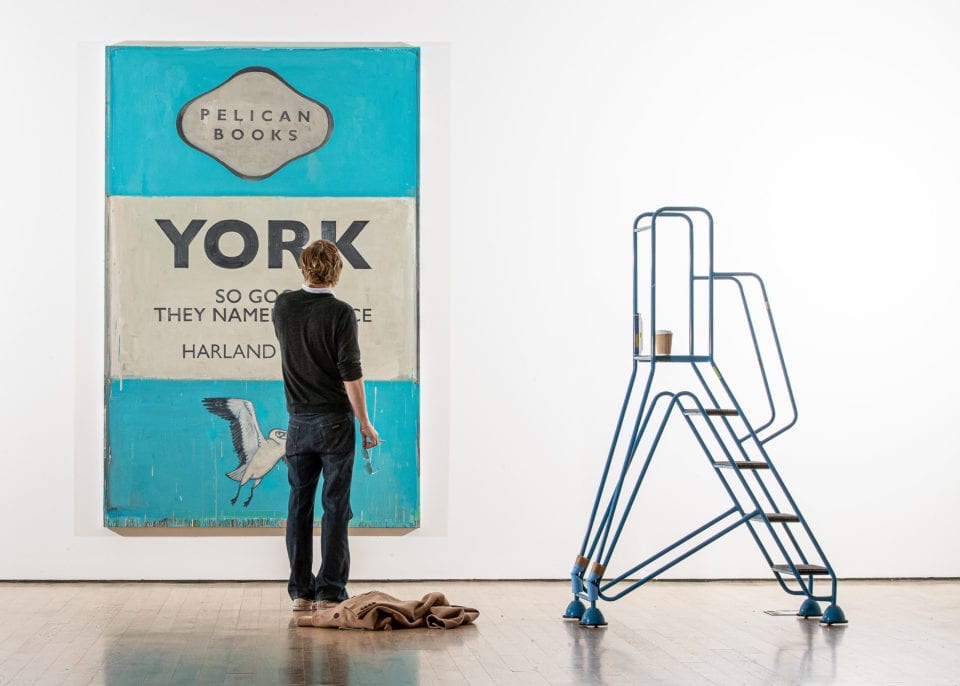 Pelican books were the non-fiction counterparts to Penguin. They spoke to the state of post-war Britain and were ever-present in Miller's childhood home. The painter's father collected old books, buying 'lots' from sale rooms in the hope of finding a first edition. Miller's moody, blue and grey-drenched pieces reflect on these times, whilst referring to the culture and geography of the North of England and its coastline through incisive text. Places including Bridlington, York and Scarborough come under scrutiny – with titles like Whitby: The Self Catering Years offering audiences amusing snippets of social commentary.
York Art Gallery also highlights recent work. The new pieces move away from the fully formed sentences found in previous series, instead featuring short single words or acronyms such as "Up", "Ace" and "Luv." They tap into popular language usage – layering each bold letter in bright greens, pinks, oranges and yellows. In this way, Miller brings the medieval illuminated texts – which he studied at A-Level – into the 21st century.
Until 31 May. Find out more here.
Harland Miller: York, So Good They Named It Once runs alongside the Aesthetica Art Prize Exhibition 2020. Find out more here.
Images by Charlotte Graham.