In 1995, Shanghai-based performance artist Zhang Huan and nine of his collaborators climbed up Beijing's Miaofeng Mountain. Their goal was to challenge the mountain's mammoth altitude by adding a pile of flesh to its peak. The resulting photographic work, To Add One Meter to an Anonymous Mountain, shows 10 stacked bodies reaching one metre high.
Zhang's humorous take on our relationship with nature is now on display as part of Beyond the Mountain, organised by Seattle Asian Art Museum's curator Foong Ping. "The bodies might make the mountain higher for a minute, but what comes then?" asks Foong. A nod to classical forms is a running thread throughout the works on show, realised through both traditional and contemporary materials and media.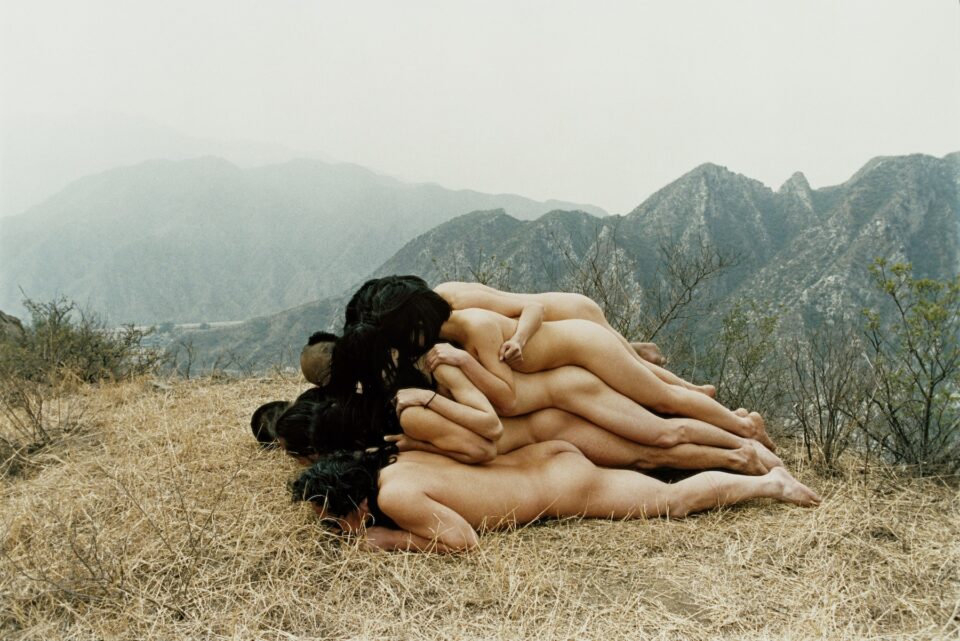 The iconography of landscapes is key in Foong's programming. Both poetic accents and metaphorical embodiments of what lies ahead, geographies appear majestically in Yang Yongliang's two 4K videos, The Return and The Departure. Here, the artist marries images of cities with organic material to create a kind of dystopia. "Besides Yang's reference to Song Dynasty-era ink paintings, the images speak of Seattle, where new skyscrapers mushroom everyday," Foong notes.
Chen Shaoxiong also revisits tradition, with rice paper drawings of contemporary protests, including those in Egypt and Hong Kong. Paying homage to an ancient drawing technique, the images are immediately relevant for the contemporary viewer. In contrast to Chen's directness, Ai Weiwei purses a subtler commentary on our obsession with objects. A group of ceramic vessels, whose origins are unknown, are dyed with industrial paint. Speculative and provoking, the work places a question mark on cultural value and collective histories.
---
Seattle Asian Art Museum | seattleartmuseum.org
Words: Osman Can Yerebakan
---
Image Credits:
1. The Departure, 2019, Yang Yongliang, Chinese, born 1980, single-channel 4K video (black and white, sound), 8:30 minutes, dimensions variable. Courtesy of Yang Studio of Yang Yongliang, T2019.30
2. To Add One Meter to an Anonymous Mountain, 1995, Zhang Huan, chromogenic print on Fuji archival paper, 50 7/8 x 71 in. Gift of the Contemporary Art Project, Seattle, 2002.23 © Zhang Huan