Maker, educator and climate activist Brigitte Jurack's (b. 1962) largest solo show to date, Fieldnotes, invites viewers to look slowly at their immediate environment. References to fables and folkloric animal histories examine the contemporary relationship between humanity and nature, asking how creativity can unlock mutual respect and sustained wellness.
Ceramic foxes and crows are found scattered around the gallery. These three-dimensional "documents" continue an exploration of form for the artist, who draws on their wit and intelligence to highlight their adaptability despite urbanisation. Elsewhere, in I am thinking with my hands (2019-2023), Jurack works closely with those suffering with dementia and their families to produce a collection of pots and jars. Participants' senses are stimulated through fresh fruit, vegetables and seafood, resulting in a collection of touching and heartfelt forms, each with a face that embodies the unique personality of its maker.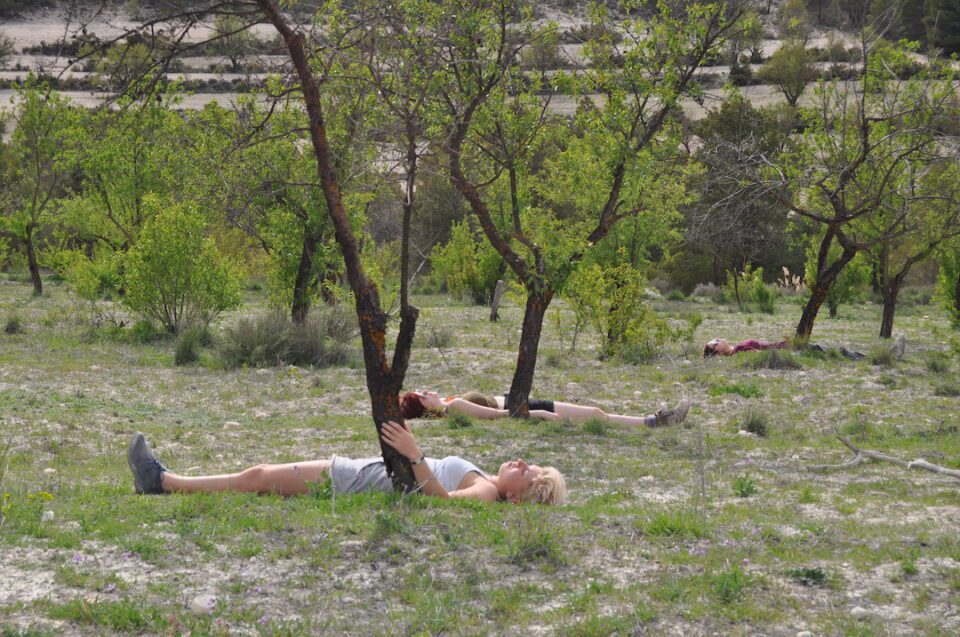 These works carry with them the sobering thought that art – in the hands of creatives that care about people – always retains its intrinsic power to spark change. Moving into photography, figures mirror the shapes of topographies and plants. In Untitled (2018), participants line up next to one another, a nod to the undulating surfaces of rolling hills. Elsewhere, two people are seen passing an orange disk across a shallow indent in the vista. In the centre, a table covered with twigs and branches brings countryside materiality into the city gallery. Spectators are invited to create straw beehives traditionally used in medieval farming.
This call to nature encapsulates the aim of the multidisciplinary exhibition: to bring people together. In doing so, Fieldnotes reinvigorates their ties to the land and each other.
---
Words: Alexander Stubbs
HOME, Manchester
29 October – 29 January
---
Image Credits:
1. Brigitte Jurack,Untitled (2018). Digital print.
2. Brigitte Jurack, Spring (2018). Digital print.