The ocean covers more than 70 percent of Earth, yet more than 80 percent of it remains unexplored. It's a place of great wonder and discovery, and, most importantly, is vital to life on earth. But its ecosystems are under grave threat: from pollution, deep water fracking, sea mining, overfishing and other destructive human activities.
"The sea and its deeper ecosystems encompass us all," says Ritika Biswas, Artistic Director of Sea Art Festival, a bi-annual exhibition taking place across South Korea's beaches. This year's title is Non/Human Assemblages. Organised by Busan Biennale, it presents outdoor artworks that ask thought-provoking questions: How do we visualise the sub-microscopic oceanic algae that provide a significant portion of the world's oxygen? How do we understand the spiritual resonances that people and cultures have always had with the seas? How can we learn from deep-sea creatures and their perception of time? How is our bodily sweat linked to the ocean? "In the age of the climate crisis and geo-social upheaval, reviving the connections among our bodies and our lived environments, and to do so with curiosity and humility, is an act of playful resistance, rumination and healing," Biswas continues.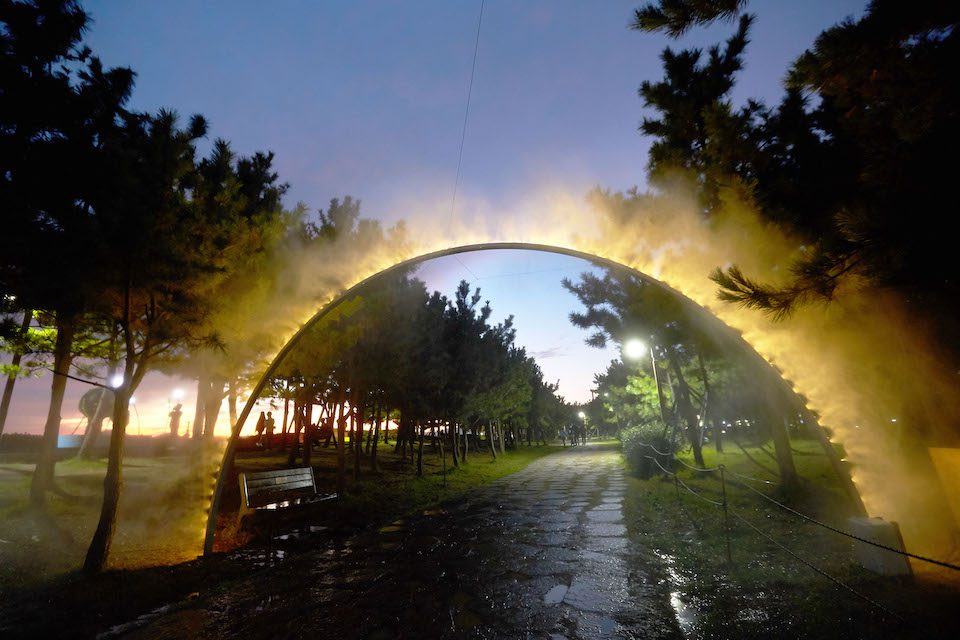 Examples from previous years include Lee Changjin's In One Drop of Water Is Found All The Secrets Of All The Oceans, shown at the top of the page. It was a rainbow installation comprising hundreds of recycled plastic bottles, from which Changjin constructed free flowing forms on the coastline. The piece was particularly prescient considering the eight million tonnes of plastic waste deposited in the ocean each year. Elsewhere, James Tapscott – shortlisted for the Aesthetica Art Prize 2021 – presented Arc Zero. During daylight, subtle mist poured from a sweeping arch – creating dreamy scenes against the pine forest backdrop. It lit up at dusk and was designed "as a metaphor for human control over nature." The round shape of the arc and fog disseminating into the air evoked the water cycle – passing through the earth and sea then finally evaporating into the air.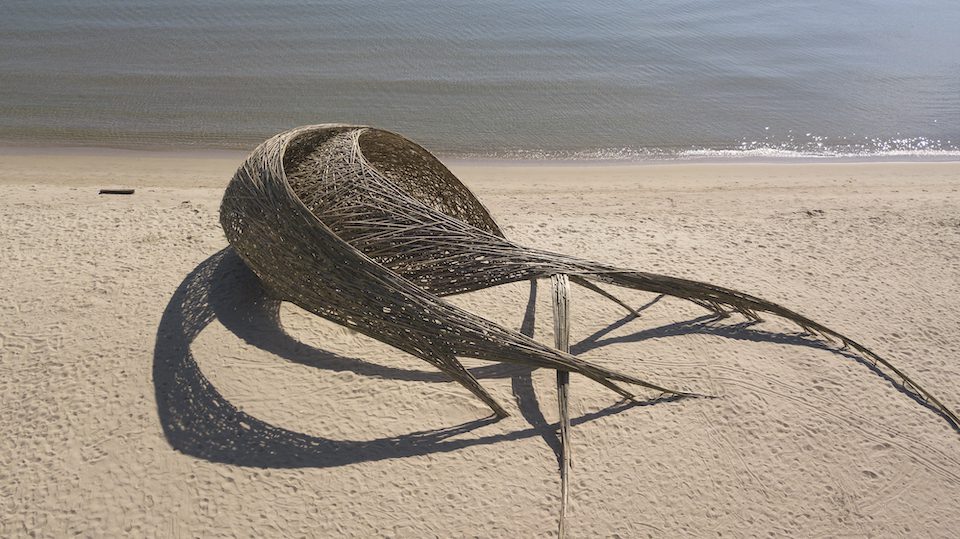 This year's programme promises to be just as evocative, with 22 artworks responding to the theme Non/Human Assemblages. One such example is shown above. Lee Kuei-Chih is a land artist whose piece, Gestate, is installed on the Ilgwang beach. It's a nest-looking structure made of bamboo strips, letting sea water come in and out during high and low tide. All the installations explore the interrelations between our humanness – bodies, societies, and systems of thinking – and the non-human world, specifically the marine landscapes that are often invisible to us. "The entire festival might be its very own ocean; all you need to do is immerse yourself," says Biswas. The Artistic Director hopes that, through Sea Art Festival 2021, visitors will find themselves opening up to the wild possibilities and realities of inter-species care and connections, whilst becoming more attuned to what it means to inhabit a human body.
---
16 October – 14 November. Find out more here.
---
Image Credits:
1. Lee Changjin, In One Drop of Water Is Found All The Secrets Of All The Oceans. (2019) Materials: Plastic bottles, water, dye, LED. Dimensions variable. Ⓒ Busan Biennale.
2. James Tapscott, Arc Zero, 2017, Mist, light, steel, nozzles, pump, 300x600x10cm. Ⓒ Busan Biennale.
3. LEE, Kuei-Chih, Gestate, 2021. Ⓒ PARK Hongsoon and Busan Biennale.