New York-based, Swiss-born artist Ugo Rondinone (b. 1964) is perhaps best known for the sculpture Seven Magic Mountains: towers of rainbow boulders stacked high in the Nevada desert. It's an eye-catching example of land art which first opened to the public in 2016. The piece has been a popular tourist destination ever since. But what is the story behind it? Where did the idea come from? Zurich's Galerie Eva Presenhuber provides an answer.
The exhibition Waterfalls & Clouds takes us back to 2008, when Rondinone first had the idea to work with stone. The show presents three of a group of 20 sculptures – the earliest in the artist's oeuvre to employ the material. They foreshadow the monolithic figures and columnar "mountains" he would later construct, including the brightly coloured totems in Las Vegas.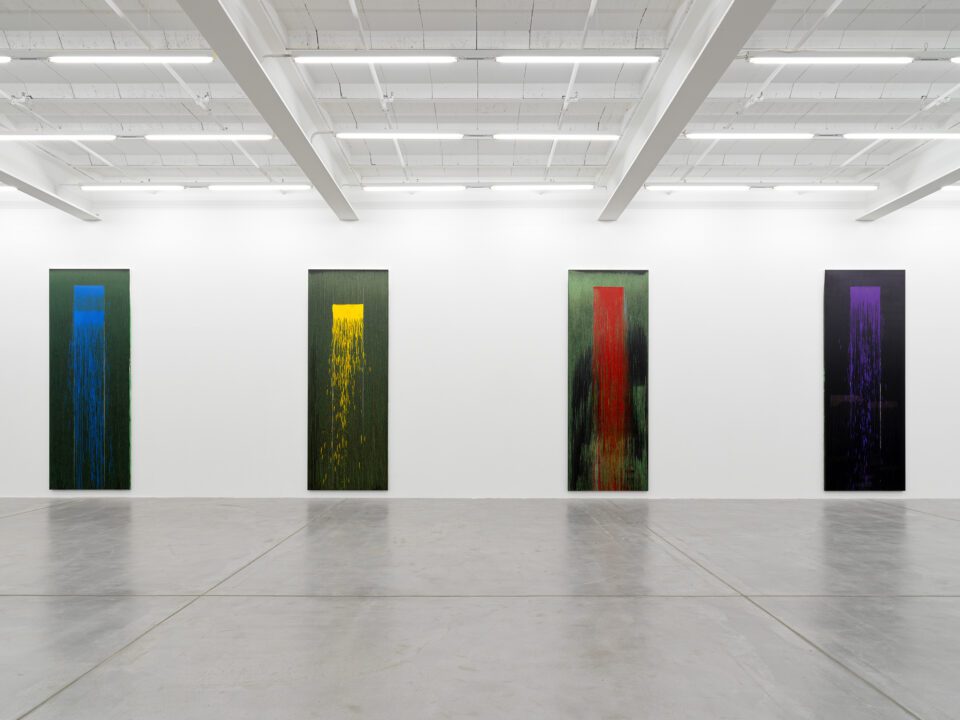 Intriguingly, each piece is named after a word from a self-written poem of 20 words, which reads: "we run through a desert on burning feet, all of us are glowing. our tiny faces look twisted." Faces, look and twisted are the words to look out for here, manifesting as huge concrete forms. The artist calls these unstable behemoths "clouds"; they stand at two- or three-times human height, dominating space.
What's most mesmerising is their fluid and unpredictable curves – as if carved out by water over thousands of years. Unlike Seven Magic Mountains, they are grey and pebble-dashed, evoking strange and unusual geological rock formations. They seem to be created by time, rather than crafted by human hands.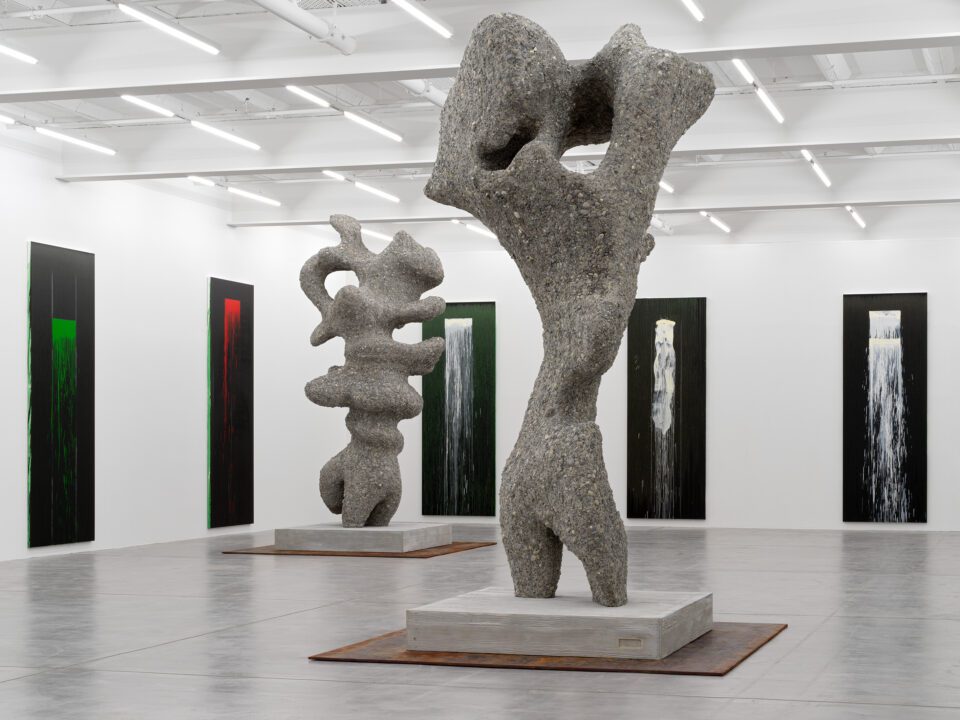 Nature remains an enduring influence for artists across all media. For this show, Rondinone invited American painter Pat Steir (b. 1940) to exhibit alongside him. Steir presents a group of new paintings which match Rondinone's rock sculptures in scale: each canvas is 11 feet tall. Rather than imitating nature, Steir cites it as a collaborator, using gravity to create waterfall-like compositions. As splashes of blue, yellow and red snake their way unpredictably towards the floor, the space comes alive with the movement and dynamism of our world.
---
Waterfalls and Clouds runs until 16 October. Find out more here.
---
Images courtesy Galerie Eva Presenhuber.