Danish-born conceptual artist Olafur Eliasson (b. 1967) experiments with installation, public projects, photography and film to explore sensory perception and our relationship with the world around us. The socially conscious creations have long challenged viewers to confront real-world issues that range from climate change to immigration and displacement to sustainable agriculture.
Green River Project (1998-2001), featured in Aesthetica Issue 61, contemplates how art can alter nature – presenting viewers with a new version of the landscape. Uranine, a water soluble dye, was poured into rivers across urban and rural landscapes. The nontoxic colourant was carried along by the tide, drastically changing the appearance of the environment as waterways transformed from blue to green.
---
Eliasson deftly moves between land art, installation and architecture. Gravity Stairs (2014) and Your Rainbow Panorama (2006-2011) are highlighted in Aesthetica Issue 85. Installed at Samsung Museum of Art, Seoul, the former is a row of glowing circular outlines which sit above a yellow staircase. The model references the unaltered sequence of the solar system – allowing viewers to contemplate the importance of perspective and vision.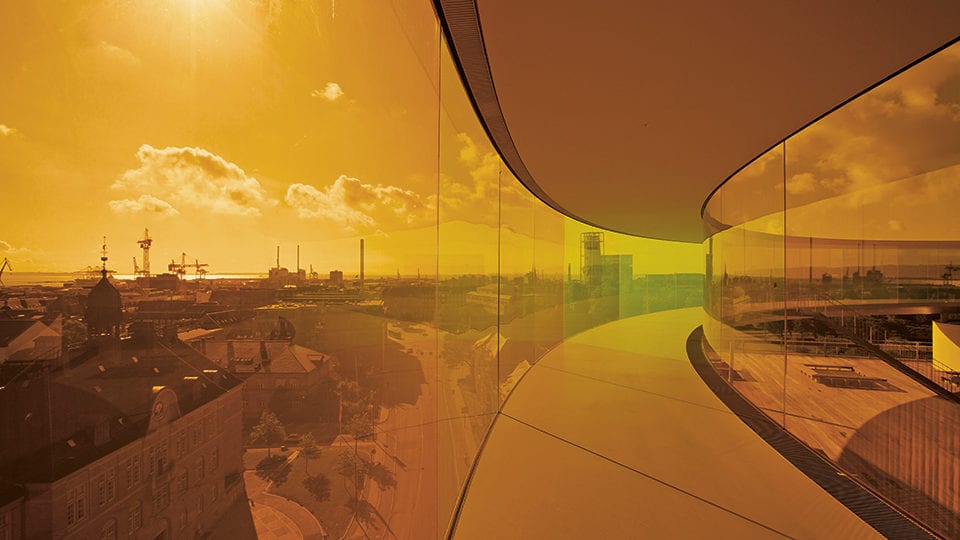 The iconicYour Rainbow Panorama (2006-2011) exemplifies the artist's intensive study of colour. It highlights his goal to "formulate a new colour theory based on the full spectrum of visible light." The 360-degree walkway was designed for a rooftop enclosure at ARos Aarhus Kunstmuseum, Denmark. A recent exhibition at Tate Modern, London, featured installations responding to this idea. It also engaged with the climate crisis. Entitled In Real Life, the show introduced weather – including the sun, mist and rainbows – to the gallery space. Visitors were invited to play with intangible reflections and shadows, interacting with their silhouettes to contemplate the relationship between humanity and the wider world at at a time of environmental emergency.
---
Aesthetica is a destination for contemporary art and culture. Keep up to date with some of the most important artists at work today. Subscribe and save 65% on newsstand prices.
---
Lead image: Olafur Eliasson, Gravity stairs, 2014. Leeum, Samsung Museum of Art, Seoul. Picture credit: Hyunsoo Kim / Courtesy of Leeum, Samsung Museum of Art. Courtesy of the artist.
2. Olafur Eliasson – Green river, 1998, uranine, water, Moss, Norway, 1998. Courtesy of the artist.
3. Olafur Eliasson – Green river, 1998, uranine, water, Moss, Norway, 1998. Courtesy of the artist.
4. Olafur Eliasson, Your rainbow panorama, 2006-11. 360-degree walkway installed on top of the ARoS Aarhus Art Museum, Denmark. Picture credit: Thilo Frank / Studio Olafur Eliasson.