ZERO was an artist group founded in Düsseldorf by Heinz Mack (b. 1931) and Otto Piene (1928-2014) – described as a "zone of silence and pure possibilities of a new beginning." The collective was formed in 1957, in reaction to the Euro- pean movements of Tachisme (non-geometric abstract art characterised by spontaneous brushwork, drips and scribble marks) or Art Informel (gestural abstract painting). ZERO was concerned with the development of kinetic art – making use of light primarily, as well as space and motion – de-emphasising the role of the artist, looking to viewer participation.
Kunstpalast celebrates the 90th birthday of Heinz Mack, illuminating the innovative and revolutionary spirit with which Mack unlocked "new spheres of thinking and working out- side academic requisites." The selection includes around 100 works tracing key stages in Mack's career, such as his studies at the Academy of Art Düsseldorf, the ZERO period, as well as seminal light-based environmental art, which has since influenced numerous high-profile practitioners the world over.
Many of the pieces demonstrate Mack's strong interest in exploring "pure light" in "unspoiled" areas, especially in the vastness of the African and Arabian desert, and in the per- petual ice of the arctic. In a 2017 interview with The Art News- paper, Mack noted: "The landscape should be free, clean, untouched – it should be just nature in a very pure way." This can be seen in the Sahara Project – installations of "artificial gardens" in the desert, including wing-reliefs, cubes, mirrors, sails, banners and monumental light-stelae.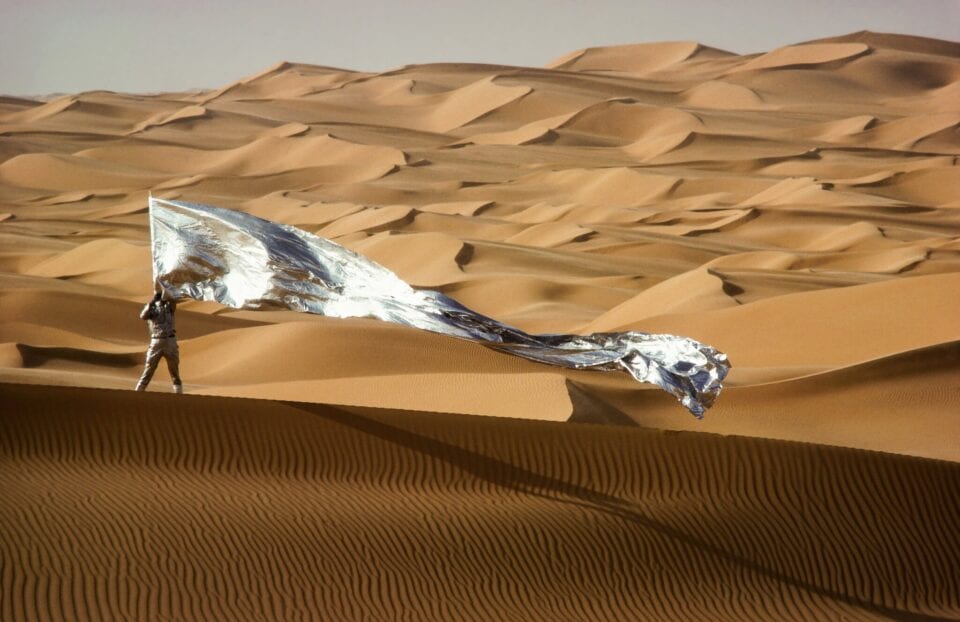 There is a kind of utopian quality to Mack's work in this way, with mirrored platforms and blocks protruding from sand dunes or bodies of water. Some of the images on show at Kunstpalast will look uncannily similar to the strange metal monoliths that began materialising in 2020: beginning in Texas and moving through to California, Romania, the Isle of Wight and the Netherlands, amongst other locations.
Licht Architektur (1976) for example, includes reflective cubes surfacing from the water, like a city resting on a lone glacier. The piece is part of a series installed in the arctic. In the 1970s, Mack became intrigued by plexiglas-bodies, light-flowers, prismatic pyramids, ice crystals and fire-rafts. These works were documented in Expedition into Artificial Gardens, which Mack issued with Thomas Höpker (b. 1936).
Other projects on show include Heinz Mack with Silver Foil in The Field of Sand Dunes – Sahara, which depicts the artist waving a reel of foil on an open plane, letting the light reflect and refract off the surface. Mack resembles an abandoned cosmonaut. Images like this also feel incredibly timely, especially considering the Perseverance landing on Mars on 18 February – the location point now named after science fiction writer Octavia E. Butler, who wrote: "Mars is a rock – cold, empty, almost airless, dead. Yet it's a heaven in a way."
---
Kunstpalast, Düsseldorf Until 30 May | kunstpalast.de
---
Image Credits:
1. Heinz Mack, Licht-Architektur (Modell für eine schwimmende Forschungsstation in der Arktis), Grönland/Arktis, 1976 Courtesy Archiv Atelier Heinz Mack © Heinz Mack/VG Bild-Kunst, Bonn, 2021. Fotografie: Thomas Höpker.
2. Heinz Mack with silver flag in the Grand Erg Oriental, Algeria, 1976 (Photography: Thomas Höpker, Courtesy Archiv Atelier Mack © Heinz Mack / VG Bild-Kunst, Bonn 2020/2021)