Manchester-based artist Liz West, who was shortlisted for the Aesthetica Art Prize in 2016, creates site-specific artworks that use vivid colour, light and space to ignite remarkable sensory experiences. Her latest piece, Hundreds and Thousands, transforms The Tide walkway in Greenwich Peninsula, London, into a kaleidoscopic installation. Here she tells us about the work's origins and why she's fascinated by the science of colour perception.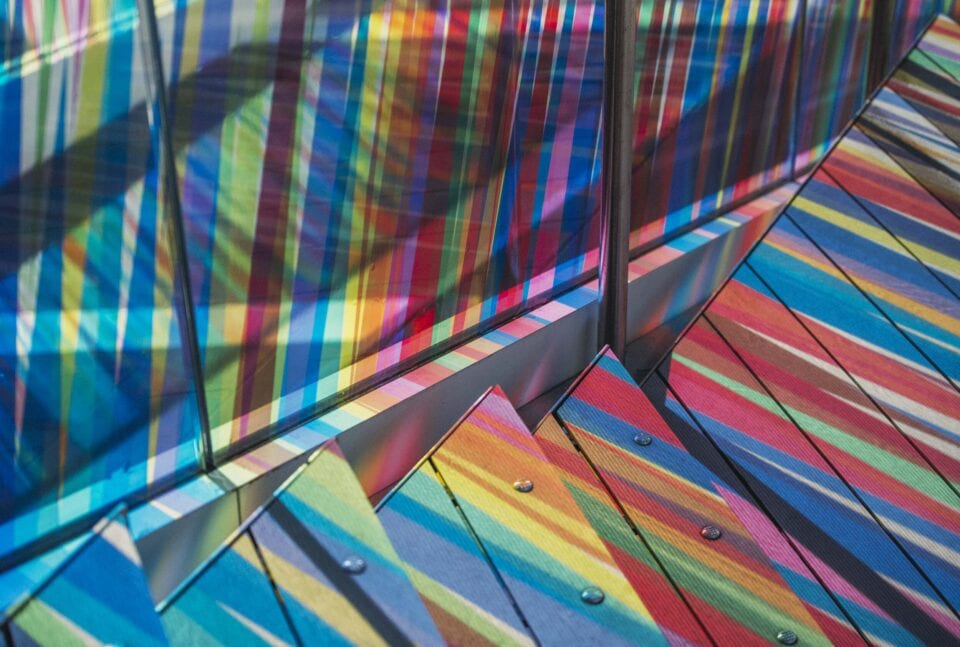 A: How did you develop your vision for Hundreds and Thousands?
LW: Hundreds and Thousands was initially derived from a series of drawings based on the individual human experience of encountering colour. My experiments in colour mixing and blending are influenced by the theory of Josef Albers. Albers' work led me to focus on the interaction of colours as well as creating careful compositions and spatial balance between geometric elements such as gridded or striped arrangements. Hundreds and Thousands also pays homage to the Tide's geography and proximity to the Greenwich meridian line, behaving as a sundial, allowing people to see the changing light depending on the time of day and season. 
The title refers to the literal number of triangular forms in the artwork and to the sensory luminescence and visual giddiness of the coloured sugar strands we were all familiar with as children. The repeated pattern of jewel-like multi colours in the work encourage your eye or body to follow the work around the space on a visual journey from Peninsula Square to the river. The clarity of the material reflects people and their surroundings, encouraging movement around the Tide and making a work that feels like it 'belongs'.
A: Hundreds and Thousands opened as we emerged from a somewhat bleak, sometimes lonely, winter of lockdown. What's the experience you hope to create for visitors?
LW: As someone who suffers from Seasonal Affective Disorder, I know only too well how the dark winter can cause low moods and therefore how bright luminous colours and light can have a positive impact on wellbeing. I hope that, within this work, I divert people's attention to the joy of experiencing culture again as well as the longer spring days and the changing light. Installed in spring after a difficult 12 months, the optimistic and vibrant Hundreds and Thousands couldn't come at a more appropriate time, when most people in the Northern hemisphere are desperately in need of a metaphorical and physical injection of Vitamin D. This work creates an opportunity for exploration, intrigue and a space to dwell. The interplay between the colourful optical panels and the light will create a dynamic environment that should hopefully be inviting and memorable.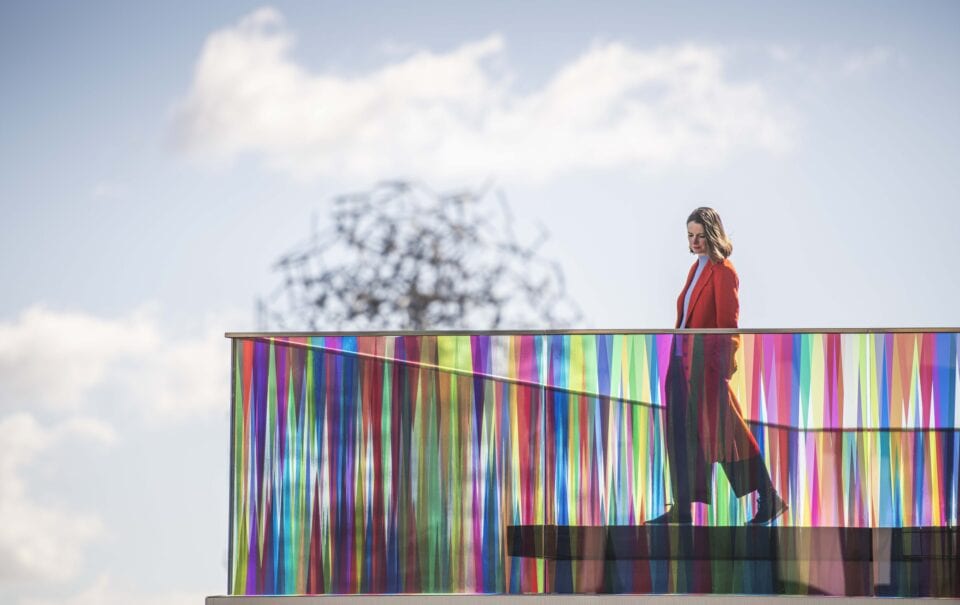 ---
A: This work is part of an ongoing exploration of embodied perception and the psychological resonance of colour. What interests you about these ideas?
LW: Light and colour have always been pivotal elements within my life. Most of my earliest memories were of discovering the world in a sensory and perceptual capacity. You cannot see colour without light. The two are therefore intrinsically connected. I am interested in exploring how we perceive the world. We live in this digital age where we have access to information and knowledge instantly and, so much of the time, no one actually stops to look and appreciate what's around them. Within my work, I want to highlight natural phenomena such as light and colour so people become more aware and sensitive to the spaces they inhabit.
A: What's been the most intriguing or surprising thing you've discovered through your research and experimentation?
LW: Both light and colour are wide in their outreach and ability to transform, perceive, deceive, illuminate and optically challenge us. I am continually surprised and delighted when witnessing and listening to people's reactions and behaviour when immersed in colour, as everyone brings their own intriguing memories and lived experience to the work. This in turn opens up a warm and honest dialogue; colour brings people together in a unified experience.
A: Where do you find inspiration?
LW: I walk around with my eyes wide open as I find inspiration everywhere. I am constantly in observation mode, looking at people, their behaviour, nature, food, science, technology, architecture, design and art. Artists that I turn to for inspiration include Ann Veronica Janssens, Yayoi Kusama, Mary Corse, Es Devlin, Katharina Grosse, United Visual Artists, Soft Lab, Daniel Buren, Robert Irwin, Carlos Cruz-Diez, Jim Lambie, David Batchelor, Olafur Eliasson, Dan Flavin, James Turrell, the list goes on and on…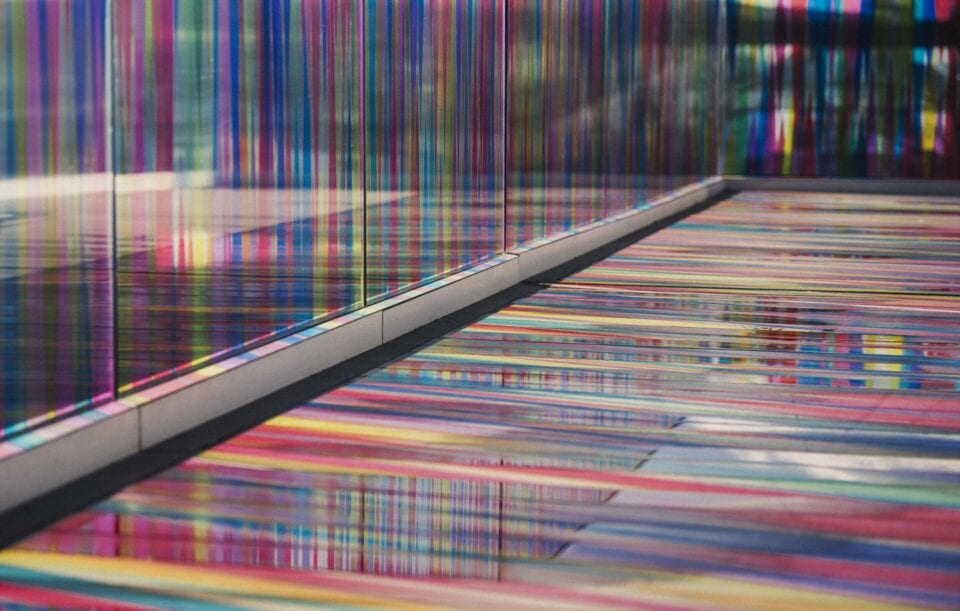 A: On a personal level, do you endeavour to surround yourself with colour day-to-day?
LW: My house is painted entirely white; it was the first thing I did when I bought the house three years ago. Arrangements of objects, plants, books, artworks and furniture add the much-needed colour to the spaces. I like grouping different objects together to make ensembles that are interesting and hold my attention. The work I make is my main colour injection; on a daily basis I study rich material samples and colour charts to aid my idea generation and make colour decisions. I also have all my tests, maquettes and models around me which are intensely saturated.
A: What are you working on next?
LW: There are a number of exciting projects I am currently working on, mainly to be experienced outdoors, which goes hand-in-hand with the current restrictions and guidelines. I have two new permanent outdoor works being fabricated for locations in Salford, as well as a new work Remain In Light, about to be unveiled as part of a group exhibition Colors, Etc in Lille, France. During lockdown I completed my first monumental wall-based work 'Our Melody Unwound' located on every wall of the atrium in the new Clatterbridge Cancer Centre in Liverpool, which I felt was very significant and poignant due to my personal experiences of cancer.
---
Hundreds and Thousands will be on show at Greenwich Peninsula until the end of the summer. For more information, click here.
Words: Rachel Segal Hamilton
---
All images courtesy Liz West. Photo Credit: Charles Emerson.