Entering the darkened space of Copenhagen Contemporary's Hall 2, three figures are apparent, their white-painted bronze sculptural forms illuminated, ghost-like, under spotlights. They find themselves in a triangular formation in the gallery, which has been transformed into a tennis court. On either side of the net are two boys. It's clear from their body language who is the winner and loser in this game. One clutches a trophy, whilst the other lies flat on the floor. To one side is a topless elderly man in a wheelchair. A spectator, perhaps? But why are his eyes closed? Could the scene we see before us be a dream or memory?
Short Story, an installation at the Copenhagen Contemporary by Berlin-based artistic duo Elmgreen (b. 1961) & Dragset (b. 1969) raises more questions than it answers. An open narrative, both literally and metaphorically, where visitors can stroll into the scene, and all is up for interpretation. The victorious player, Flo, has his back turned to his opponent. Close inspection of his face reveals no thrill in triumph, his eyes are cast downward, his expression blank. Scattered around the loser, Kev, is a ball and racket, implying that he has just dropped them to the floor, in fury or despair. Most mysterious is the older man, Bogdan.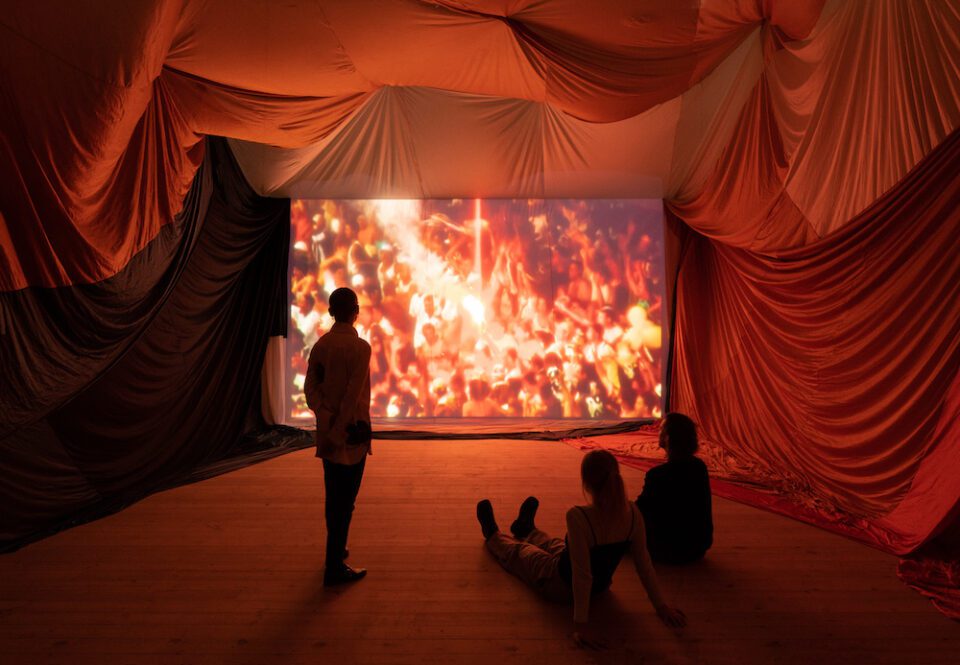 Since their collaboration began in 1995, Elmgreen & Dragset have gained acclaim for their sculptural installations and interventions that place objects in strikingly unexpected contexts. In Prada Marfa (2005), the pair created a replica Prada storefront off Highway 90 in Texas, whilst their 2011 commission for the fourth plinth in London's Trafalgar Square, Powerless Structures, showed a young boy in bronze riding a rocking horse. The initial incongruity of these recontextualised elements point to wider social or cultural concerns – consumerism, gentrification, childhood, masculinity or our choice of public monuments.
Similarly, Short Story prompts visitors to contemplate those features of sport which also happen to be attributes privileged in late capitalism – individualism, competition, athleticism, youth. The installation runs alongside a group show, Art of Sport, which features works from a wide range of artists, critiquing gender codes as well as its entanglement with big business. Elsewhere, pieces celebrate the truth and beauty of competition. You don't have to be a sports fan to appreciate that it can offer intense moments of drama and tragedy that reveal what it is to be human – to hope, to succeed, to try and to fail. 
---
Elmgreen & Dragset: Short Story runs until 24 October at Copenhagen Contemporary.
Words: Rachel Segal Hamilton
---
Image Credits:
1. Elmgreen & Dragset, Kev (2020). Installation view in Short Story at Copenhagen Contemporary, 2021. Photo: David Stjernholm
2. Stephen Dean, VOLTA (Bandeira) (2003). Installation view in Art of Sport at Copenhagen Contemporary, 2021. Photo: David Stjernholm