COLLECTIBLE Design Fair returns for 2020, showcasing innovative projects through creative curation. The fair establishes a new narrative for visitors to encounter contemporary design, featuring six floors filled with modernist objects, minimalist interiors and bespoke galleries. Aesthetica highlights five new talents to watch.
BRUT is a group of emerging creatives striving to empower the next generation. Each artist contributes to an annual interior installation – creating a space which celebrates the individual whilst demonstrating collective values. Brut creates environments where designers can show, strengthen and challenge each other – joining the dots between conceptual ideas and strong visuals. The showcase reflects the ever changing discourse surrounding contemporary furniture and decoration.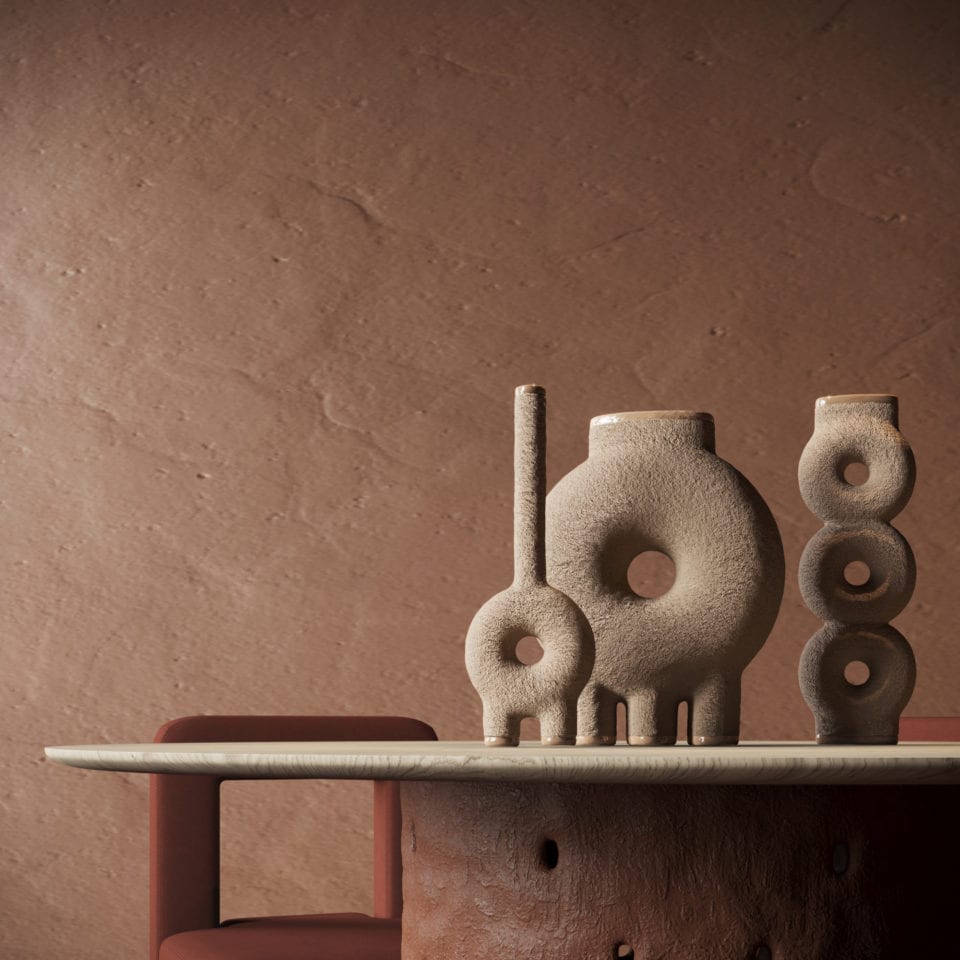 Authentic Ukrainian artefacts and found objects are reimagined through minimalist design. The KUMANEC vases are based upon a traditional festive pottery, drawing on a lineage of crafts from the Carpathian mountains. The flat, bagel-like form is combined with earthy tones, derived from natural clay. The self-reflective work by founder Victoriya Yakusha explores the importance of cultural roots. The collection invites generations to share tales and learn from one another.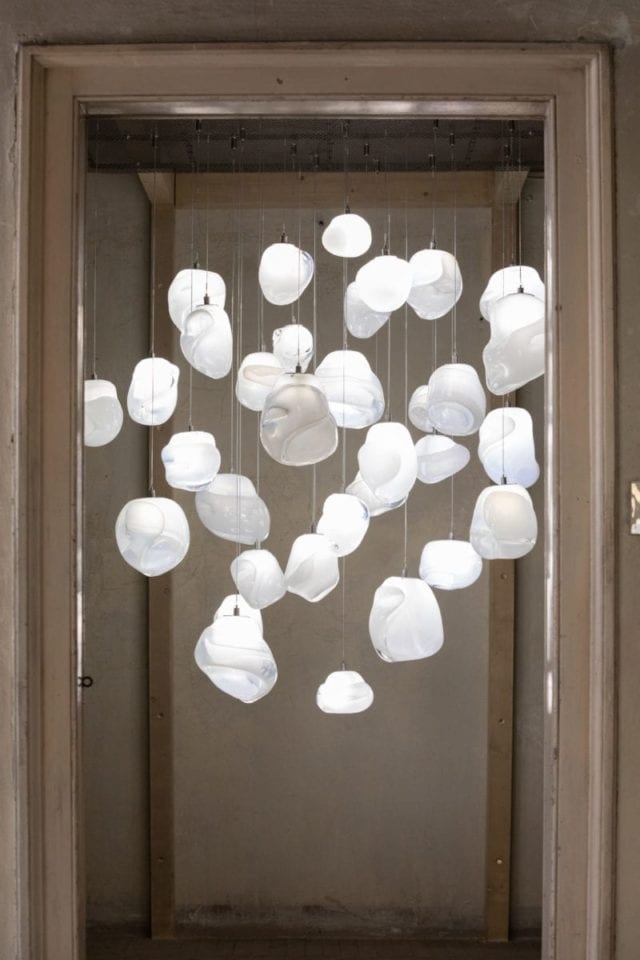 How does the human body interact with fluid materials? Of Movement and Material is the first series of lights from newly formed brand Analog, in collaboration with Philipp Weber (b. 1987). Globules of frosted glass hang at varying levels, emphasising the rhythmic kinesis of physical forms. The deflated balloon-like structures are created in Berlin's first and only glass blowing studio, exploring the importance of traditional crafts and artistry in the modern world.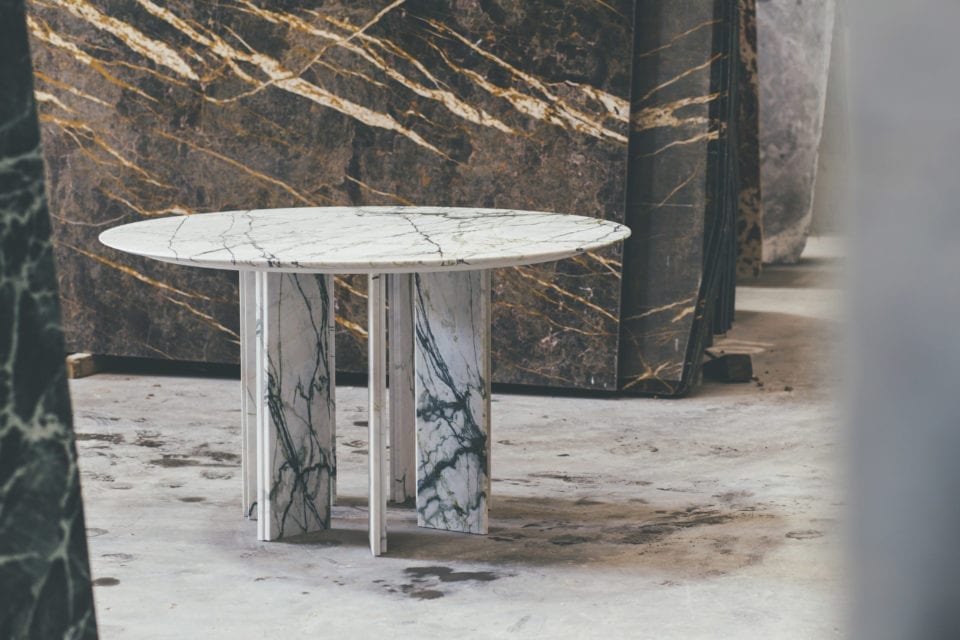 Artistic Director Jeron Thys van den Audenaerde (b. 1973) combines structural integrity with natural materials, experimenting with simple forms to create distinctive furniture. Ellipse 01.6 c facilitates sociability – offering a circular surface for individuals to gather around. The playful table is fashioned from polished slivers of Calacatta Verde marble. The stone is illuminated by streaks of green and teal – creating a sense of movement.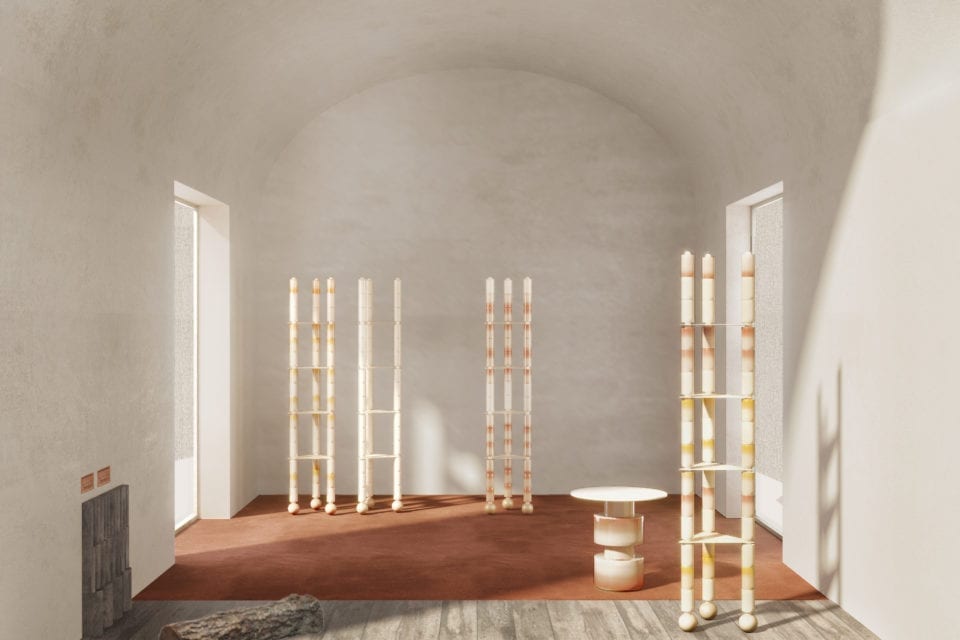 Ana X Fãbula Gallery
Stained tubular ceramics connect to geometric structures. Stacked cyclical washers are moulded into triangular shelving units and segmented end tables. Architect Anastasia Tikhomirova incorporates a traditional palette of muted mustard and salmon pink, referencing Russian architecture including pre-Petrine tiles. The collaborative sculptural series, Clayworks, encourages conventional design "to rise above its utilitarian nature", striking a balance between form, function and aesthetics.
Collectible Design Fair runs 5-8 March. Find out more here.
Lead Image: Bodem 2019, BRUT Collective, 2019, Works by the individual designers, ©Alexander Popelier, Courtesy of BRUT Collective.