Isaac Julien's (b. 1960) work transcends western narrative structures. He questions perceptions of time through film, dismantling restrictive genre conventions and the bounda- ries between artistic mediums, incorporating dance, paint- ing, photography and sculpture into his practice. The 1983 short Who Killed Colin Roach? responded to the death of a 21-year-old shot outside an East London police station, and ensuing protests. Since this debut, Julien has continued to interrogate visual representation, racism and homophobia through portrayals of Black diasporic experiences on screen. The Sankofa Film and Video Collective was established in 1983 by Julien, alongside Martina Attille, Maureen Blackwood, Nadine Marsh-Edwards and Robert Crusz. This initiative created a space for Black filmmakers to question the pre- dominantly white industry and challenge filmmaking norms.
In 2020, Karen Alexander from Sight & Sound interviewed founding member Maureen Blackwood, who reiterated the Collective's intention "to make films about lives and issues that were not being told or were forgotten." Julien's portrait of social activist, novelist and columnist Langston Hughes – Looking for Langston (1989) – examines racism in the 1920s, alongside homophobia in the African American community. Three decades later, Julien returns to that period in Once Again…(Statues Never Die) (2022), analysing the relationship between philosopher Alain Locke (1885-1951) and American collector of African art, Dr Albert C. Barnes (1872-1951).
In June 2022, Julien received a knighthood for services to diversity and inclusion, exemplifying his commitment to cultural activism. For example, Once Again…(Statues Never Die), which makes its European premiere at Tate Britain from 26 April, demonstrates Julien's renewal of dialogues surround- ing repatriation. Looking for Langston also features alongside Lina Bo Bardi – A Marvellous Entanglement (2019) in this solo exhibition surveying four decades of the artist's practice.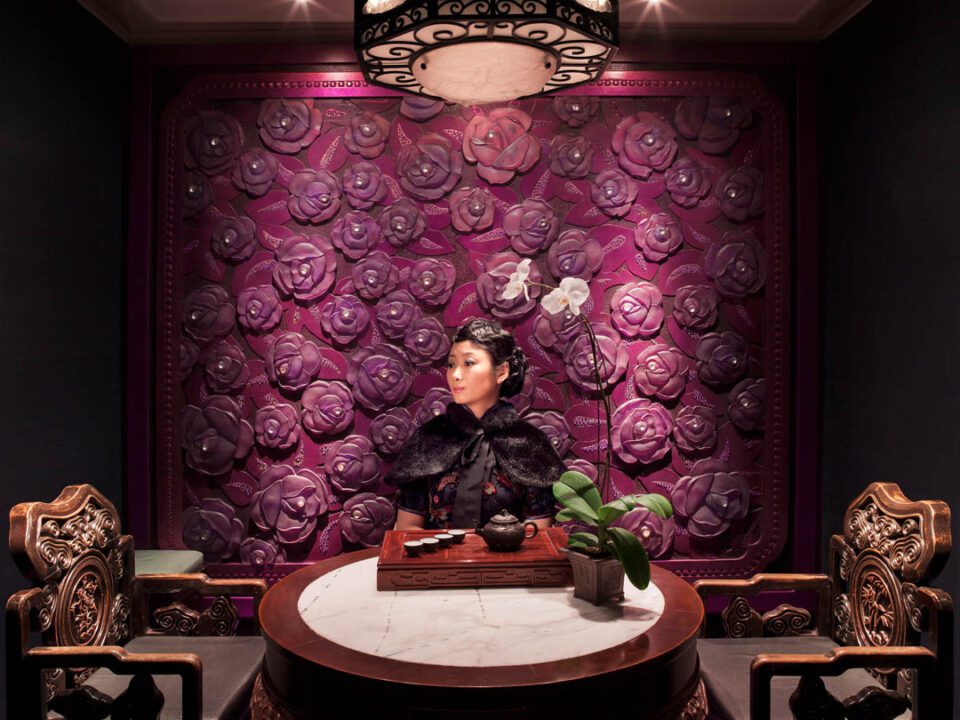 A: Can you discuss the nine-screen installation of Lina Bo Bardi – A Marvellous Entanglement at Philadelphia's Museum of Art in more detail? How does the film interact with this space, and in return, how do viewers engage?
IJ: The installation has almost been completely recommis- sioned for the exhibition. It is in a huge atrium, and how it's viewed is profoundly different from how I would have origi- nally shown the work. It has verticality. Lina Bo Bardi created a radical design for the São Paulo Museum of Art (MASP), Brazil, where the paintings are suspended in crystal easels. It was recreated in MASP's Picture Gallery in Transformation (1968–2015). I played with the idea of approaching a work from different perspectives in other installations, such as Ten Thousand Waves (2010), and borrowed it for A Marvellous En- tanglement. The nine-screen montage is an invitation to look at things anew, echoing Bo Bardi's scenography and curation.
A: In what ways does the multi-channel composition relate to the film's exploration of Lina Bo Bardi's life?
IJ: In 1946, Bo Bardi moved to Rome, married art critic Pietro Maria Bardi and travelled to Brazil. From there, she adopted Brazilian practices, inscribing Brutalist designs and architec- ture into her work. One example of this is Bo Bardi's staircase, the site where I photographed What Is A Museum? (2019). It's a wooden helicoidal structure. Instead of screws, there are intersections that mirror how the working classes would have made ox carts. The film is essentially about the inte- gration of Brazilian culture into her buildings, where today, she retains an incredibly unique and important position.
A: How does the conceptualisation of A Marvellous Entanglement relate to deconstructing notions of time?
IJ: Bo Bardi's amazing quote, "Linear time is a western invention. Time is not linear, it is a marvellous entangle- ment" has defined my approach over the last four years. Time, as she states, is a European convention. I have been concerned with ideas of multi-temporalities, seminality and the simultaneous ways in which different times coexist in narratives. Screen work makes you question conventional methods of filmmaking, but also how we view time else- where. Multi-tasking and multi-screen use are also about transgressing time in a more normative sense. Linear- ity is fetishised in chronologies and master narratives. We should remove these dictations because they eclipse other nuances, such as questions of modernity, timelines and patterns of thought. Many of these concepts are intangible.
A: Looking for Langston debuted in 1989. How has your practice evolved since then? What elements of the film- making process connect you to your earlier projects?
IJ: As part of the Sankofa Film and Video Collective, we challenged how moving image was made. We didn't reproduce formal structures of filmmaking. My central question became: how would one make a work about Black gay desire when it wasn't visible in culture? This work was being silently produced and part of certain activism, but it wasn't widely documented. Therefore, when creating Langston, we developed a language that was connected to Black vernac- ular and the activism of the Harlem Renaissance. I still chal- lenge conventional filmmaking. Improvisational aspects, for example, such as not having a script or offering different possible readings and interpretations. In Once Again…(Stat- ues Never Die), I return to Langston's thematic narrative: its connections to modernism; the Black Arts Movement in the 1960s and 1970s; as well as the relationship between African sculpture and its repatriation from western museums.
A: Once Again…(Statues Never Die) can be seen as a prequel to Looking for Langston. Can you discuss revisiting the Harlem Renaissance period? How do the films speak to each other, visually and conceptually?
IJ: Interactions between the films are consciously quoted. Once Again was commissioned for the centenary of the Barnes Foundation. Dr Barnes assembled an incredible collection of African art and sculpture in the 1920s. I was interested in representing the collection through his contemporary, Alain Locke, and the parallels in their lives. Locke saw the intersections between Modernism and African culture and its appropriation through French art, and so the revisitation of this figure became an obvious connection between the two works. Questions of mortality and how humanity responds to crises also came to haunt their productions. Looking for Langston was made in the middle of the AIDS crisis, and Once Again was shot during the pandemic. This became a significant parallel, but with a crucial difference: in 1989, a pandemic that affected queer and Black communities in particular was not dealt with in the same manner as Covid-19. There were no vaccines. The world didn't come together to save those who were dying.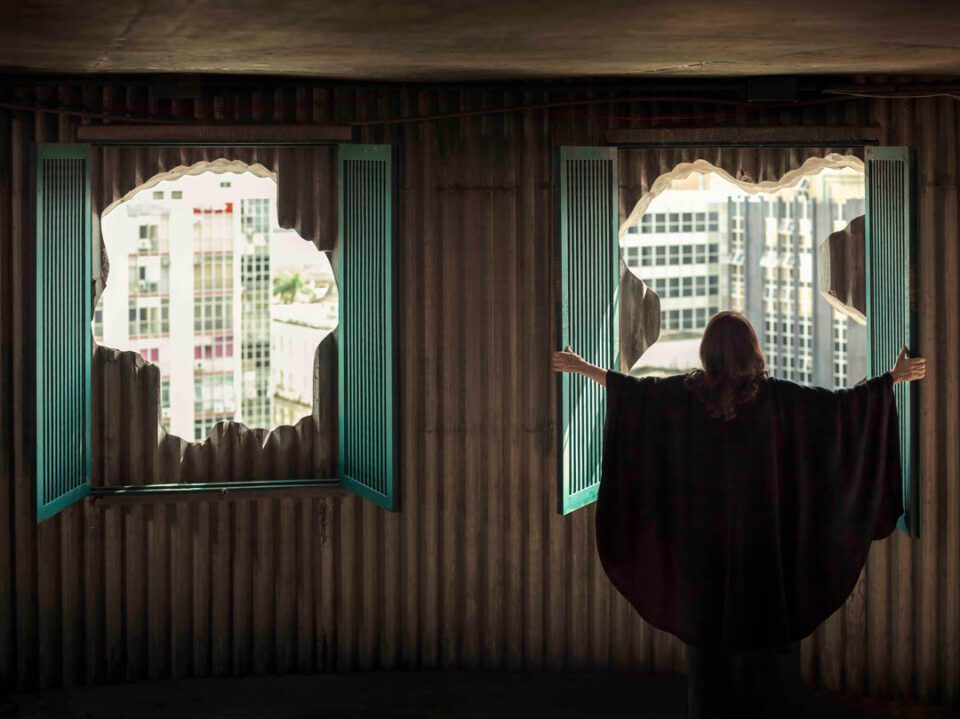 A: Film and photography are acts of preservation. Locke's 1925 anthology immortalised Black American writers. Is Once Again about sustaining this legacy?
IJ: The broader questions of conservation and archiving are influential across my work. How do we keep particular moments? Can we resurrect conversations that have been disavowed? It goes beyond using archival material in the film. Instead, I am interested in the conversations that can be en- listed by returning to historical texts and allowing debates to reverberate in contemporary settings. For example, the acquisition and appropriation of cultural materials remains an important and controversial discussion a century later.
A: Historical figures are often the inspiration behind your films. How do you engage with the ethics of representation when translating these events? How do you balance the line between documentary and fiction?
IJ: I'm not interested in how I fit between documentary and fiction. Genre expectations are conventions constructed to determine how we think about film. I transgress both these forms. I use the term "political lyricism," which moves beyond those boundaries of the form. It postulates a visual argument and pursues an aesthetic interest in film creation. Documentary and fiction meld together. It's more impor- tant to consider how works can test their time. A project must be able to transcend when it was made. Looking for Langston remains relevant and interesting to the current times 30 years later. You have to build a certain perspective and develop a method of considering the work over time.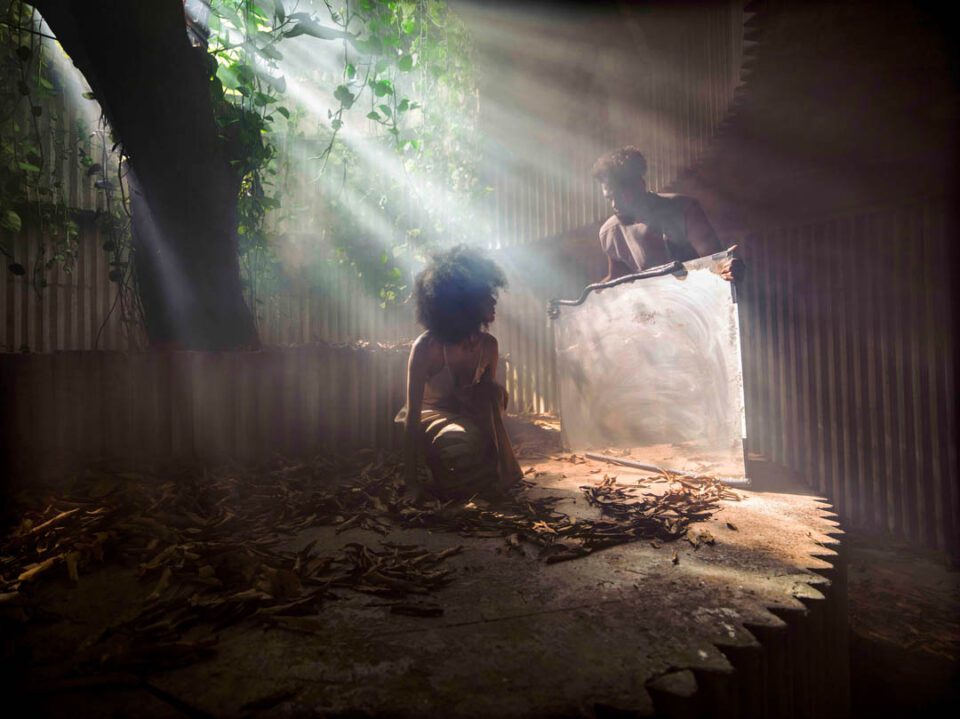 A: In what ways does incorporating different artistic practices aid visual storytelling? How do these mechanisms deconstruct existing barriers within filmmaking?
IJ: Italian film theoretician Ricciotto Canudo defined film as the seventh art because it encapsulates all these different forms. Filmmaking is about forming relationships and engaging with interdisciplinary perspectives. It is a fascinating and exciting process. In film, the approaches can be concealed as part of artistic license, so I try to foreground the apparatus. The filming itself can be in the narrative. For example, this happens towards the end of Ten Thousand Waves and A Marvellous Entanglement, and it allows aspects of the work to be lyrically deconstructed. It questions and re-examines the structure of moving work.
A: Will immersive filmmaking gain traction? What work can we expect to see from you in the near future?
IJ: Immersive experiences are becoming prominent, where installations become whole environments and individuals are completely swallowed by the work. For me, it's anti-cinematic. I won't be delving into this future of installation and immersion. However, technology can help to enhance the narrative experience. One reason I moved to the west coast in the USA was to explore virtual spaces and to engage with VR, but I haven't been captured by it yet. I can't speak specifically for the future, but decades of work will be at Tate Britain from April, and I always have projects in progress.
---
Words Megan Jones
What Freedom Is To Me
Tate Britain, London
26 April – 20 August 2023
---
Image Credits:
1. Isaac Julien, Lina Bo Bardi – A Marvellous Entanglement (detail) (2019). Three screen installation, Super High Definition (4K), Colour, 5.1 Surround Sound and ash wood plinths. 39 min 08 sec. Edition of 6 plus 2 artist's proofs. © Isaac Julien. Courtesy the artist & Victoria Miro.
2. Isaac Julien, When the Tree Blooms (Ten Thousand Waves) (detail) (2010). Endura Ultra photograph. 180 x 240 cm. 70 7/8 x941/2in.Editionof6plus1AP.©Isaac Julien. Courtesy artist & Victoria Miro.
3. Isaac Julien, Soluções inventadas / Solutions Invented (Lina Bo Bardi – A Marvellous Entanglement) (2019). Endura Ultra photograph facemounted. 180 x 240 x 7.5 cm. 70 7/8 x 94 1/2 x 3 in. Edition of 6 plus 1 artist's proof. © Isaac Julien. Courtesy the artist and Victoria Miro.
4. Isaac Julien, Tecnologia pré-histórica / Prehistoric Technology (Lina Bo Bardi – A Marvellous Entanglement) (2019). Endura Ultra photograph facemounted. 180 x 240 x 7.5 cm. 70 7/8 x 94 1/2 x 3 in. Edition of 6 plus 1 artist's proof. © Isaac Julien. Courtesy the artist and Victoria Miro.
5. Isaac Julien, Almas belas, almas menos belas / Beautiful Souls, Less Beautiful Souls (Lina Bo Bardi – A Marvellous Entanglement), (detail) (2019). Endura Ultra photograph facemounted. 180 x240x7.5cm.707/8×941/2x3in. Edition of 6 plus 1 artist's proof. © Isaac Julien. Courtesy the artist and Victoria Miro.