Nam June Paik (1932-2016) is considered to be the "father of video art." Amongst his most notable works is Three Camera Participation/Participation TV (1969-2001), an interactive piece through which viewers' silhouettes are recorded and projected in red, blue and green across the stark white gallery walls. Observers play an integral part, blurring classic art world boundaries between self and subject.
In 1974, Paik recognised the accessibility of recording technology, writing: "The invention of the camera changed the scene and made everybody into an active visual artist." Full Burn: Video from the Hammer Contemporary Collection spotlights creatives who continue to develop this genre, from recent work to landmark creations that chronicle digital life. Twenty artists are displayed for two to three-week intervals.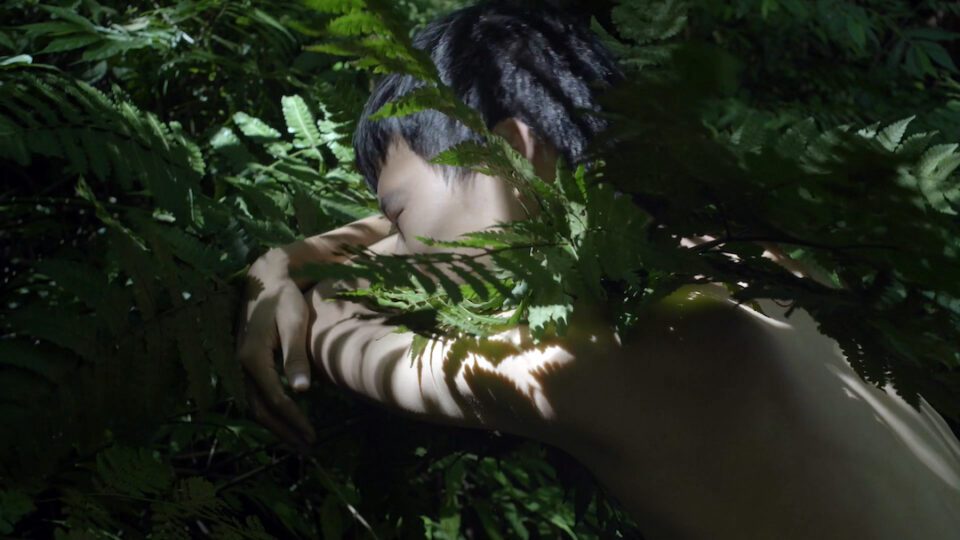 James Richards' Radio at Night (2015) opens the collection; it's an eight-minute experimental film centred on the act of seeing. Footage from hospitals, seagulls flying and news broadcasts are interspersed with close-ups of blinking eyes.  Zheng Bo (b. 1974)  features in the fourth rotation. The first chapter from Zheng's ongoing film project Pteridophilia (2016) begins by introducing six young men who are navigating complex emotional relationships with the ferns that commonly inhabit the Taiwanese landscape.
Full Burn exemplifies the potential of lens-based media, immersing attendees in exciting new worlds, from virtual chat rooms to the winding forests of Taiwan. Technology is advancing all the time, with VR and AI becoming mainstream. Video art will now continue to evolve as more creators harness these new tools.
---
Hammer, Los Angeles: Video Art Innovations | Until 10 September
Words: Diana Bestwish Tetteh
---
Image Credits:
Zheng Bo, Pteridophilia I, 2016 4K video, color, sound. 17 min. Hammer Museum, Los Angeles. Gift of Kejia Wu and Noah Lidman.