Real Work at FACT, Liverpool, sheds light on untold stories of work around the world through immersive works by Liz Magic Laser and Candice Breitz. Charlotte Horn, Senior Producer, discusses the exhibition and the importance of sharing these narratives.
A: REAL WORK highlights invisible forms of work which often go unrecognised – giving these voices a key platform. What types of work are covered, and why is it important to foreground them in 2019?
CH: REAL WORK sheds light on the human stories behind precarious and unrecognised work: the exhibition showcases 15 uncensored stories about labour and puts the experiences of these real life workers front and centre. The exhibition is made up of two immersive video installations. In Real Life, (2019), by Liz Magic Laser is a major new commission, which explores the new and fast-growing profession of online gig-work. Sweat (2018) by Candice Breitz focuses on the largely criminalised and stigmatised business of sex work. Both works highlight the pressing and constantly evolving issues attached to each industry – the unregulated nature of each pose real dangers to the individuals working in these arenas.
A: Liz Magic Laser's In Real Life looks at the experiences of five international freelancers. Can you give some examples of the personal stories covered?
CH: In Real Life features five online gig-workers from across the globe: Zahid, a Graphic Designer from Pakistan; Alabi, a Whiteboard Animator from Nigeria; Kiki, a Voiceover Artist from Hong Kong; and Cardy and Nikki, a Screenwriter and Social Media Content Creator respectively, both from Liverpool, UK. The five participants gave Laser an amazing insight into their lives, recording everyday interactions with friends, family and clients, as well as more candid pieces in response to the development programme they were undergoing. We see Zahid desperately trying to meet a work deadline to maintain his star-rating on Fiverr, working from his laptop on the back of a motorcycle driven by his friend; and Alabi struggling to structure his working hours around unpredictable power outages in his home. It's so interesting to see the different factors in everyday life that can impact on the quite harsh rating systems utilised by these online gig platforms, especially – as Zahid observes in his episode – when "the buyers seem to have more rights than the sellers".
A: How does the work establish a dialogue between the gig-economy and self-care?
CH: One major focus of In Real Life is on the highs and lows that the freelance lifestyle can bring, particularly through gig-platforms. The "laptop lifestyle" can offer great freedom: you can be your own boss, have increased flexibility around when and where you work, and you can embrace the digital nomad life. However, with this comes an expectation for workers to be available 24/7, facing often unrealistic deadlines, and having to manage their own workflow without the duty of care that many workers in traditional forms of employment receive from their workplaces through employment law.
To counter the effects of working in this "on demand" way, Laser developed a transformational development programme for each participant in consultation with a Psychic Advisor, and a Life Coach trained by the Human Potential Institute. This organisation promotes regimens designed to "upgrade" individuals to a state of high performance through "biohacking" – using technology and diet/lifestyle choices to optimise the human body. Each participant is set a series of goals, whether career oriented (Alabi hoped to own his own animation company) or more geared towards their personal lives (Nikki wanted to achieve a better work/life balance, structuring her working hours to allow for proper time off from work – difficult to do when your office is also your home).
The trust built between the participants and Laser allows us to see the everyday effects of gig-working – loneliness, frustration, precarity and stress – and to understand the responsibility for self-care that falls onto their shoulders. Many of the participants had identified the problems in their lives caused by this way of working, but the singular way in which gig-workers often operate their own businesses means there are no colleagues, HR or unions to offer support in order to overcome them. The unique opportunity for these five people to explore different approaches to working (whilst being paid for their participation) gave them more time for self-care and for trying new techniques – a luxury not often afforded in this fast-paced and competitive field.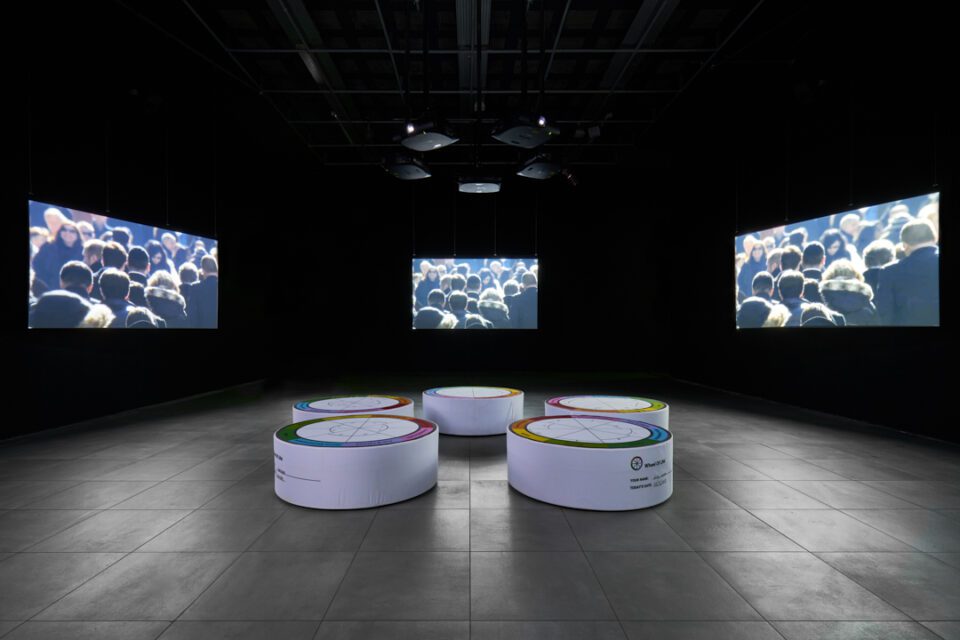 A: How does the artist use the reality show format – as well the inclusion of apps and online platforms – to respond to today's media culture?
CH: All five participants filmed their experiences of using the apps and devices prescribed by Laser, and in parallel were hired to actually create In Real Life – including scriptwriting, animation and providing the voiceover. The apps all had one goal in common: to optimise efficiency in order to maximise productivity. There's such a huge market for apps and tools to optimise every part of our life, but the artwork raises the question of whether this optimisation really benefits us, or does it instead benefit the corporations we are working for – or even governments who are unable to keep up with the support and regulation needed to accomodate for such a fast growing way of working.
A: Candice Breitz collaborated closely with a community of Cape Town-based sex workers for Sweat, which presents their stories as an immersive video installation. What key messages does this piece convey?
CH: All ten individuals in the piece are activists affiliated with SWEAT (the Sex Workers Education & Advocacy Taskforce). The main aim of SWEAT is to de-criminalise sex work in South Africa and globally, which is key in ensuring that sex workers obtain legal protections, without which they are left vulnerable to violence and forced to work under extremely precarious circumstances.
The statements in the work are drawn from a series of long interviews that can be viewed in full length online. They address the rampant racist and gender-based violence that sex workers face on a daily basis, including the lack of legal protections within the sex work industry. The work grew out of a collaborative and consultative process between the artist and members of SWEAT, a key message being the necessity of extending human rights and labour rights to sex workers.
A: What dialogues do these two works establish when viewed together?CH: None of the jobs addressed in REAL WORK have mainstream recognition, so the two artworks really lend a voice to these international precarious workers. I think the key here is the lack of regulation or support from places of governance, and from this the often unrealistic emphasis placed on self-care as a necessity when working in these fields – something that is often impossible to enact without proper support.
A: How does Real Work tie into FACT's 2019 programme – focusing on identity and representation?
CH: REAL WORK continues FACT's year-long discussion around gender, identity and representation, and is part of our Summer season, specifically exploring the future world of work, and our place within it.
The stories we hear in both works allow us to really focus in on the unheard voices behind the many news articles and statistics that address the unregulated and precarious labour in these industries. Alongside the exhibition, we have invited artists Tellervo Kalleinen and Oliver Kochta-Kalleinen to bring their Complaints Choir to Liverpool, where people of all ages and backgrounds can come together to perform their complaints about work together – with a number of live public performances planned for the end of August. Through our Learning Programme, we are asking young people to decide what kind of work is important for the future of the planet, as well as asking our over 60s and schools groups to co-write a "manifesto" about how work shapes our identity and our city.
The exhibition runs until 6 October. Find out more here.
Lead image: Candice Breitz, Sweat (2018). Featured here, left to right_ Zoe Black, Emmah, Gabbi, Connie, Jenny. Installation view at FACT © Rob Battersby. Installation view at FACT, © Rob Battersby