A mask made of mirrors. Shoes formed from pots and pans. A giant ring of car wheels. Joana Vasconcelos (b. 1971) is a leading Portuguese conceptual artist creating vibrant sculptures. The works explore, question and disrupt representations of women across history. Yorkshire Sculpture Park (YSP) presents Beyond – Vasconcelos' largest UK exhibition to date. The show highlights over 25 works that offer a feminist perspective on national and collective identities, consumer culture and cultural traditions.
The artist transforms items associated with domesticity and craft – including household appliances, fabric and crochet – into large-scale structures. For example, the 12-metre-long Valkyrie Marina Rinaldi (2014) is a sea of multicoloured wool and playful embellishments. It represents the power of 'valkyries' – female figures from Norse mythology who selected warriors on the battlefield worthy of a place in Valhalla. The piece reaches across the gallery in a mass of texture and colour. Red Independent Heart #3 (2013), shown below, also takes over the space through bright colours and patterns. It uses a well-known Portuguese emblem, the Heart of Viana, symbolising honesty and generosity. Vasconcelos' piece is made entirely from red plastic cutlery – which, in today's environmental landscape, can be read as a commentary on single-use objects and waste culture.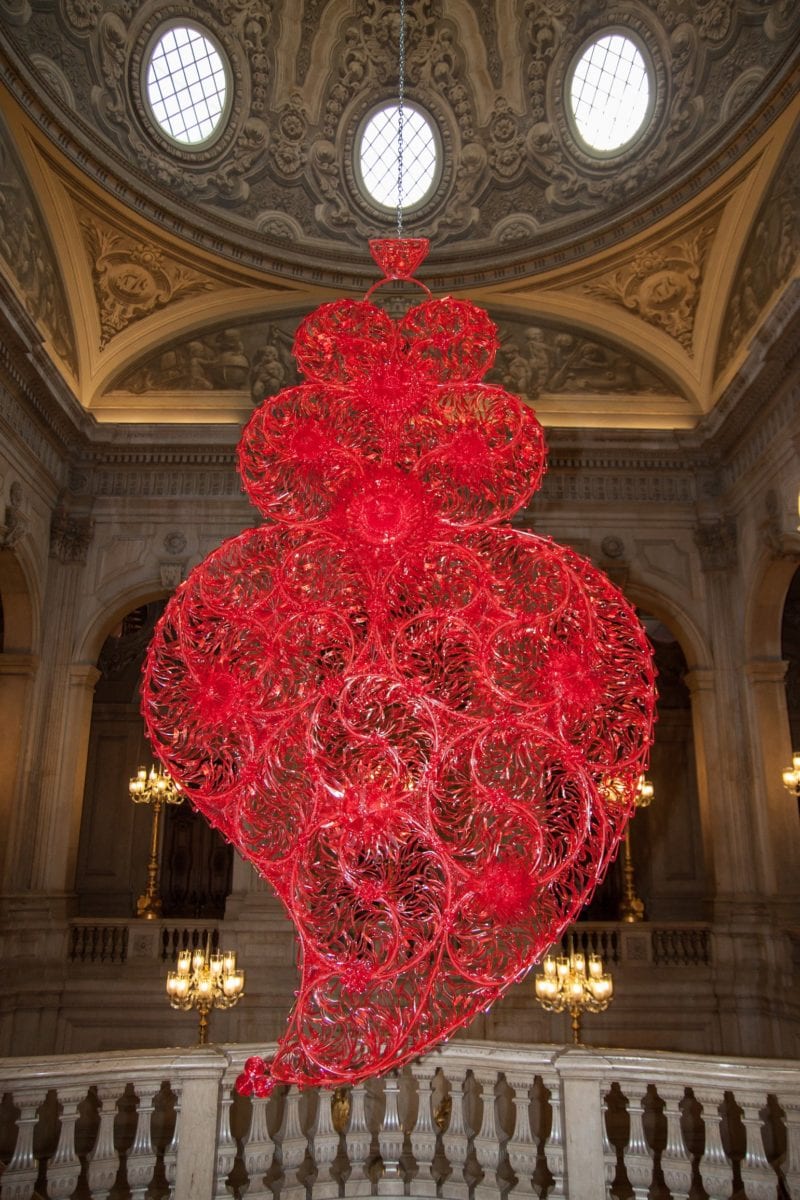 Solitário [Solitaire] (2018), featured above, also looks to themes of excess and mass production. The seven-metre-high ring is made of golden car wheel rims – topped with a huge diamond crafted from crystal whisky glasses. It unites symbols of luxury to question the acquisition of wealth and material possessions. Similarly, Marilyn (2009/2011), taps into celebrity culture by referencing the American actress. Oversized stilettos are crafted from stainless steel saucepans – contrasting outdated ideas of domestic and public personae.
Yorkshire Sculpture Park shines a light on one of Vasconcelos' most energetic and colourful works: Pop Galo [Pop Rooster] (2016). The piece celebrates the rooster of Barcelos – the most popular piece of Portugal's traditional pottery. It is crafted from 17,000 handmade ceramic tiles and 15,000 LED lights, combining historic and modern methods to create a contemporary Pop Art statement. "The disruption of our expectations of familiar objects is central to Vasconcelos' practice," YSP notes. "Through these reconfigurations, her works confront important social and political issues, whilst maintaining humour and joyfulness."
The exhibition runs 7 March – 3 January. Find out more here.
Lead image: Joana Vasconcelos, Marilyn (2011). DMF, Lisboa. © Unidade Infinita Projectos.
1. Joana Vasconcelos, Red Independent Heart (2013). Cortesia Câmara Municipal de Lisboa
2. Joana Vasconcelos, Solitário (2018). Luís Vasconcelos. Courtesy Unidade Infinita Projectos