Steve Messam (b. 1969) is a Durham-based artist known for his innovative and large-scale installations. The artist has created work all over the world, including in Austria, (PaperArch, 2017), Denmark (Human Presence, 2019) and Wales (Cell, 2019). In 2021, he was awarded Visual Artist of the Year at the Newcastle Journal Culture Awards. Hush (2019), a temporary installation that features over 600 large saffron-yellow flags in the remote landscape of the North Pennines, was shortlisted for the 2021 Aesthetica Art Prize. Apollo (2019), an inflatable orange sculpture that intersects Victor Pasmore's Apollo Pavilion in Peterlee, was also nominated. His most recent work, Encounters, is now on display at Bicester Village, Oxfordshire, in an all-immersive exhibition of colour, shape and experimentation. Aesthetica talks to Messam and discusses his practice, use of sustainable materials and the artist's latest display.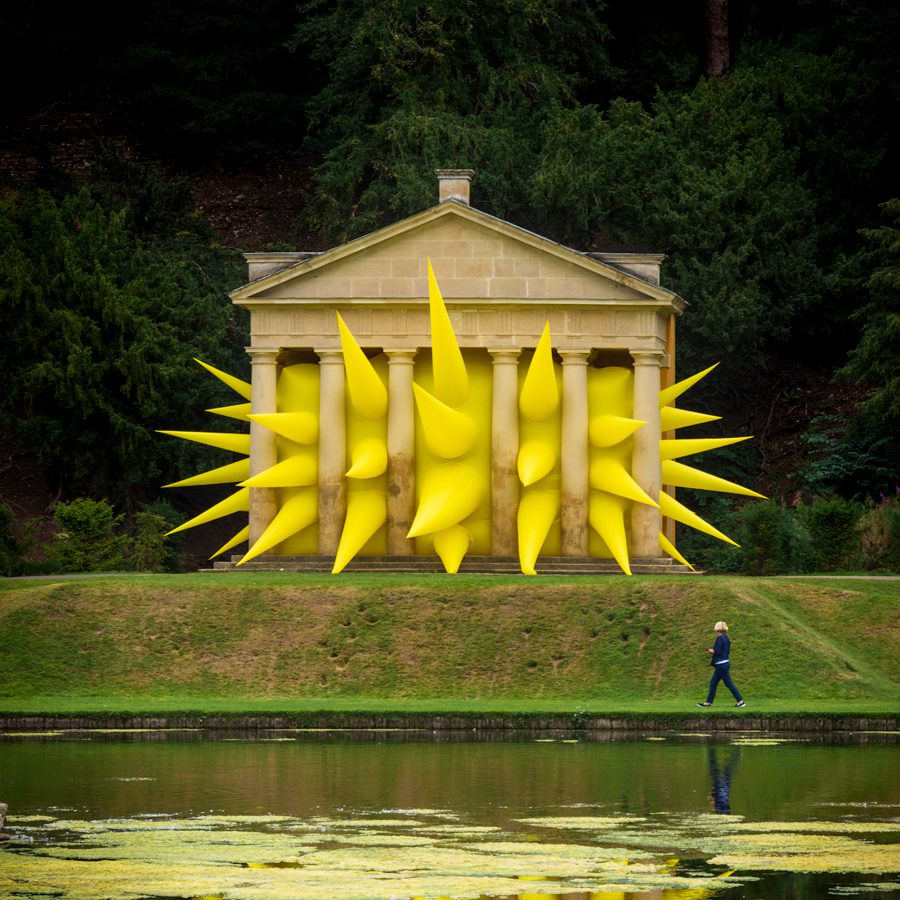 A: Your artworks engage with follies such as Fountain Abbey's The Temple of Piety. Your artworks are also listed as follies — a form that suggests an appearance of some other purpose. What draws you to the form and what does it offer?
SM: The installations at Fountains Abbey were quite special for me — the Water Gardens there are a World Heritage Site, in part because follies were central to the design process of mid-18th century landscape gardens. So in a way it was a bit of a coming home for me. I have been using built structures for nearly 20 years as a way of exploring wider environments. They act as visual reference points to help us understand the scale, shape, form and character of the wider environment, in just the same way that follies were used at Fountains Abbey and in a much older Chinese art tradition.
A: Your installations are site-specific. What considerations are in place when working with particular locations?
SM: Site is absolutely key for all my pieces. It's about where it is, where it comes from, how people interact with location, sight lines, appropriate scale, relevance, how the light falls on it at different times of day, shape, form, colour. All these things. Only then do I think about how I could transform it and even if the piece can be transformed in the way I want. Then there's all the practical considerations.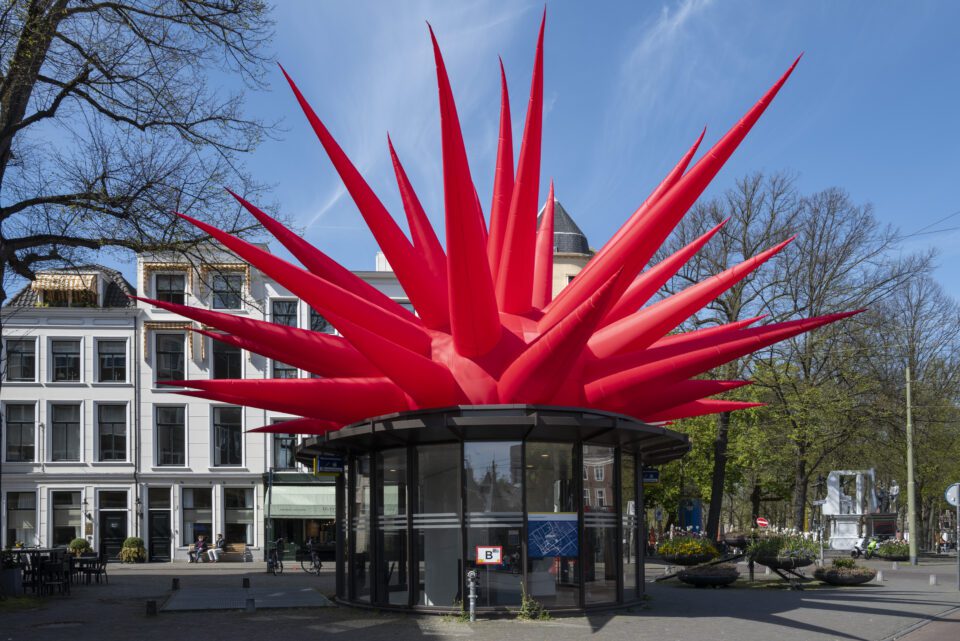 A: Sustainable materials are crucial to your practice. Paper used in your sculptures are made from wood pulp and water, where materials will be recovered, recycled and re-pulped. How do you conceptualise the environmental narratives of your pieces?
SM: Most of my work is temporary. I like the temporary form. Part of that is a desire not to make unnecessary stuff in the first place. The future of all the pieces are designed from the beginning, so I know that nothing will ever end up as landfill or elsewhere as storage.
A: The use of signs is interesting in earlier works such as Little Things (2004) and Signs of Adventure (2009). How has your practice evolved from symbols? How do these configure into recent installations?
SM: The sign pieces are still very much part of my ongoing practice. Soup (2020) at Kings Lynn Station is a rare permanent piece based on enamel advertising signs and railway station vernacular. There have also been more recent pieces on road signs. I still see them as part of my practice. There will undoubtedly be more, but at the moment those commissioning me are more interested in other forms.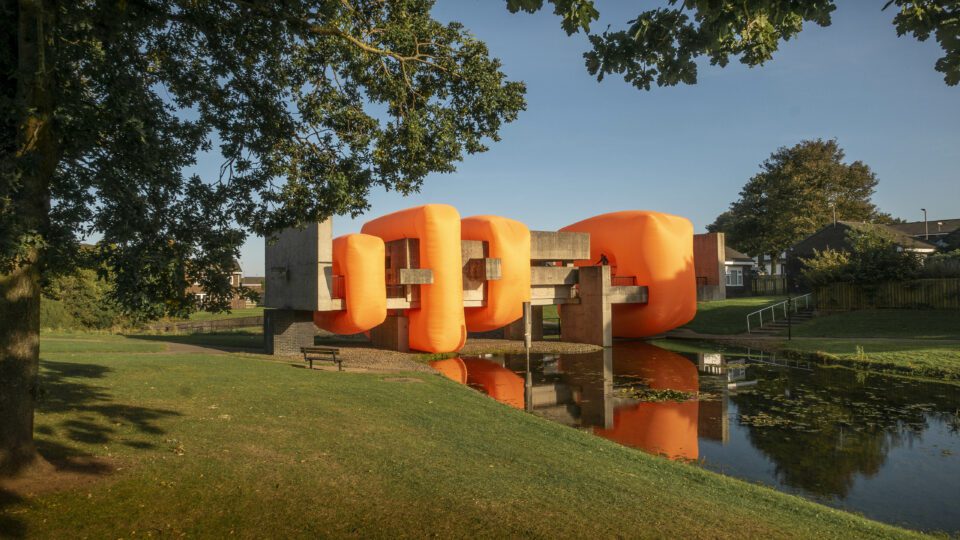 A: How do you work with or against the architecture and form of constructions? Here, I'm thinking of Apollo (2019) that lights up Victor Pasmore's brutalist Pavilion or the vernacular architecture of Clad (2009) that incorporates the timber frame cottage.
SM: Every piece is bespoke. There's so much that goes on with each piece that no two pieces are ever the same. The process is unique each time too, so the process of getting to Apollo is very different to Clad. But I guess what unites them is the storytelling – understanding the narratives behind each building.
A: What inspires your use of shape and colour in your works?
SM: Some parts of the creative process I think will always be a mystery to me. I have no idea where any of that comes from. But that's part of the nature of art.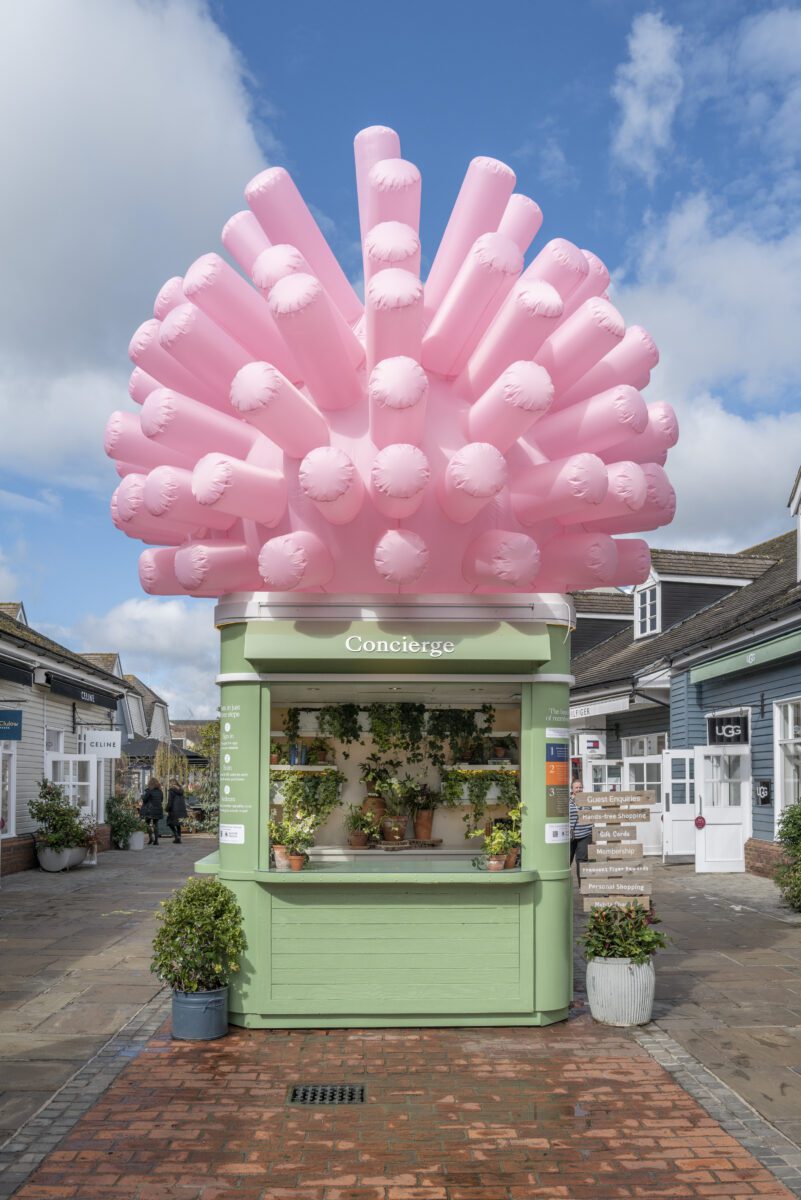 A: Could you tell us a little more about the inspiration for your installation, Encounters (2023) at Bicester Village?
SM: The pieces for Encounters stem from an invitation to create works across the retail village. I liked the challenge of making work for a very busy environment and creating unexpected moments. In a retail location visitors are inundated with branding and lifestyle imagery. It's a very hard sell environment masquerading as rural idyll. So the pieces had to contrast with that and be the antithesis of commercial messaging. The pieces are deliberately ambiguous, which I think adds to their mystery. Their locations are also deliberately ordinary to make them extra-ordinary.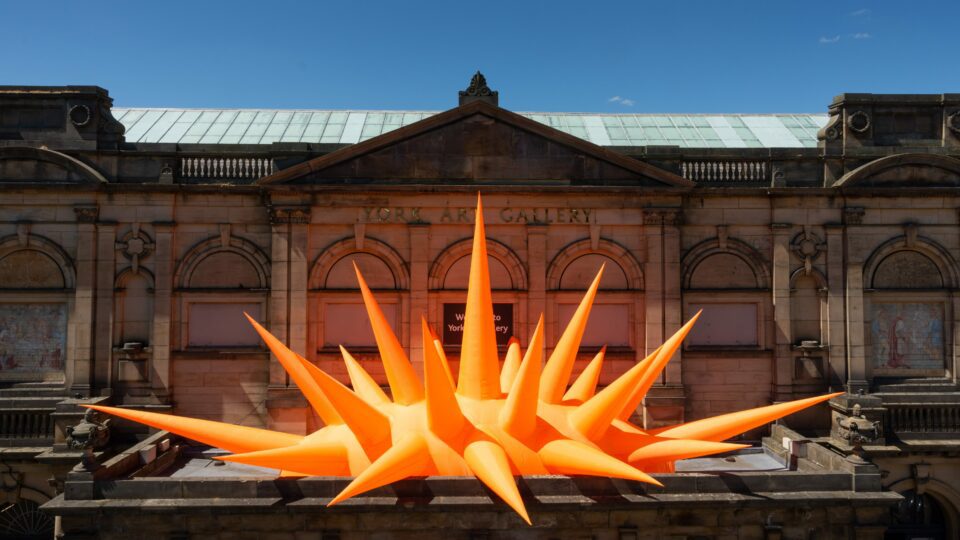 A: What do you think the future of site-specific installation looks like? What are your next plans?
SM: I always see my large-scale installations as being more about the experience than the visual. Particularly when they are at a certain scale their presence has that intangible emotional impact on you when you are there. The way they react to the wider environment, the way the light falls across them through the day, the way they move in the wind, the sound they make, and most importantly the way people become part of the work. These are the things lost on those who only see them on Instagram. But for me that is what drives me and excites me. Experience art is in an interesting place at the moment as people have a hunger for real experiences. Bizarrely I think the recent proliferation of AI generated imagery has in some way added to the appeal of my installations as people get to see these things for real, not just on a screen or a page. When they see an AI image in a magazine, they indulge in a fantasy notion and wonder what it would be like to be there, to see these things for real. I think the role of artists creating a human experience is going to be an interesting one.
Recently most of my works have been in urban environments. It's been interesting to work and play with the architecture and built environment, but I'm missing the rural space. I'm working on plans for new projects in more remote locations. I still think there's so much more potential in working in rural environments. I've barely scratched the surface.
---
Encounters
Bicester Village, Oxford | Until June
Blow Up
The Hague, Netherlands | Opens May
Clerkenwell Design Week
London | 23 – 25 May
Wonderlab
National Railway Museum, York | Opens June
Interviewer: Chloe Elliott
---
Image Credits:
1. Bridged (2021), Steve Messam. Image: Anthony Chappel-Ross
2. Spiked (2021), Steve Messam
3. Crested (2023), Steve Messam
4. Apollo (2019), Steve Messam
5. Encounters (2023), Steve Messam
6. Encounters (2023), Steve Messam
7. Portico (2022), Steve Messam
---