It's been three decades since Robert Mapplethorpe's death, but his ability to transcend boundaries while steadfastly breaking taboos endures now more than ever. In 1993, the Guggenheim received a gift of some 200 photographs of objects from his foundation that formed the backbone of the museum's photography collection — and now of a yearlong, two-part survey of works produced from 1970 to 1988, the year Mapplethorpe died from AIDS-related complications. There are early Polaroids, collages and mixed-media works from his pre-photography years interspersed with some of Mapplethorpe's most recognisable portraits of friends, other artists, celebrities, self-portraits, images of New York's underground S&M scene, nudes and his equally sensual floral still lifes. The second phase of the show will focus on his impact on other artists, including Rotimi Fani-Kayode, Zanele Muholi and Catherine Opie.
In 1972, art collector Sam Wagstaff — who became Mapplethorpe's aristocratic patron, dealer and lover — gave the photographer a Hasselblad medium-format camera that replaced his Polaroid. Mapplethorpe experimented with the Hasseblad's perfect-square format, developing his own cool, high-contrast language along the way. He captured Philip Glass and Bob Wilson in similar poses, their symmetry disrupted by a vertical detail in the background, in 1976, the year their collaborative opera Einstein on the Beach propelled their careers. In another, Mapplethorpe used the wood panelling and boardwalk at Fire Island to frame painter David Hockney and curator Henry Geldzahler lounging on a bench.
But regardless of content — whether he trained his lens on the botanical or the profane — Mapplethorpe harked back to classical antiquity and art historical references. These are rigorously formal images meticulously planned out, most often in the studio. A show running through April at the Madre in Naples makes those references explicit by including sculptures in dialogue with the prints, as the Kunsthalle in Dusseldörf and the Musée Rodin in Paris did in prior years with Auguste Rodin's bronze pieces. The photographer, here, becomes a sculptor of the body in his quest for perfection.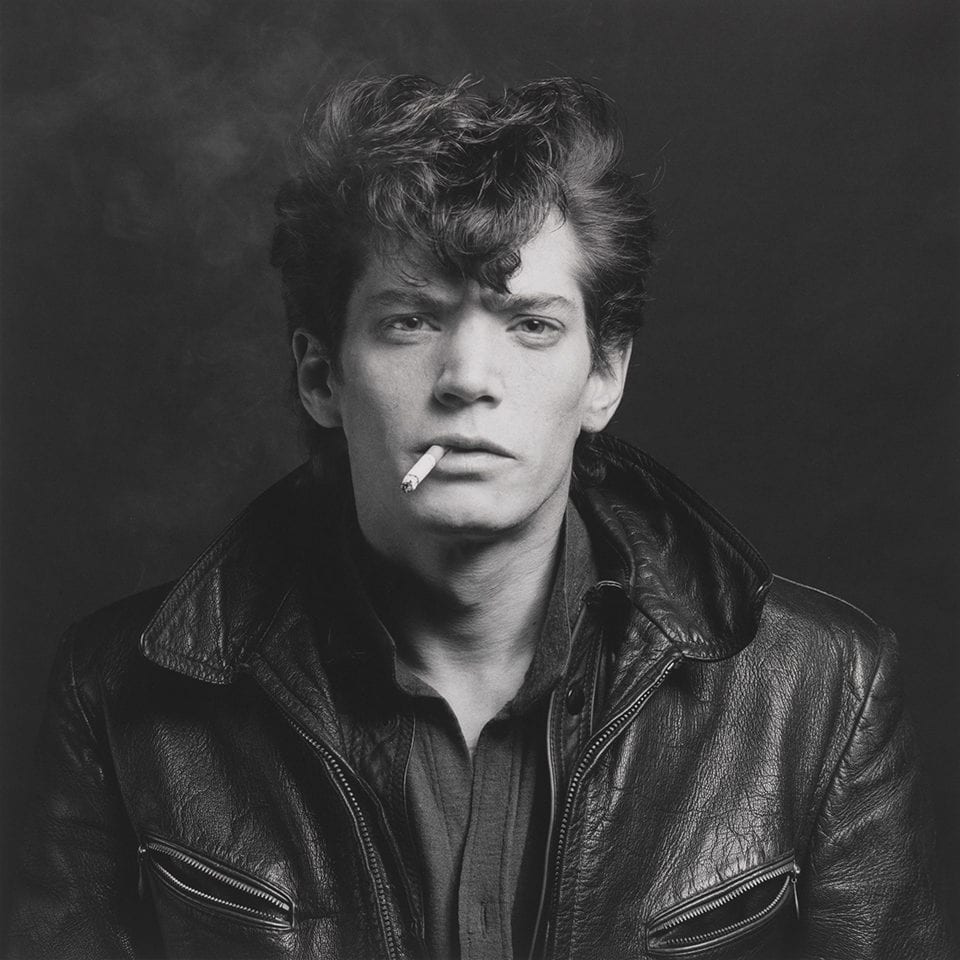 He applied that same uncompromising exactitude in creating his infamous Portfolio X, which managed to be both aesthetically severe and confrontational, created in an America where homosexuality was still seen as forbidden at the dawn of the gay liberation movement and the AIDS epidemic. It's what made the naughty acceptable, obscenity trial and cancelled museum show notwithstanding. This work still resonates today because of the cunning strategy Mapplethorpe deployed to challenge perceptions and the way we look at the world around us, both aesthetically and politically. That vision led Bryce Dessner of The National fame to team up with librettist Korde Arrington Tuttle and director Daniel Fish for a new performance piece this year, Triptych (Eyes of One Another), that also features the choral group Roomful of Teeth and poetry by Essex Hemphill and Mapplethorpe's longtime collaborator Patti Smith.
What is most shocking — and thus effective — in Bryan Ridley and Lyle Heeter (1979) then is not the two men's bondage chains and hypermasculine leathers, but the hyper-conventional living room in which they appear, complete with curtains, blinds, oriental carpet and leather wingback chair. In Ken and Tyler (1985), Mapplethorpe did not stop at simply highlighting contrasting skin tones. Instead, casting the two men against a deep black background, he revealed the full range offered by the grayscale spectrum and animated the scene with dramatic diagonal shadows across the two men's legs. As Mapplethorpe once put it: "My interest was to open people's eyes, get them to realise anything can be acceptable. It's not what it is, it's the way it's photographed."
Olivia Hampton
Implicit Tensions: Mapplethorpe Now. Solomon R. Guggenheim Museum New York. Until 10 July. Second part 24 July – 5 January. For more information, click here.
Lead image: Robert Mapplethorpe Phillip Prioleau, 1982 Gelatin silver print, 38.4 x 38.9 cm Solomon R. Guggenheim Museum, New York Gift, The Robert Mapplethorpe Foundation 96.4362 © Robert Mapplethorpe Foundation. Used by permission.