The Bauhaus was founded on 12 April 1919. The influential design school existed for 14 years before its closure in 1933, establishing a timeless legacy that was a catalyst for modernism. A combination of craftsmanship and art, form and function defined their work – which spanned painting, architecture and interiors. These objects had a distinct aesthetic, featuring little ornamentation and a balance of minimal shapes and colours. To mark the centenary of the school's opening, Swiss luxury skincare brand La Prairie explores its connection with Bauhaus – presenting linear set designs whilst foregrounding a synthesis with art.
The school's influence – which is deeply connected to Switzerland – is evident across La Prairie's range. "In the dialogue between form and function, less is more," the brand notes, highlighting the value of simplicity. Geometric shapes can be found in its minimal jars and vessels. Pyramids, cylinders and cubes stack against each other in the featured images – creating harmonious compositions. This sense of timelessness is at the heart of what La Prairie does – from rigorous product research to precision-designed packaging and seamless in-store experiences. "La Prairie seeks to transport those who enter its world to a place where time stands still, a place where beauty – just like art – transcends the ages," they explain. Clean lines and abstract shapes come together, punctuated by a flash of signature deep blue.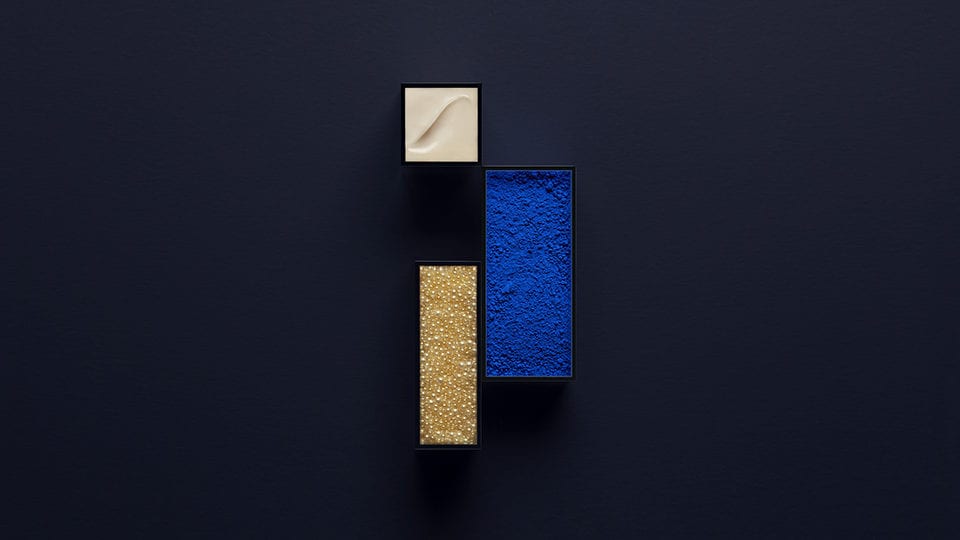 The brand has been inextricably linked to the art world from its very beginning, exploring a vision of timeless beauty through its lens. "La Prairie's audacious spirit – its willingness to break the codes of luxury, to follow untrodden paths that surprise as much as they inspire – is the very same audacious spirit as that of the artist," they describe. La Prairie continues to collaborate with visionary creatives and partner with the world's leading contemporary art fairs, such as Art Basel. For the 2019 edition, they presented Eyes in Focus, an exhibition redefining the female gaze through photography. It is featured in the current issue of Aesthetica. This month, they are working with Spanish artist Pablo Valbuena on a light sculpture at Art Basel Miami Beach. These collaborations inspire the next generation of visual storytellers – fostering and promoting new artistic talent through a shared vision.
Find out more about La Prairie here.
Discover La Prairie's Skin Caviar Eye Lift in the Aesthetica Christmas Gift Guide 2019.
Art Basel Miami Beach runs 5-8 December. Find out more here.
All images courtesy La Prairie.