"If I didn't have to cook, wash up, nurse children ad infinitum I should carve and carve and carve…" wrote Barbara Hepworth (1903-1975) to the art critic E. Hartley Ramsden. It was June 1943 and the sculptor had moved from wartime London to St Ives. With four young children to look after, often solo, time for art was limited. She snatched half hours between childcare and domestic chores or worked late into the night. Hepworth's words spell out a struggle to balance motherhood with art that still rings true for many women artists in the 21st century.
---
In a new biography of the pioneering modernist sculptor, Barbara Hepworth: Art & Life, published alongside a major retrospective of her work at the Hepworth Wakefield, curator Eleanor Clayton points to the continuity between Hepworth's life and her art. Clayton weaves together a wealth of material – archival press coverage of Hepworth's exhibitions, correspondence between her and her contemporaries, materials from her studios and records the artist had made about her works. Alternating biographical and historical context with analyses of artworks, the book takes us from her early life in Yorkshire through to the legacy of her gallery in Wakefield.
As the above insight reveals, life could impinge on art, but was also a source of immense inspiration. Friendships with fellow artists brought new ideas. After visiting Mondrian in Paris, she painted her studio white and started incorporating colour, seen in later works such as Sphere (1967/1973). The book also sheds light on the behind the scenes work that goes into building a creative career, cultivating networks between artists and the support of collectors, critics and commissioners. In charting the evolution of Hepworth's sculpture, the author shows how experiences shaped her approach – the impact of the Cornish landscape in works such as Curved Form (Trevalgan) (1956), motherhood, an interest in music, the momentous political and technological developments that were sweeping society in the 20th century.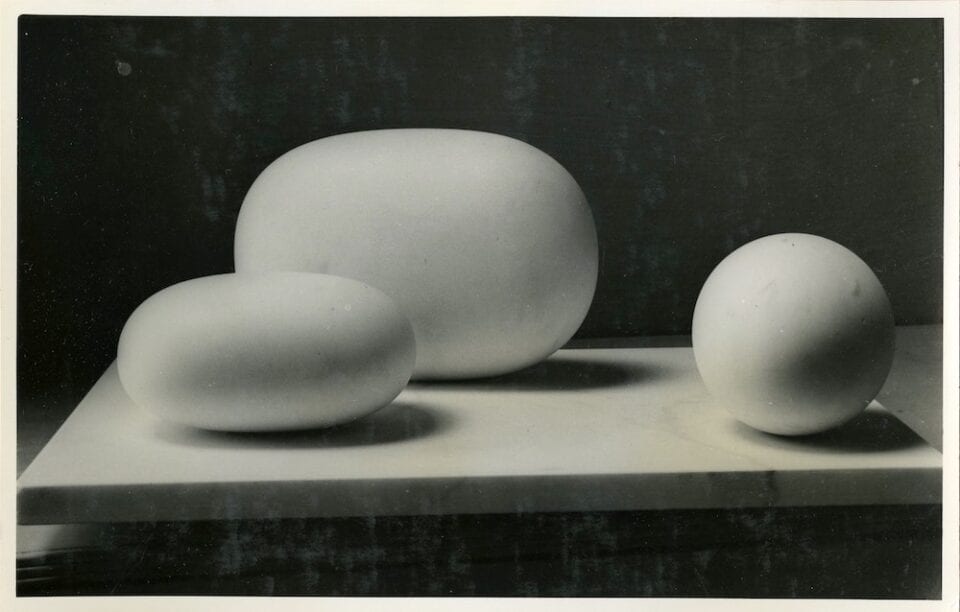 For Hepworth, art was life. Throughout her career, from the smooth abstraction of Three Forms (1935) through to the monumental flattened, not quite oval shape of Single Form (1964), the two merged, fed into and mutually expanded each other. Sculpture is a "particular plastic extension of thought," she states in an essay written for the 1937 group exhibition Constructive Art. "Vitality is not a physical, organic attribute of sculpture  – it is a spiritual inner life … Vision is not sight  –  it is the perception of the mind. It is the discernment of the reality of life, a piercing of the superficial surfaces of material existence, that gives a work of art its own life and purpose."
---
Barbara Hepworth: Art & Life is published by Thames & Hudson. Find out more here.
Words: Rachel Segal Hamilton
---
Image Credits:
1. Page 152, Barbara Hepworth with The Cosdon Head, 1949. The Hepworth Photograph Collection. Courtesy Bowness. Photograph: Hans Wild
2. Page 227, Barbara Hepworth with the plaster Single Format the Morris Singer Foundry, May 1963. The Hepworth Photograph Collection. Courtesy Bowness. Photograph: Morgan Wells
3. Page 92, Barbara Hepworth, Project–Monument to the Spanish War (1938–39), Photograph: Barbara Hepworth © Bowness
4. Page 73, Barbara Hepworth's sculpture record for Three Forms (1935), Gift to TheHepworth Wakefield from the Hepworth Estate, 2013. Photograph: Barbara Hepworth © Bowness