A stutter connotes glitching, faltering, or a hesitation: knowing what to say but stumbling over a problem sound or word. German artist Thomas Demand's (b. 1964) travelling retrospective is entitled The Stutter of History. The show, which is now open at Jeu de Paume, Paris, until 28 May, displays around 60 pieces of the artist's work. The set design, or scenography, has been crafted by Demand, spanning 25 years of his conceptual sculpture, film practice and photography.
The retrospective's title originated from former Chief Curator at Hammer Museum, LA, and the artist's collaborator, Douglas Fogle. "It proposes the notion of a hiccup or blank spots in historical narratives," Demand states. The exhibition, therefore, paints human temporality as a performance, one where parts are misplaced, cracks are smoothed over and truths are debated. A question arises: who is able to speak?
The 1980s and 1990s brimmed with defiant artwork from creatives who engaged with politicians, challenging rhetoric on identity, repression and state power across multiple disciplines. Nan Goldin (b. 1953), for example, made intimate portraiture documenting the lives of the LGBTQ+ community. She drew attention to the impact of the AIDS crisis, producing group shows such as Witnesses: Against Our Vanishing (1989) to preserve the community against erasure. Elsewhere, Polish artist Krzysztof Wodiczko (b. 1943) projected large-scale videos onto museums and monuments to highlight marginalised cultural issues, from global capitalism and consumerism to militarism and human rights. Public Projections includ- ed a display at the Whitney Museum of American Art (1989) in response to unconstitutional attempts to restrict freedom of speech promoted at the time by conservative politicians. It was in this cultural landscape that Demand's career began. He first trained primarily in sculpture, going on to graduate from Cité de Arts, Paris, in 1992, and Goldsmiths, University of London, in 1994. The artist integrated into the British art milieu during the era of Young British Artists (YBAs), a label applied to a loose group exhibiting after 1988. It included Damien Hirst (b. 1965), Michael Landy (b.1963) and Sarah Lucas (b. 1962), amongst others, whose work often utilised a certain shock factor and the use of found objects. Demand began photographing paper sculptures as a documentation of his creations, destroying them to conserve space. Later, he realised that the images themselves could be final pieces.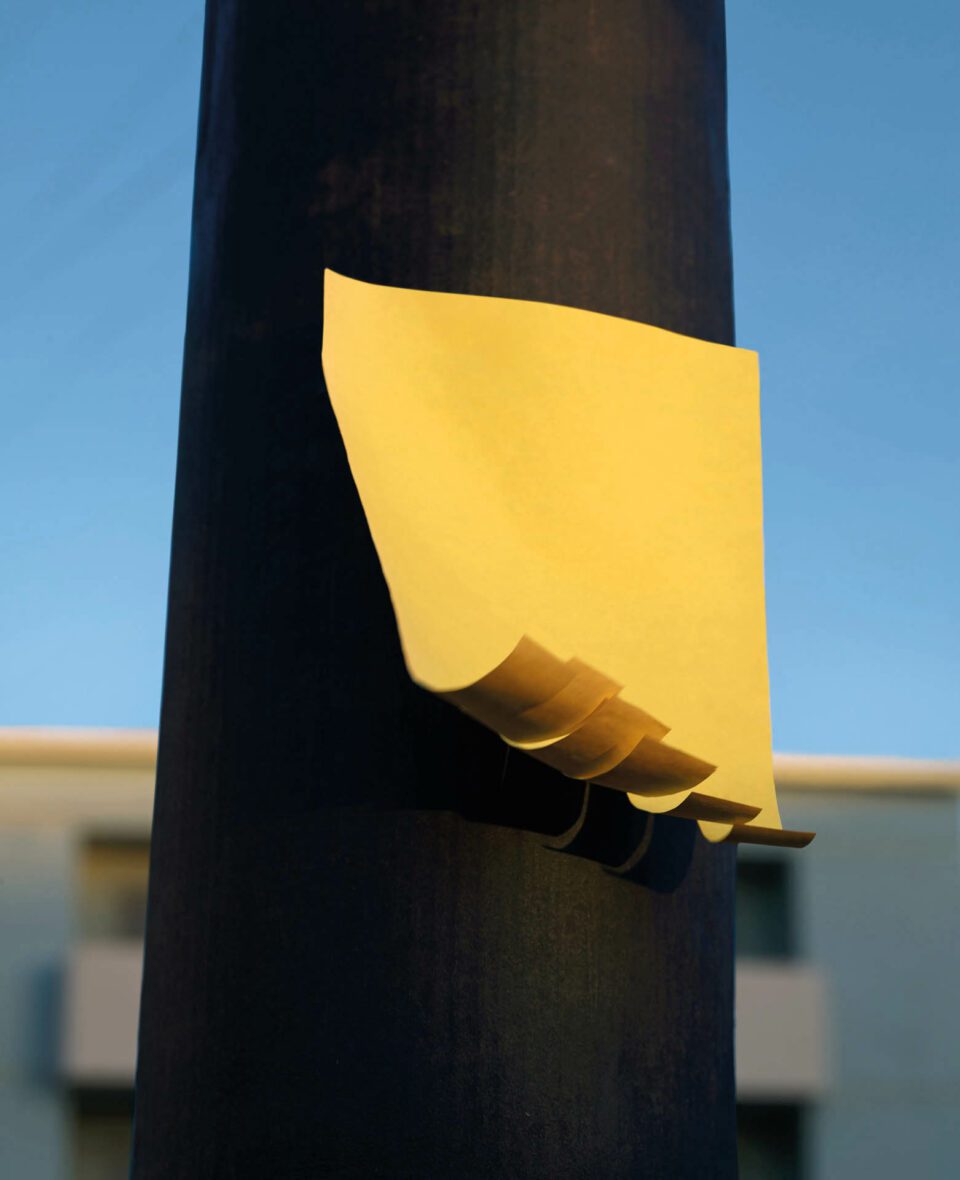 This process reinforced the idea of photographs as illusions, placeholders that cannot convey a full truth. Demand likens this to the practice of historians, who have "to connect single incidents to write a chronology. They have to fill gaps in which nothing happened, where images are lingering and memories are fading." Contrastingly, he takes work from renowned pieces in the public domain – identifying "found" photographs and recreating them to scale with paper and cardboard. After the large-format camera's click, the sculpture "set" is destroyed: both theatrical and fleeting.
The absence of both bodies and text is reminiscent of American realist painter Edward Hopper (1882-1967). There is an emptiness to the scenes, drawing attention instead to the architecture of the artifice. "Memory is a construction," Demand states, and whilst the work can be framed as a mimesis of past moments, there are always traces left behind of the piece's subtle fiction. This conceptual approach germinates in the glitch between what has happened and what now exists.
Several works, for instance, are modelled after scenes with immense political resonance. Backyard (2014) details the exit of the building where the Boston marathon bomber Tamerlan Tsarnaev lived with family. Whilst the media source showed his wife leaving the building, this scene is empty. Focus is drawn to the pink cherry blossoms flourishing in the background, vivid amidst a scene of morbidity.
Elsewhere, however, the politics of history are less evident. Sprungturm / Diving Board (1994) is the revival of private rather than public memory. A towering diving board dominates the pool setting where Demand first learnt to swim. It is an artificial construction, a scene conjured by recollection. "A memory is not simply an image produced by time travelling back to the original event – it can be an image that is somewhat distorted because of the prior times you remembered it," writes Dr. Donna Bridge in the Journal of Neuroscience, following Northwestern Medicine's (2012) pioneering study on the fallibility of human memory. Demand's work draws on this notion in creations that are part recollection, part imagination – a stark reminder to viewers that what is remembered cannot be wholly trusted.
The artist wants to "discover something more fundamental by digging into the reality which the found image shows in the first place." This desire is not to merely represent or recreate the past, but to perform the methodology of memory instead, highlighting the inconsistencies and artifice of recollection. "I create the world in front of my camera instead of recording whatever might be there. But it is inevitable that I construct a version of reality that might have more relations to how I see the world, not how it is." The impression is always Demand's, despite the original reference. Cinema mechanics are part of this procedure. Demand transposes the language of early 20th century filmmaking – a material venture that involved cutting rolls of film – onto the paper, the cuts and the camera's shutter guillotining time in architected pieces. Archiv / Archive (1995) reconstructs the storage space of German filmmaker Leni Riefenstahl (1902-2003). Grid-like shelves are stacked with unlabelled black boxes, cut across by a silver-grey ladder. It interrogates the filmmaker's legacy, whose work constituted Nazi propaganda films Triumph des Willens (1935) and Olympia (1938). The absence of markers of time or human figures compound the lack of witnesses beyond the image's audience. There is no way to determine its significance beyond collective memory, a poignant reminder to consider who is responsible for the consequences of media narratives.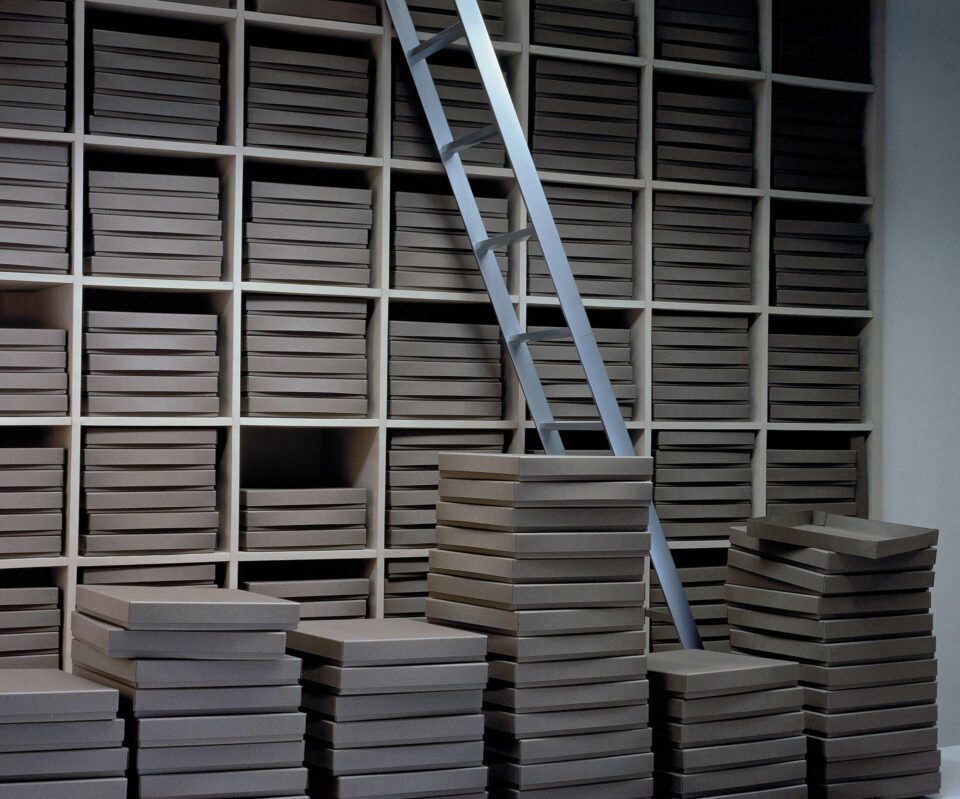 The work is reminiscent of the Memorial to the Murdered Jews of Europe, which opened in Berlin, 2005. The site was designed by architect Peter Eisenman (b. 1932) and comprises 2,711 leaning, grey concrete pillars of different lengths and at varied distances from one another. The pillars are plain, without text. The memorial collapses time out of its neat regiments, a confined, culpable space that turns the viewer into an eyewitness to genocide. Viewed decades after the Holocaust, the knowledge remains in cultural foundations and present-day injustices. Demand, likewise, focuses on the anatomy of what is remembered, and how understanding can be preserved through the body of history.
The persistence of past events, whether tender of traumatic, private or public, manifest in what the artist calls, "memories that won't go away." Each project is inspired by a sense of yearning to understand and analyse relentless concepts. Demand draws upon "long time ideas that don't have a face yet, photos that return in different contexts, political outrage that culminates in an image, and pictures that don't need explanation." Gangway (2001) is one example, a bright, near-commercial view illustrating the aeroplane exit from which Pope John Paul II emerged to a reunified Berlin in 1996. Stripped of this context, however, it could refer to any number of recent photographs showcasing celebrities descending from passenger jets. A tender, tabloid gloss washes over the saturated, summery blues and the black yawn of the plane's open doorway. It offers no defi- nite interpretation, both an empty candid and a representa- tion of a then-hopeful future for a recently unified nation.
The branches of Demand's practice extend from political to popular culture in Model Studies IV, which comprises photographs made in the archives of late fashion designer Azzedine Alaïa (1935-2017). Meadowlark (2020) and Kinglet (2020) represent jagged, vibrantly coloured fabrics in sculptural form, replete with the tracing paper patterns of the designer, who has found material afterlife as garments.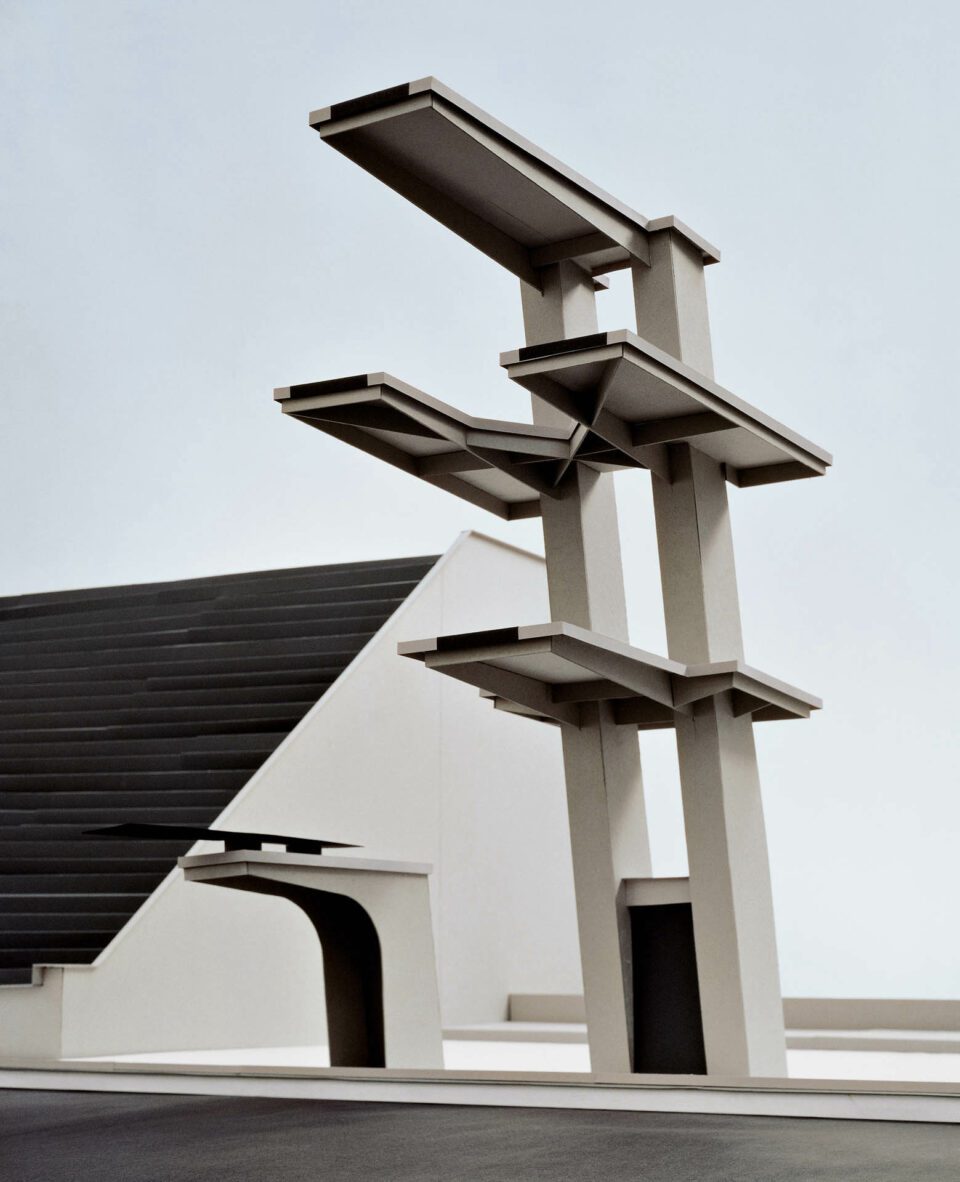 The ongoing Dailies series, which began in 2008, also appears as a significant departure from the usual gravitas of politically-saturated work. Demand used dye transfer printing for the first time, a long production process popularised by William Eggleston (b. 1939) in the 1970s. This places a nostalgic wash of colour against the quotidian scenes taken with a smartphone camera, moving away from "found" images. In one, a ribbon of candy-blue tape spools onto the floor like a waterfall's lolling tongue, whilst a tiny population of extinguished cigarettes stick up from a large, beach-like ash tray in another. Daily #34 (2020) comprises an empty yolk-yellow poster tacked on a pole. The sign is pleated with the traditional strips for non-existent phone numbers, curled up as if waiting for passers-by to rip them.
"Through social media, our understanding of photography has been shifting," Demand notes. "We consume and proliferate small incidences and experiences in a much more subjective way than before. The consequence is that we need to be able to read a photo, like a text, and … pay attention to who sends them as much as the images themselves." The Dailies series, when examined afresh, gains a different texture of meaning in light of the Covid-19 pandemic. Circulating pictures of the ordinary everyday became integral to maintaining community amidst crisis.
However, Demand also calls attention to a rapidly changing post-truth landscape encroached by recent technological advancements. Global media outlets are able to gather, manipulate and deploy visual media to reconstruct official and collective narratives. These reports, especially those concerned with grief, trauma and violence, are often sensationalised, drawing focus away from authentic truths.
The retrospective of Demand's work considers the state of veracity within the photographic image. In The Stutter of History, which surveys the many different ways this question has been approached, it is easy to consider the similarity between "stutter" and "shutter." A photograph is the result of producing a glitch between fact and fiction. It becomes a piece of theatre, a narrative where the audience must acknowledge their part in co-creating a myriad of truths: those of history, the present and what is being built.
---
Words: Vamika Sinha
The Stutter of History, Jeu de Paume, Paris | Until 28 May
---
Image Credits:
1. Thomas Demand, Gangway, (2001), C-Print/ Diasec, 225cm x 180cm. © Thomas Demand, VG Bild-Kunst, Bonn / DACS, London.
2. Thomas Demand, Kinglet, (2020), Framed Pigment Print, 135cm x 172cm. © Thomas Demand, VG Bild-Kunst, Bonn / DACS, London.
3. Thomas Demand, Daily #34, (2020), Framed Dye Transfer Print, 68.1cm x 56.7cm. © Thomas Demand, VG Bild-Kunst, Bonn / DACS, London.
4. Thomas Demand, Archiv / Archive, (1995), C-Print/ Diasec, 183.5cm x 233cm. © Thomas Demand, VG Bild-Kunst, Bonn / DACS, London.
5. Thomas Demand, Sprungturm / Diving Board, (1994), C-Print/ Diasec, 150cm x 118cm. © Thomas Demand, VG Bild-Kunst, Bonn / DACS, London.