Thao Nguyen Phan (b. 1987) is recognised around the world for her dreamlike and poetic work, having exhibited everywhere from Venice to Kochi-Muziris Biennale. The Vietnamese multimedia artist traces the history of her country in relation to contemporary environmental and social changes. Now, a survey of her work at Pirelli Hangar Biococca, Milan, presents her videos, sculptures, watercolours, silk and lacquer paintings in Italy for the first time. In Reincarnations of Shadows, visitors will encounter important historical narratives ­– such as the Vietnamese famine in 1945 ­– through audio, visual and tactile material.
The desire to bring stories to life in new ways fuels Phan's multimedia. She was introduced to film through the works of Japanese director Yasujirō Ozu (1903-1963) and Thai filmmaker Apichatpong Weerasethakul (b. 1970), who graduated before her from the School of Art Institute Chicago. In 2016, she became the mentee of American video and performance artist Joan Jonas (b. 1936) and expanded her practice to include film as well as painting. In an interview with Tessa Moldan for Ocula Magazine, the artist states: "The way that I approach film and video is similar to the way a painter might approach their canvas—I'm more guided by painting theory. I am also interested in storytelling; I always want to tell stories, but because I know there is a limitation with words, I always choose a visual way to do so." 
Phan's paintings come alive through film. She explains: "I do a lot of academic or artistic visual research of the subject matter and develop sets of images that I translate into drawings and paintings, and the imagery that I create through the paintings and drawings finds its way into video." These are dreamy worlds where folklore, fairy tales, history, literature, philosophy and everyday life merge. For example, the film Mute Grain (2019) draws attention to the 1945 famine in Vietnam. During the Japanese occupation of then French Indochina (1940-1945), farmers were made to grow jute – a plant used for military equipment – instead of food. This caused more than two million people to suffer and die from starvation in Northern Vietnam. Phan memorialises this tragedy in a three-channel installation combining testimonials from survivors; documentary photographs; watercolour animations; a fictional tale; and a fairy tale by novelist Yasunari Kawabata. The artist traces Vietnam's history and reflects on its legacies today.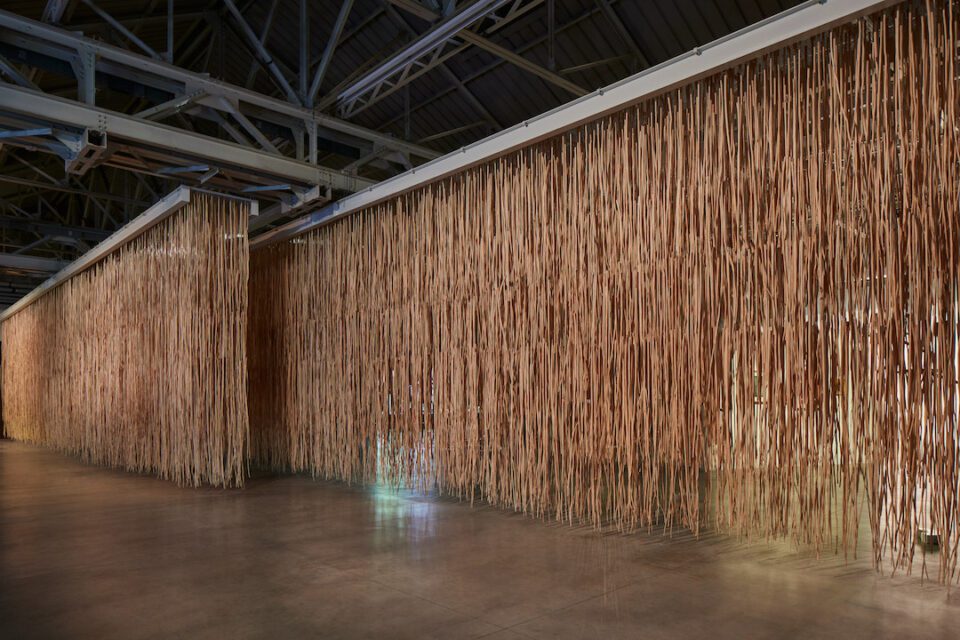 Her work also honours the lives of key individuals. Made specially for HangarBicocca, her video installation Reincarnations of Shadows (moving-image-poem) (2023) is a striking example. The film imagines a conversation between Phan and another woman artist fundamental to Vietnamese Modernism, sculptor Diem Phung Thi (1920-2002). Thi's sculptures from 1970-1990 surround the video art piece ­and inspire the exhibition's seating and display tables. They bring audiences closer to the work whilst showing that creativity can outlast one lifetime to future inspire generations. The project is driven by Phan's admiration for Thi, which began as a child and continued long after seeing her work for the first time in 2010. Moreover, the installation broadens the history of art to include those overlooked by limited canons. The intergenerational dialogue is a way for Phan to "write [her] own art history with the artwork."
Events and figures from the past are retold and reimagined as a way of dismantling limiting historical narratives. By working across different media, Phan's artwork resonates with sight, sound and touch. These sensory triggers transport us into pasts we may initially removed from, whether generationally or geographically. Engagement with the legacies of colonialism aligns her work with contemporaries such as Yee I-Lann (b. 1971) and Omar Victor Diop (b. 1980). Reincarnations of Shadows, through its imaginative exploration of personal and collective memories, is a journey between the past, present, and future.
---
Pirelli HangarBicocca, Milan: Reincarnations of Shadows | 14 September – 14 January 2024
Words: Diana Bestwish Tetteh
---
Image Credits
1. Thao Nguyen Phan, First rain, Brise Soleil, 2021 – ongoing (video still) Three-channel video installation, colour, sound 16'. With the support of Han Nefkens Art Foundation and Tate St Ives
2. Thao Nguyen Phan, No Jute Cloth for the Bones, 2019 – ongoing Installation view at Pirelli HangarBicocca, Milan, 2023. Courtesy the artist and Pirelli HangarBicocca, Milan. Photo Agostino Osio.