Inherited Ideals at The Finnish Museum of Photography collects work by three contemporary artists: Marja Helander, Harri Pälviranta and Kari Soinio. Centred around bodies and borders, the show traverses the uncanny experience; of particular note are Helander's North and New York series, which include eerie landscapes and saturated portraits, speckled with the conventions of horror. In these works, each location becomes a mechanism for memory and imagination to come into contact.
Born in Helsinki, Helander is Sámi — part of the indigenous peoples in Northern Europe. This sense of identity ripples through the images, which project a sense of tension between urban living and alternative forms of community. In the transnational North, portals offer a view into parallel universes. One memorable portrait shows the artist, nude and feathered, standing in a frosted copse, where white tree branches fracture like lightening into the sky. She faces the camera and, with blurred hands, seems to be in motion — a woman slowly becoming animal at the world's end.
The image recalls a photonegative from Aphichatphong Wirasetthakun's Uncle Boonmee Who Can Recall His Past Lives(2010), crossed with Cindy Sherman's estranging style. It forms one half of a diptych, displayed alongside an industrial landscape in Bjørnevatn, Norway. Here, an iron mine's terraced paths lead down into darkness. The message is one of ecological horror. The earth — opened, exploited — has released other beasts, slouching towards nowhere in particular, mournful and mysterious.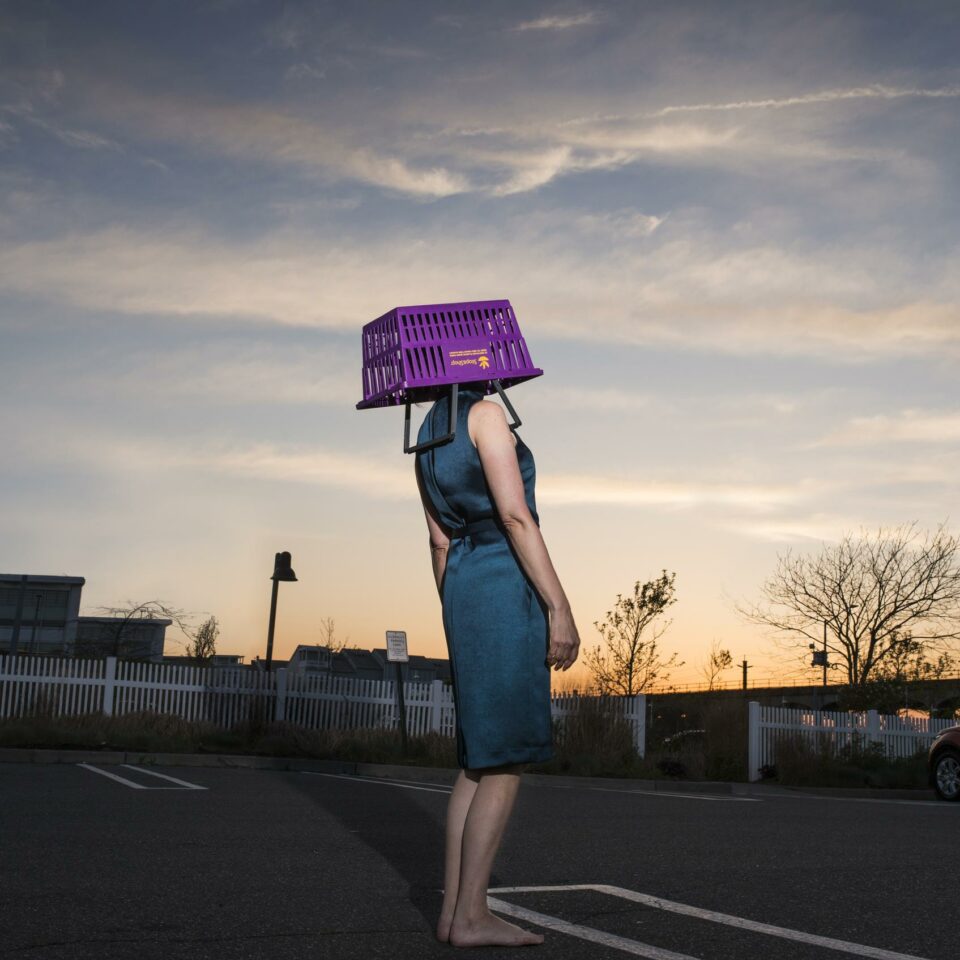 New York, meanwhile, is unsettling and painterly, like revisiting scenery from some forgotten dream. One photograph shot at Coney Island stages Andrew Wyeth's Christina's World (1948) in the tradition of tableau vivant. The camera is canted down, perhaps from the perspective of an automobile passenger, whose headlights harshly light the creatural subject from behind. The American landscapes are slicker than those in North. Dusk is the hour of choice, used for its color pallet and flat lack of shadow. In a second Coney Island picture, the horror theme continues as Helander clutches a knife on loan from Norman Bates.
Angled outward, she opposes the conventions of still life (where knives often direct a viewer's gaze toward a painting's center). Instead, we are invited down a corridor formed by concrete picnic tables, colliding with a green windscreen. In the background, a roller coaster becomes strangely weightless, an orange ribbon snaking through the wind. The image is unsettling, both in its content and composition. We, like the artist, do not belong to this world. Despite an almost endless array of seating areas, there is nowhere for our eye to rest. "We are part of the cyclicality of nature; a pile of particles and molecules," she writes.
Inherited Ideals: Marja Helander, Harri Pälviranta, and Kari Soiniois at The Finnish Museum of Photography runs until 24 February. For more information, click here.
Hunter Dukes
Credits:
1. Marja Helander: from the series New York, 2018.