Signature polka dots. Bright colours. Infinite space. These have come to define the installations of Yayoi Kusama (b. 1929). The works have transformed art galleries across the globe, attracting large audiences and becoming icons on social media. Love is Calling is the most immersive and kaleidoscopic of the artist's Infinity Mirror Rooms, opening at ICA Boston this month.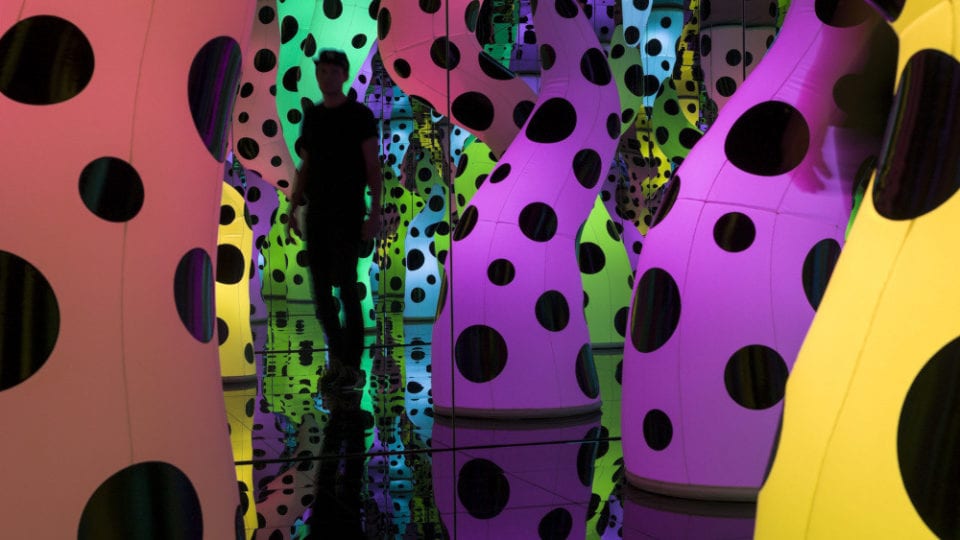 A darkened space is filled with illuminated, inflatable forms. Covered with coloured spots, the tentacle-like shapes gradually change colour. Set against a sound recording of Kusama reciting a love poem in Japanese, the piece envelops viewers within a hallucinatory and deeply enchanting world.

Opens 24 September. Find out more here.
Lead image: Yayoi Kusama, LOVE IS CALLING, 2013. Wood, metal, glass mirrors, tile, acrylic panel, rubber, blowers, lighting element, speakers, and sound, 174 1/2 x 340 5/8 x 239 3/8 inches (443.2 x 865.2 x 608 cm). Courtesy David Zwirner, New York; Ota Fine Arts, Tokyo/Singapore/Shanghai; Victoria Miro, London/Venice. © YAYOI KUSAMA