In March 2023, German artist Boris Eldagsen won a Sony World Photography Award. It was a prestigious achievement. But there was a catch: the picture – which depicted two women in black-and-white – was AI-generated. The event prompted discussions around the world: how can you tell if an image is made by a machine? What does this mean for the future of human creativity? It's a discussion as old as the camera itself; in 1839, for example, when the invention was announced to the world, it was met with equal parts wonder and debate. Was it art or science? What purpose should it serve? Did it pose a threat to traditional media? Photorealism emerged in Europe and the USA in the late 1960s, characterised by painstaking attention to detail, precision and a goal to emulate the aesthetics of photography. Here, we introduce four artists, all represented by 33 Contemporary, Chicago, whose striking portraits succeed in tricking the eye.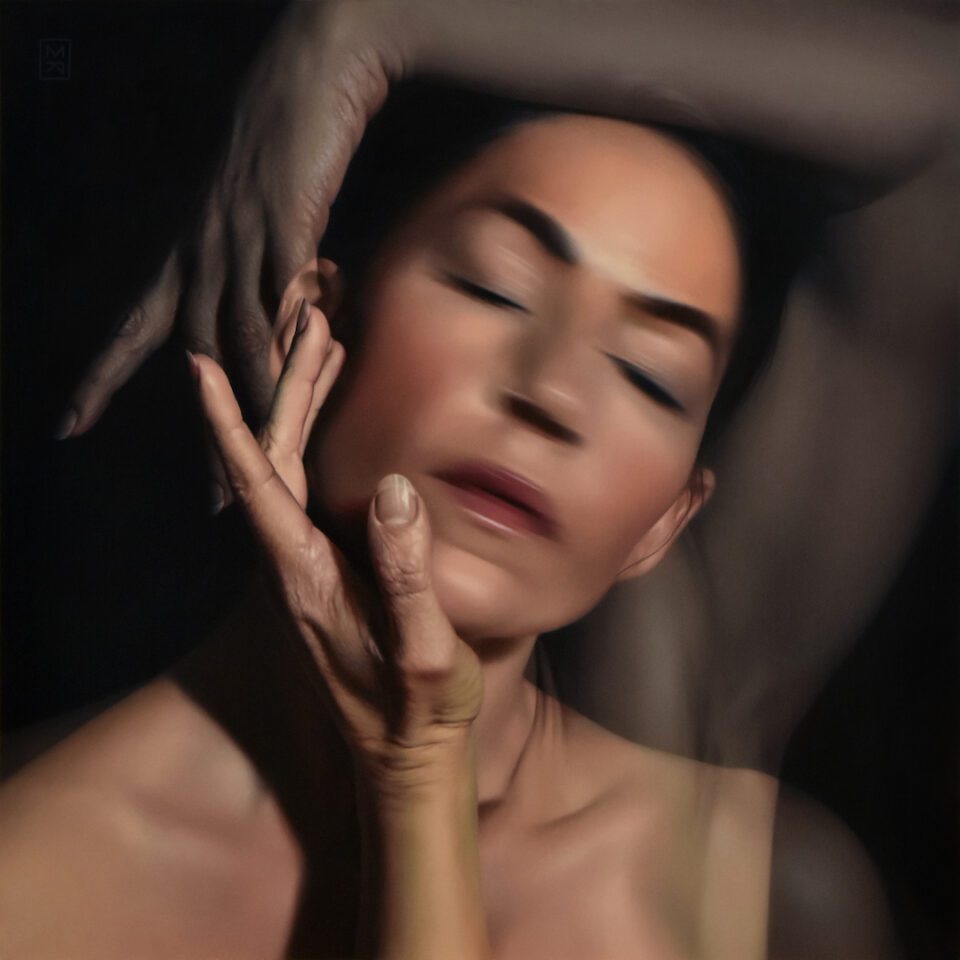 Megan Elizabeth Read (b. 1982) specialises in hyperrealist figurative works that centre the female form. The faces of her subjects are often portrayed in motion, shaking their heads or caught offguard. Vessel (2023), for instance, is a close-up portrait of a woman reaching overhead. Her blurred arm appears like an echo or phantom, as if captured on film with a slow shutter speed. Read uses skilful optical tricks as a means of visualising complex human experiences. The artist often includes mysterious, unexplained objects and symbols in otherwise straightforward compositions, encouraging us to look twice.

Click here to discover the artist's work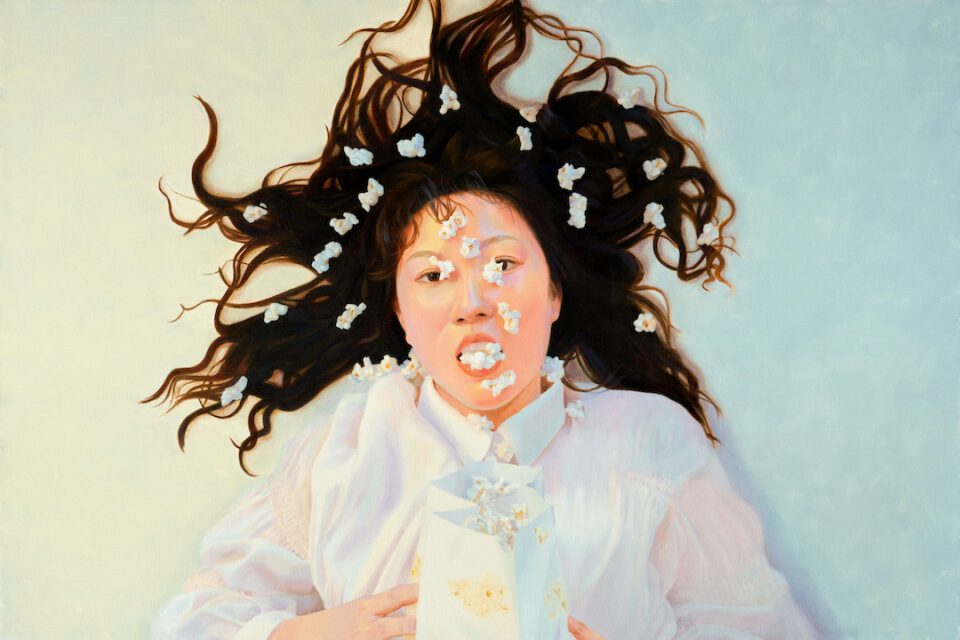 Rich colours, unusual compositions and emotionally charged scenes. These are the key elements of Chinese artist Junyi Liu's (b. 1995) practice. Each composition is deeply personal, reflecting on themes of trauma and mental illness through the use of clever metaphors and romantic aesthetics. At the End of the Show (2021), shown at the top of the page, depicts a women, knife in hand, lying back on milk-white sheets. Elsewhere, If You Really Loved Me (2022) is captured from an aerial perspective; the subject's hair is splayed out, popcorn cascading from her open mouth and eyes wide open.
Click here to discover the artist's work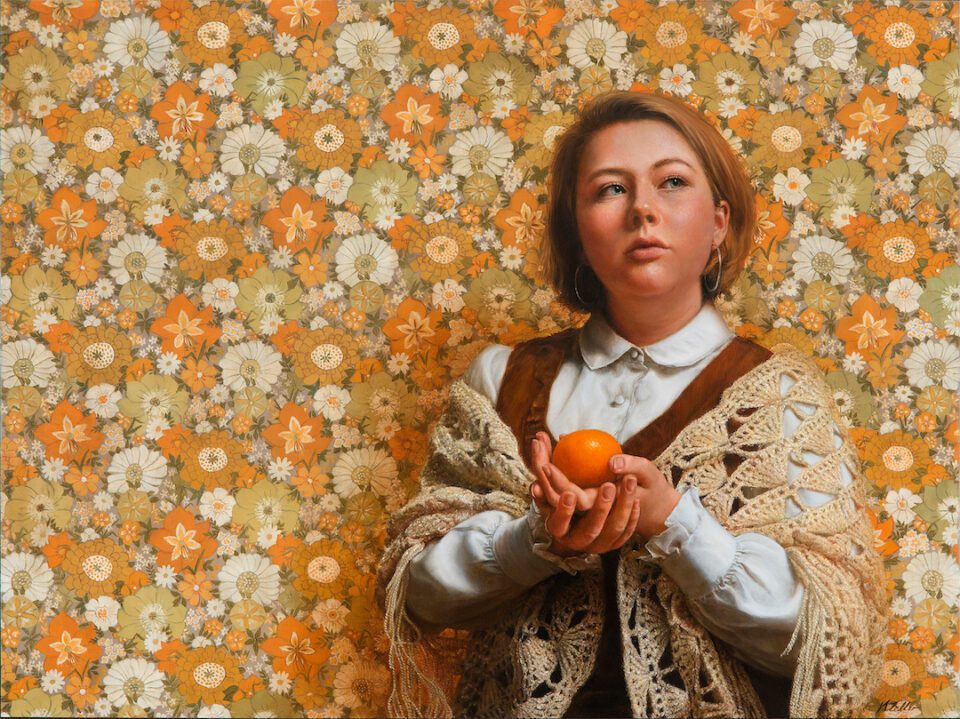 Narelle Zeller's (b. 1978) use of colour, texture and pattern is compelling. In Bury Me With a Mandarin (2018), for example, floral wallpaper fills the entire frame. The retro blooms form the backdrop for a thoughtful portrait, tied together by a bright orange fruit at the centre of the composition. The Australian representational portrait and figurative oil painter draws inspiration from the people around her, distilling her own life experiences onto canvas. Zeller aims to capture an honest and authentic representation of each subject, encouraging viewers to question and connect to the individual stories behind each face.
Click here to discover the artist's work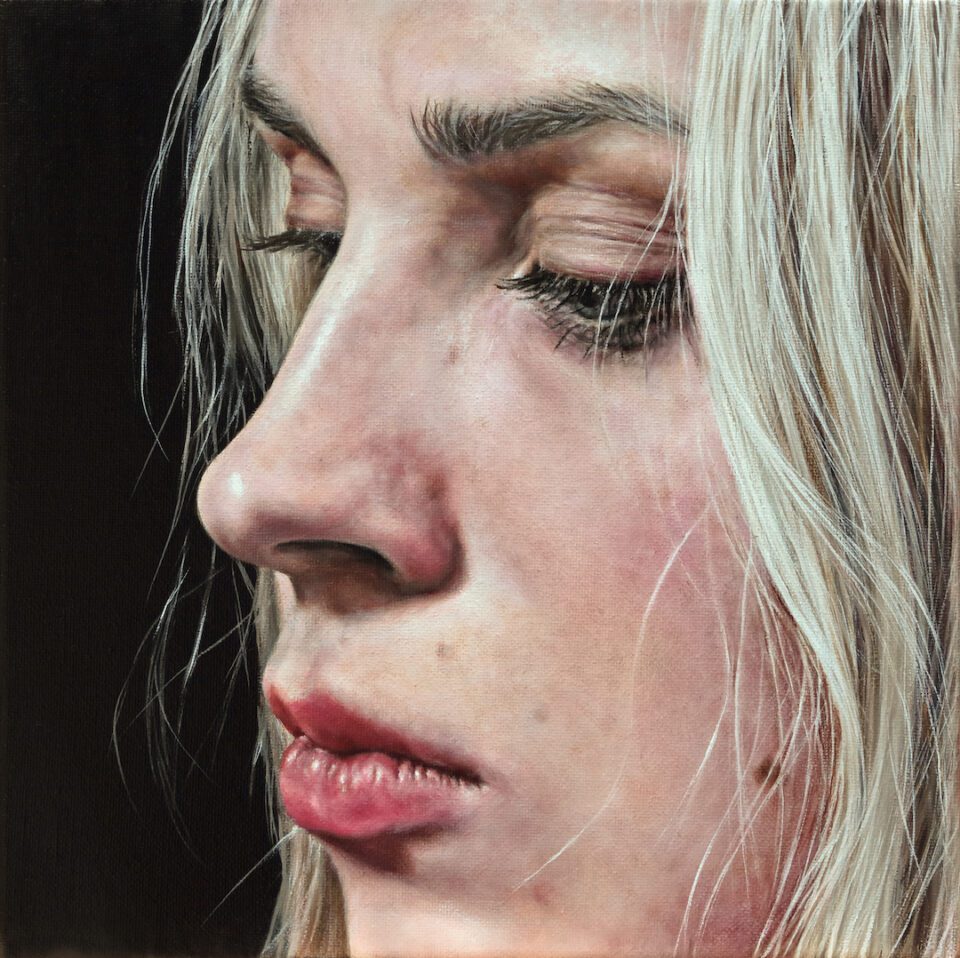 "Sfumato" is a traditional painting technique for softening the borders between colours and allowing tones to shade gradually into one another. It was perfected by Leonardo da Vinci, with the Mona Lisa being a prime example of its softening effects. Today, sfumato is Arina Gordienko's (b. 1961) style of choice. The Russian British artist applies a 21st contemporary palette and imagination to the process, but it remains lengthy and intricate. "Only hours of hard work and practice help to create something spectacular," she notes. The results are characterised by a poignant sincerity and deep emotional pull. Gordienko believes that "art is the most powerful tool to keep this world in balance and harmony."
Click here to discover the artist's work
---
---
Image Credits:
1. Junyi Liu, At the End of the Show (2021).
2. Megan Elizabeth Read, Vessel (2023).
3. Junyi Liu, If You Really Loved Me (2022).
4. Narelle Zeller, Bury Me With a Mandarin (2018).
5. Arina Gordienko, Raincastle (2022).