Scotland's biennale of contemporary visual art, Glasgow International, has adapted to a combined digital and physical format for 2021. This year's festival explores the theme of attention: how we observe things and the people around us. We pick out five highlights from the curated programme; these exhibitions are selected from dozens of shows across the city.
---
Eva Rothschild: Peak Times, The Modern Institute (Aird's Lane gallery)
A new set of sculptures from Eva Rothschild (b. 1971) offers viewers a sensually rich encounter with tactile forms. Peak Times presents works made from jesmonite, calico, wax, fibreglass, rope, rubber and spray paint – materials uncannily akin to domestic and industrial detritus. The artist builds on her reputation for occupying the fringes of classic modernist sculpture, whilst prodding at its boundaries with a spirit of humour and play. Highlights include the multi-coloured, sagging sphere of jesmonite rings The World Wide Web and the ungainly tape-roll column Technical Support. These pieces invite us to reconsider our relationship to architectural space, as well as the aesthetic appeal of everyday materials and the role of our bodies in facilitating artistic encounters. The sweet, funny and mildly sinister film Boys and Sculpture (2012) shows its young audience pushing viewer interaction to the extreme.
Nirbhai (Nep) Singh Sidhu: An Immeasurable Melody, Medicine for a Nightmare, Gallery of Modern Art
For his first European solo exhibition, Canadian artist Nep Sidhu has produced a set of richly coloured, ornately detailed tapestries and mixed-media works exploring themes from Sikh metaphysics. Incorporating piles of woodchip and earth, tassles and other decorative elements, his work conveys a strong sense of ritual which both complements and offsets the neoclassical ambience of GoMA's main gallery space. A set of large hanging tapestries, When My Drums Come Knocking, They Watch, are the showstoppers of the exhibition, combining elements of narrative frieze and abstract, semi-orthographic pattern. Lurking behind them, the sculptural work An Immeasurable Melody looks like a futuristic, semi-collapsed monument. Half-submerged in earth, it commemorates the victims of Indian state violence against Sikhs. The film Black (W)hole, created with Maikoiyo Alley-Barnes, explores the transformational potential of rhythm in the music of Alice Coltrane.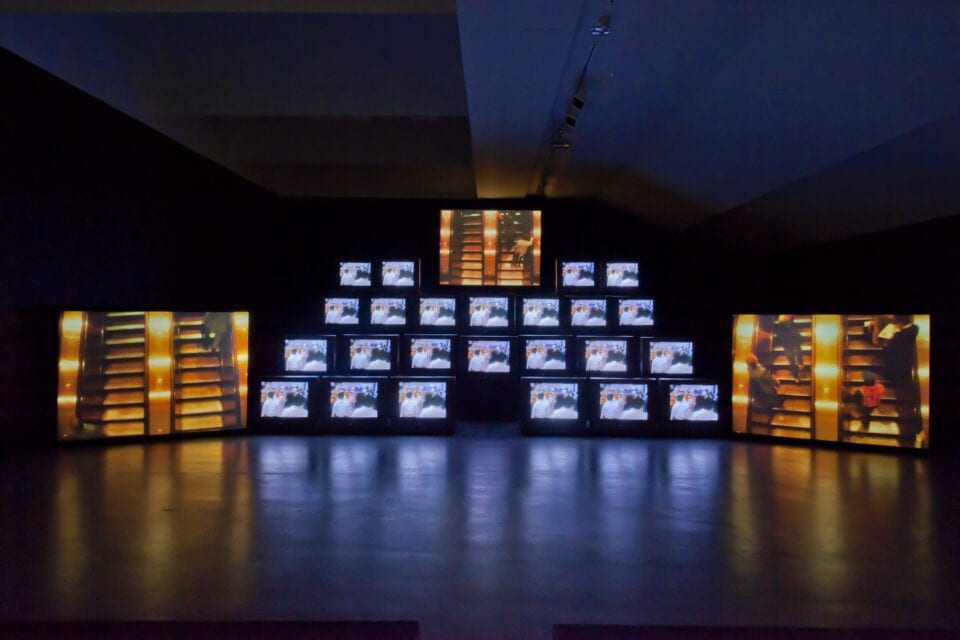 Gretchen Bender: Total Recall, Glasgow Royal Concert Hall
Gretchen Bender (1951-2004) was a member of the Pictures Generation, a group of artists who questioned the political power of mass visual culture during the 1970s and 1980s. This installation-based film work, showing in the Royal Concert Hall's Killermont Street space, consists of a two-part pyramid of retro TVs, intersected by larger projections. Across these screens, a disorienting, staggered set of images from Hollywood films, TV news roundups, advertising sequences and stark geometric patterns play. Bender's work offered a prescient comment on the power of images and slogans to circulate virally in the days before the world wide web. It also explored the ways visual culture can facilitate systems of power, surveillance and wealth. Total Recall is a draining joyride of film, providing 18 minutes of overstimulation.
Sammy Baloji and Bodys Isek Kingelez, Tramway
This small but striking exhibition brings together two artists from the Democratic Republic of Congo. Bodys Isek Kingelez (1948 – 2015) was born in the DRC when it was known as Zaire, working during a period of socio-political tumult. Using his training and equipment as an art restorer at Kinshasa's Institut des Musées Nationaux du Zaïrem, Kingelez created fantastical, afrofuturist sculptures of imaginary buildings that propose a more harmonious future society. Surrounding what Kingelez called his "extreme maquettes" are a set of Baloji's (b. 1978) large-scale photo prints, showing the reality of contemporary urban life in Kinshasha. They are part of his Urban Now sequence (2013 – 2015). created with anthropologist Filip de Boeck. Depicting crumbling colonial infrastructure and neoliberal advertising slogans amidst a dense human sprawl, these pieces suggest a warren-like maze of abandoned futures.
---
Awuor Onyango and Sekai Machache: Body of Land, Street Level Photoworks
Awuor Onyango (b. 1990) and Sekai Machache's (b. 1989) stylised portrait photography explores the tropes and expectations of African and African-diasporic femininity. Based in Nairobi, Kenya, Onyango creates lush diptychs and triptychs, which incorporate elements of costume and carnival. The photographs endow their subjects with the quality of gods or archetypes, whilst also asking questions about social expectations and stereotypes. Machache, a Zimbabwean-Scottish artist, works with a darker, deeper colour palette. But her portraits, mainly in black and red, play with the same suggestive motifs as Onyango's – oracles, talismans, objects of ritual and magical potency. A set of marble and ink drawings in a central vitrine offers an abstract counterpoint to the portraiture.
---
Glasgow International, including Gretchen Bender's Total Recall, runs until 27 June. Nirbhai (Nep) Singh Sidhu's An Immeasurable Melody, Medicine for a Nightmare is showing at GoMA until 5 September. Eva Rothschild's Peak Times is at the Modern Institute until 1 September. Awuor Onyango and Sekai Machache's Body of Land runs at Street Level until 1 August. Sammy Baloji, Bodys Isek Kingelez is showing at Tramway until 25 July.
Find out more here.
Words: Greg Thomas
---
Image Credits:
1. Sekai Machache, White Aspect (2018) Courtesy of the artist
2. Eva Rothschild, Technical Support, 2021. Courtesy of the Artist and The Modern Institute/Toby Webster Ltd, Glasgow.
3. Eva Rothschild, The World Wide Web, 2021. Courtesy of the Artist and The Modern Institute/Toby Webster Ltd, Glasgow.
4. Gretchen Bender, Total Recall (1987) Photo ©Tate
5. From the series Ritual Manifestations © Sekai Machache
6. Sekai Machache, White Aspect (2018) Courtesy of the artist