Flowers have had a significant presence throughout art history – from 17th century still life paintings to today's digital renders. A new book from Phaidon examines their rich symbolism, drawing on lush, visually striking images from several centuries of creative practice.
Author Anna Pavord speaks to Aesthetica about their enduring appeal, drawing on a wide range of examples from across the world. Bright photography meets botanical illustrations, sculptures, floral arrangements and textiles.
A: Why do you think flowers have held such an enduring presence in art from across the world?
AP: We respond to their beauty, we are intrigued by their complexity and we are overwhelmed by their variety. We now have written descriptions of 422,000 wild species of plants. Many of these, such as roses and orchids, have become especially popular and have been coaxed by plant breeders into producing thousands of different colours and forms. By nature, flowers are ephemeral and perhaps it is this quality that drives artists of all kinds to capture them in a form that does not fade.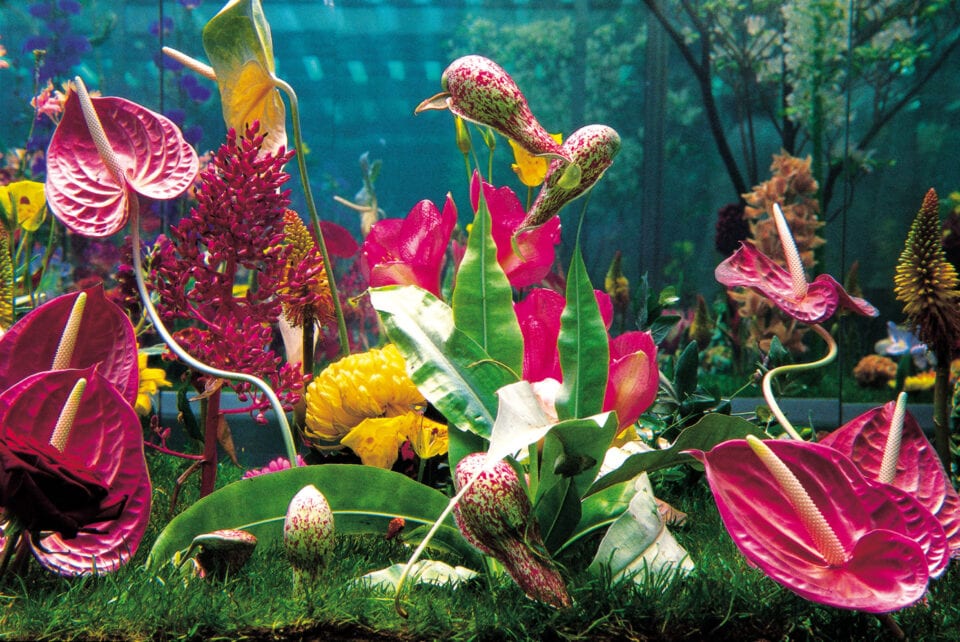 A: Flowers have been used as powerful symbols throughout history – from 17th century vanitas paintings to counter-cultural movements in the 1970s. How does the book highlight these multiple meanings across time, and a variety of cultures?
AP: Flower ranges over four thousand years of history, but the images (300 of them) are not arranged chronologically. Instead, they are paired on facing pages to highlight similarities or contrasts in the ways artists have used the flower as a symbol in different ages and across different cultures. Rene Magritte's painting of a rose marooned on a rocky island is teamed with photographer Martin Parr's image of brilliant pink roses on a Dorset campsite. These both represent – through different mediums – the triumph of nature over barren or inhospitable surroundings. Tanya Marcuse's photograph, Woven No 28, references the vanitas paintings of the 17th century by inviting us – in her 2018 composition of roses, thistles, foxgloves and chrysanthemums – to think about the fragility of life and each flower's cycle of growth and decay.
A: How have technological developments influenced depictions of plants?
AP: The extraordinary range of images in Flower come not just from paintings, but from ceramics, metalwork, jewellery, tapestries, furniture, manuscripts and books. There are also some enchanting ephemera such as cigarette cards, postage stamps and seed packets. Each age brought about a new development in technology. The invention of printing resulted in the first printed herbal (1530). The daguerreotype, developed early in the 19th century, brought forth an astonishing series of experiments in capturing light to make prints. Some of the first photographs taken by the pioneering inventor William Henry Fox Talbot were images of flowers. The introduction of the Kodak camera in 1888 first demystified the process of photography. The introduction of the smartphone in 2000 turned it into everyone's art form. One of the oldest images in the book is a painted fresco of Flora, goddess of flowers. One of the most recent (2009) is a hyper-real image of roses taken on a smartphone by photographer Nick Knight. It is processed through Instagram – the "gallery" of the 21st century.
---
A: Why do you think "flower art" is so popular today – in a digital, urbanised world?
AP: There can be no one answer to this, but I imagine it might have something to do with a desire to escape from "the digital, urbanised world."
A: How does this volume tap into ideas surrounding conservation and the climate crisis?
AP: These are concerns predominantly of the 20th and 21st centuries. Flower includes images and artefacts from a stretch of four thousand years and from cultures where these had not yet arisen as issues. A comprehensive timeline highlights actions such as Minnesota's 1925 law passed to protect the state flower, the lady's slipper orchid, and the founding (1958) of the Hunt Institute for Botanical Documentation at the Carnegie Mellon University. But, even if apprehension concerning conservation and climate were far from the minds of artists of the 16th and 17th centuries, it's perfectly possible to construe interpretations of their work based on these modern anxieties. Marc Quinn's Garden (2000) could also be seen to reflect these issues. So could Gregory Crewdson's Untitled (1998-2002) but the artist himself says of his Digital C-print that he wants "the story to remain unsolved."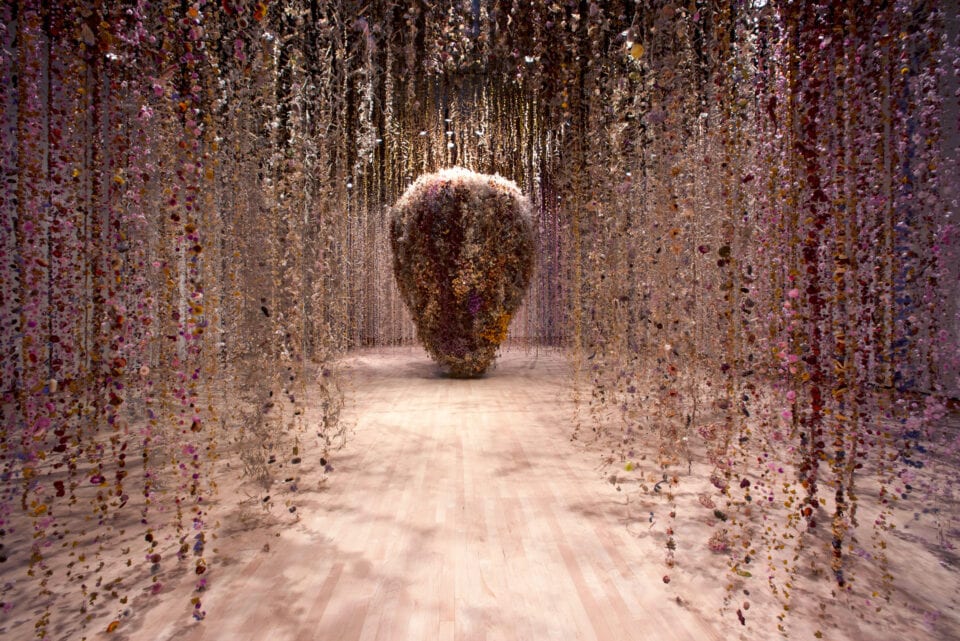 A: How is the publication curated? What type of journey will the reader take as they turn the pages?
AP: The journey the reader will take is one of wonder and surprise. Flower is not arranged thematically, or chronologically. The editors have painstakingly sought out the most engaging images from a wide range of disciplines: still-life paintings, botanical illustrations, sculptures, clothes, flower arrangements, and from a wide range of cultures. Here, as well as classic still-lifes by painters such as Jan Davidsz de Heem, you can find a superb gold leaf screen from Japan; a Kwoma gouache from Papua New Guinea; a beautiful clay krater or fruit stand from Crete made around 1700BC; a turquoise hippopotamus from Egypt, decorated with lotus flowers; and from Australia, My Country and Bush Medicine Plants by the aboriginal artist Julieanne Ngwarraye Morton (2019). The pairings of the images intrigue and delight; the reader stops to see how one work of art "talks" to the other. The hippo covered with water-loving lotus sits alongside one of Monet's many paintings of water lilies. The krater covered in moulded white flowers is paired with Giuseppe Arcimboldo's famously surreal portrait Spring (1573) – a profile of a man composed entirely of intricately detailed flowers, with lips of rosebuds and teeth from lily of the valley.
A: What do you hope readers take away from this title?
AP: This will depend on each reader's own taste and interests. I am particularly taken by the botanical prints made by Indian artists. Others will respond to the ceramics, such as the exquisite set of porcelain plates made at the Sevres factory in France. Fashionistas may marvel at the wedding dress Karl Lagerfeld designed for Chanel in 2005, decorated with 2500 hand-made camellias, or the wonderful orchid hat, made by Philip Treacy in 2011. The book has a broad, accessible appeal. And it looks ravishing.
---
Flower is published by Phaidon. Find out more here.
---
Image Credits: 1. Doan Ly, Neon Poppy, 2018. Digital, dimensions variable. Courtesy Doan Ly
2. Marc Quinn, Garden, 2000. Cold room, stainless steel, heated glass, refrigerating equipment, mirrors, turf, real plants, acrylic tank, low viscosity silicon oil held at -20°C, 3.2 × 12.7 × 5.4 m / 10 ft 6 in × 41 ft 8 in × 17 ft 10 in, Private collection. Picture credit: Photo Attilio Maranzano. Courtesy Marc Quinn studio and Fondazione Prada
3. Azuma Makoto, Undersurface Flowers, 2018. Flowers and water, dimensions variable. Picture credit: Shiinoki Shunsuke/AMKK
4. Jo Whaley, Iris ser. Californicae, 2012. Archival pigment photograph, 50.8 × 66 cm / 20 × 26 in. Picture credit: Courtesy Photo-eye Gallery, Santa Fe, NM, USA.
5. Rebecca Louise Law, The Womb, 2019. Mixed flowers and copper wire, dimensions variable. Picture credit: Rebecca Louise Law 'The Womb' courtesy of Frederik Meijer Gardens & Sculpture Park