"Design's role in exploring materials, and ways of making, living, consuming and producing has taken on new urgency as our impact on the planet becomes all too clear," says Aric Chen, Curatorial Director of Design Miami / Basel 2019. The 14th edition of the international fair takes Elements: Earth as its theme, looking at how processes and materials must evolve in response to the climate crisis through presentations by 43 galleries.
The exhibition Design at Large is central to this idea, showcasing large-scale works and installations that explore the role of making in a "post-nature", Anthropocene future. Formafantasma's Ore Streams provides an alternative to below-ground mining, instead highlighting how metals and minerals can be sourced from electronic waste. Conceived for office use, the studio's furniture objects are made using recycled materials and incorporate "e-waste." In a similar way, Mercade Moderno presents Manimal, a series of three nest-like structure made from reclaimed wood, bulrush fibers, cardboard pulp and reused fishing nets. Each project questions how human activity is dissolving the distinctions between natural and human-made, using raw materials and waste to comment on human consumption and production.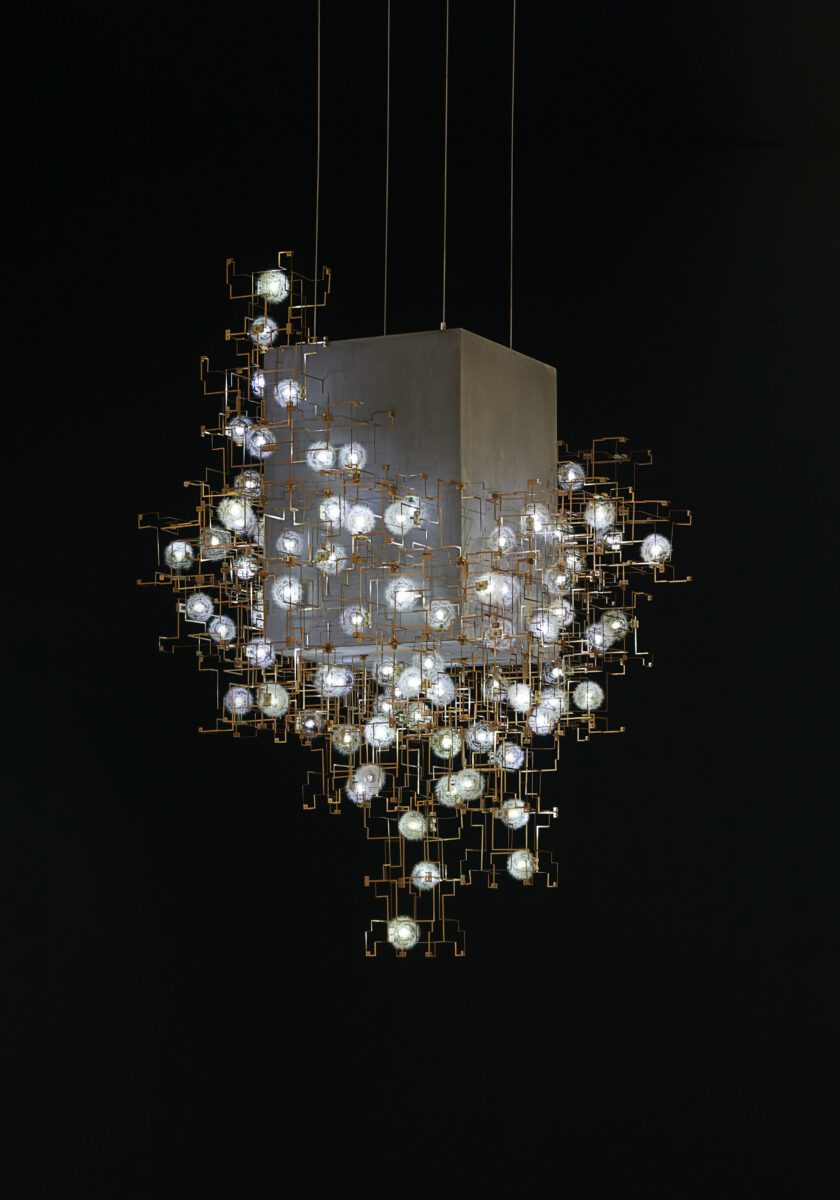 Multidisciplinary duo Studio Drift, represented by Carpenter's Workshop Gallery, also engages in these dialogues, looking at the intersections of art, design, technology and the environment. Fragile Future – featured above – is a series of light sculptures comprising bronze electrical circuits and light emitting dandelions. Each seed is picked by hand and glued to LED lights in a labour-intensive process, commenting on mass production and throwaway culture. The piece offers poetic contrasts, asking: how can nature and technology evolve together?
Taking these ideas to the next level is Irish designer Joseph Walsh, who is also part of Design at Large. Magnus V pushes the formal and technical possibilities of olive ash wood, producing an "extreme nature." Dominating the space and looming large over the viewer, Walsh's largest work to date is deeply telling. Alongside many works at the fair, it reveals how society has manipulated the earth's resources to its limits – bringing a global problem to the fore.
Design Miami / Basel runs 11-16 June 2019. Find out more here.
Lead image: Joseph Walsh Studio, Magnus V.