Bloomberg New Contemporaries returns for 2020 with a new digital platform, showcasing work by 36 emerging artists from UK art schools. The annual exhibition has supported the next generation of artists since 1949, with alumni including David Hockney, Tacita Dean, Chris Ofili, Gillian Wearing and Mona Hatoum. This year, in response to the pandemic, New Contemporaries is entering the virtual realm.
Kirsty Sim is part of 2020's cohort, making bright images which explore the effect of mass media on contemporary culture. The artist speaks to Aesthetica about the series, Ambient, whilst delving into the purpose of photography and what it means to be making images in today's world.
A: How would you describe your photo series, Ambient?
KS: Ambient is a reflection of my cold – but also sentimental – feelings about urban culture. It portrays my experience as a Korean and as part of Korean culture, against the backdrop of my current life in London.
To understand and thus survive in everyday life in South Korea, one of the skills required is '눈치(noonchi)', a term expressing a particular degree of emotional intelligence and the ability to read other people and social cues. As a socially cohesive culture, it is a skill that is particularly valued in Korea: one that maintains social harmony, that is assumed or implicitly expected. It pervades all areas of social life – family, friendships and especially corporate culture – and it will often place the opinions and well-being of the group before those of the individual. To participate in society, one is expected to read and understand others, without considering one's own place within the group or outside of it. It requires sacrifice and one risks losing one's identity in the process. Ultimately, identity is defined by one's social milieu rather than individual character.
"How much sacrifice do I need to make to be a part of this culture and this society I am so closely connected to?" Ambient started with this question, as a refusal of these expectations.
A: What was the process of making the images like? How did you choose the location and subjects, and are they captured spontaneously?
KS: I prefer shooting outdoors to in the studio. When I was young I lived close to the sea, and so it seemed natural for me to return there for this series. Because I have a background in fashion photography and understand the powerful message that clothes can have, I didn't want them to take over the image. I wanted my friends to be immersed in nature, so we visited the mudflats in front of my family home, with my friends wearing just their shorts, each with their own intense individual colours. The only thing I asked of them was to exist individually as themselves.
I wanted to show the 'natural relationships' between nature and people. I wanted to show all their different personalities, and the beautiful harmony that is formed when we stand as ourselves rather than as someone that society expects of us.
---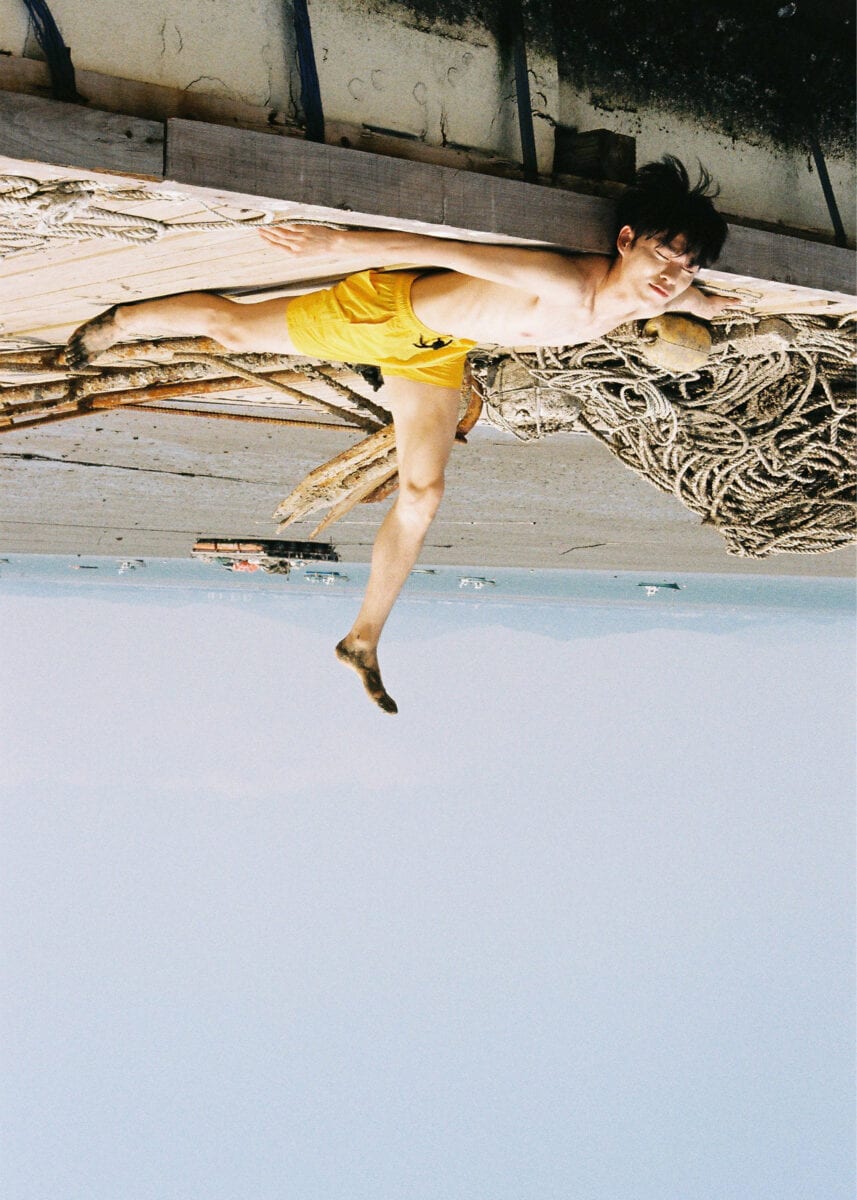 A: Your work often deals with aspects of reality and fantasy. What does a "photograph" mean to you?
KS: We are all dreaming of an ideal life, whether it's possible or not. A photograph is an unrealistic story. It captures something that exists but does not already have meaning or objectivity on its own. It creates a virtual, new reality through a process of production. One role of photography has always been to seek out and portray something about what the world is like – to document an experience of what it means to be human. Now more than ever, photography exists as a virtual product on social media and the Internet. The distinction between an advertisement and a genuine moment is only distinguishable by the tags denoting it as such. We have become suspicious of photography. Whilst we once included the frames of film to show that they hadn't been cropped, we now assume they have been altered, filtered and modified a million different ways. But when we manipulate images, we create entirely new subjects, blurring the boundaries between what is real and what is virtual.
My work seeks to show this creative aspect of photography, manipulating reality and reconstructing facts, to make a fantasy that may soon become reality.
A: How does Ambient explore ideas of human connection in today's world?
KS: This question is very difficult for me to answer. The changes that are happening to how we connect with each other are drastic and in a process of constant acceleration. The word 'human connection' itself is complicated. We have begun to form entirely new, digital relationships, especially now due to Covid-19. These are relationships that are no longer physical, immediate or linear Ambient explores physical relationships, allowing you to experience a material connection to the photograph, whilst also letting you look at the eyes and gestures of the subjects.
---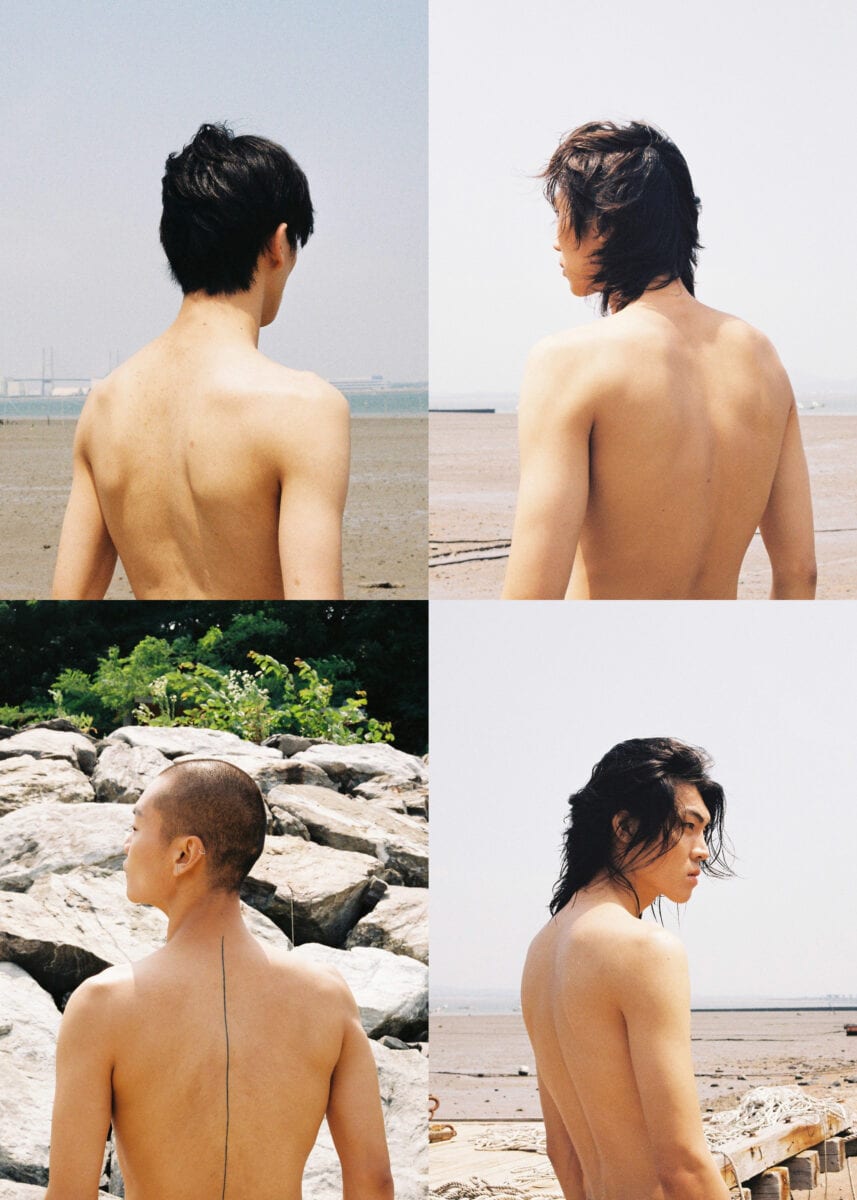 A: What do you hope audiences take away from the series?
KS: I think it's quite difficult to ask an audience to take something away from anything you make artistically. I don't think all artists have a message that they're trying to put out into the world, at least I don't. It's more an attempt to share an experience. To make something someone will see and that will change the way they walk out into the world after seeing it. A more aware experience of the world, one that gives people the potential to change. To imagine, to daydream, to create a world that is different. A world that is real and free from the restrictions we tend to hold on to. Even if it's only a little nudge.
A: What does it mean to be selected for Bloomberg New Contemporaries 2020?
KS: I still can't believe it, especially seeing all the other works and artists that were selected this year! I am incredibly excited to be able to exhibit with the other artists and meet them in person. It also means a lot for my future, providing me with opportunities and experiences that will allow me to create work that wouldn't be possible without this exposure. 감사!
A: What other types of work can viewers expect to see on the New Contemporaries digital platform? Do you have any highlights?
KS: I think this year ́s New Contemporaries will shape up to be an entirely new type of experience. The production of digital work is not only reflective of the new reality in which we ́are currently living, but also of the new alternate realities that we can create within it. Viewers can expect to see art by up-and-coming artists presented in an entirely new light, to be able to hear new stories that haven't been told before, to be part of new journeys. I am personally excited to see and experience the entire spectrum of works, and the different ways in which they choose to be presented on this year ́s digital platform.
---
The digital gallery launches 30 September. See more from Bloomberg New Contemporaries 2020 here.
---
Lead image: Kirsty Sim, Ambient #2, 2019, courtesy the artist and New Contemporaries
2. Kirsty Sim, Ambient #3, 2019, courtesy the artist and New Contemporaries
3. Kirsty Sim, Ambient #5, 2019, courtesy the artist and New Contemporaries