University of Kent's Studio 3 Gallery showcases local art through open submissison. It displays the rich variety of creative practice blooming in the region: from painting, sculpture and photography to performance, textile, poetry and digital media. Curator Dr Eleen M. Deprez speaks to Aesthetica about the forthcoming exhibition, Derek's Room.
A: Can you tell us about the idea behind the exhibition, and how it is organised?
EMD: Derek's Room is a juried open submission exhibition. It exists in a long tradition of annual exhibitions where a panel of judges or curators selects works from a range of submissions. For this exhibition we sent out a call for artists via social media, asking Kent-based creatives to submit their work by digital portfolio. Together with a group of students, I reviewed the submissions and we selected a rich variety of works for the exhibition. The idea is for Derek's Room to become a recurring annual exhibition, like the famous Summer Show at the Royal Academy or the 19th century Salons organised by the Académie des Beaux-Arts in Paris.
A: What is the meaning behind the exhibition title, Derek's Room?
EMD: Studio 3 Gallery is located in the Jarman Building, which is named after film director Derek Jarman. So, in this regard, the rationale for the title is quite simple and straightforward: it simply is a room in Jarman's building. That being said, there is deeper thinking at work. All too often gallery spaces are elitist, exclusionary and unwelcoming. The threshold for people to visit their local art gallery is often quite high. This is something we see in our regular footfall. We have great attendance from students and staff at the University who visit exhibitions as part of their teaching or to just relax in between lectures and seminars. We get a lot of people outside of university who are regular gallery-goers. But we rarely get people dropping in after walking along the Crab and Winkle Way route between Canterbury and Whitstable, or when going to the cinema at the university's Gulbenkian Theatre. With Derek's Room, our aim was to transform the gallery from a neutral, white cube-ish environment to a homely and hopefully welcoming space. Derek's Room is open to everyone, both in terms of visitors and exhibitors.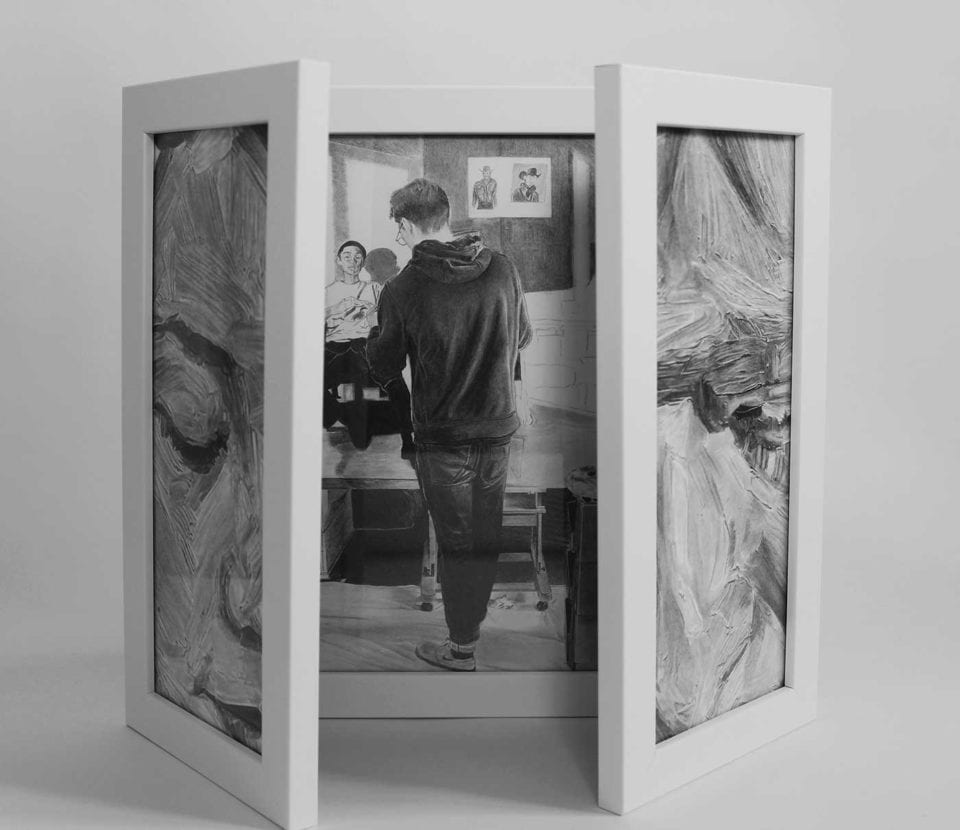 A: How does Derek's Room fit into the broader array of exhibitions at the Studio 3 Gallery?
EMD: Studio 3 Gallery presents a varied programme, including curated research exhibitions and student-led projects, events and shows. With Derek's Room we can add a fourth category to that: an annual open submission exhibition. Every year we put on two big research-led exhibitions. These are curated by the members of staff of the University and allow the opportunity for the broader public to engage with research topics.
For example, in September we had an exhibition, Leading Light, which brought together works by contemporary artists who push the medium of photography to its limits. The idea of this exhibition was inspired by ongoing philosophical debate, in particular, the so-called "new theory" of photography (see the work of Diarmiud Costello, Dawn Wilson, and Paloma Atencia-Linares) – a topic that researchers in the School of Arts have also been working on. For Leading Light I selected artists who fit within that discussion. Academic debate tends to happen in journal articles, conference rooms, or books – environments where images are either difficult to include (journals often only offer a grainy black/white image) or simply impossible (authors will have had the experience of outrageously high image licensing fees). As a result of this, the position of works of art in most discussions remains disappointingly illustrative or just decorative. More generally, exhibitions offer new ways of engaging the public with research, by presenting ideas through works of art.
A: The gallery is used to showcase student work – can you tell us a little more about this?
EMD: At the end of each academic year the MA Curating students present their degree project. Last year, students organised an exhibition with works that examined the psychology of distraction in contemporary art and culture. Several undergraduate modules from the School of Arts have projects in the gallery too. Last week, we had students run a fashion show as part of a module they're taking. In May, a group of fifteen students curated an exhibition of prints on the female nude. They brought together works by a variety of artists in order to rethink the representation of the female body throughout history. They had to negotiate loans with artists and galleries, write a catalogue and design marketing materials, among other things.  It's quite astonishing to see the creative capacity and power of young people when they're given the opportunity to take authorship of a project on this scale. There's a lot that is involved in curating an exhibition, and the students have to take responsibility for all these aspects – including arranging transport and assessing the condition of works when they arrive in the gallery. Having exhibitions as part of their curriculum really gives them the opportunity to develop skills that will set them apart from other graduates.
A: What does the gallery have planned for 2020?
EMD: I'm excited that in March 2020 I'll be collaborating with Dr Sweta Rajan-Rankin on an exhibition that will look at the use and representation of hair in contemporary art. We're very happy that the studio of Marina Abramović – perhaps the world's most significant performance artist – is lending us a work for this project.
Derek's Room runs 3-7 December. More details about the BA in Art History and MA in Curating can be found on the University of Kent website.
Lead image: Joseph Clarke, Untitled. Assemblage, digital painting on canvas.