1-54 Contemporary African Art Fair was founded in 2013 by Touria El Glaoui as "the first and only international fair dedicated to contemporary African art." This year, it celebrates a decade of providing visibility to creatives from Africa and its diaspora – hosting fairs in London, Marrakech and, this month, in New York. The 2023 edition features a 26 galleries from across the world — from Nevlunghavn to Cape Town and Los Angeles to Lagos. Discover five photographers making waves in the city from 18-21 May.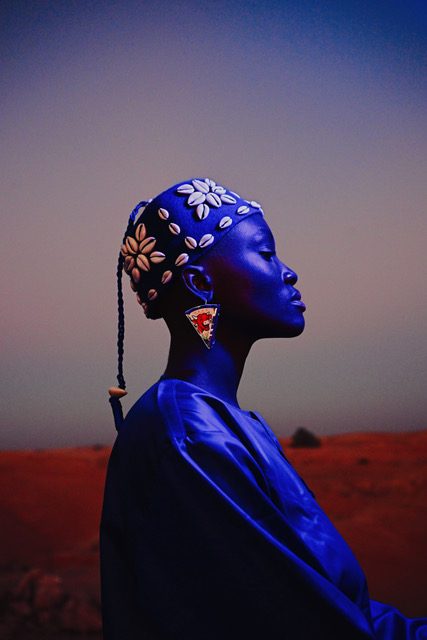 McDonald's fries. Ikea carrier bags. Laughing Cow cheese. The Nike swoosh. These are just some of the brands subverted by Mous Lamrabat's (b. 1983, above left) transformative fashion photography. The images are designed to ironically denounce consumer society, deftly mixing luxury items with counterfeits. Lamrabat's models – many of which have masked faces and bodies – are pictured within dramatic Moroccan landscapes, wearing bright garments or bathed in neon light. Following the completion of an interior architecture course, Lamrabat turned his attention to photography; his mission was – and remains – to represent Moroccan culture from a new perspective. He regularly collaborates with magazines such as Naatal, Tush Magazine, and Stylist France. At 1-54, the artist will be represented by by Loft Art Gallery.
Djeneba Aduayom's (above right) work is characterised by a sense of movement and performance, often accentuated by hints of abstraction and surrealism. Alienation (2018), for example, shows a model dressed in bright red, encapsulated within a soap bubble and staring directly into the lens. The portrait is part of a wider examination of human emotions: the rich array of feelings and experiences that unites us all. Aduayom's multidisciplinary imagery is inspired by her extensive travels, multicultural heritage, and ability to speak several languages. These influences coalesce in an imaginative, colourful and inimitable world, where dualities are juxtaposed in striking and complementary ways. Represented by Galerie Number 8.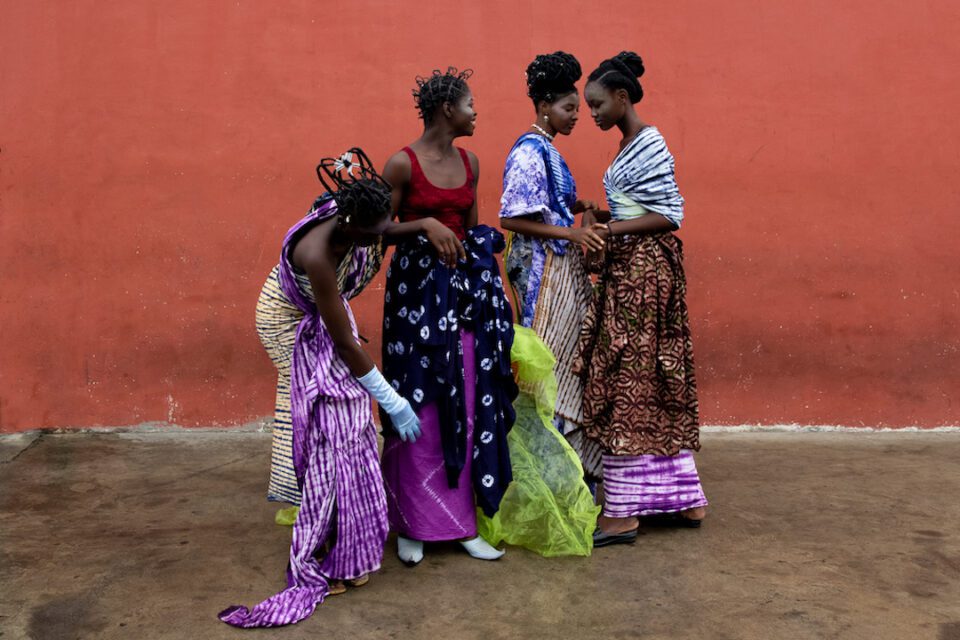 When Togolese-German photographer Delali Ayivi (b. 1998) discovered the work of her great great grandfather, Alex A., one of the first Togolese image-makers, she became inspired by the idea of documenting people. Her focus would be on fashion, and her practice dedicated to diversifying representations of Black communities. In 2019, Delali founded Togo Yéyé, a project which scouts innovative Togolese talent, documenting and empowering the country's creative community. Togo Yéyé has since been exhibited at the Photo Vogue Festival, and, in February 2022, opened a solo exhibition commissioned by the Palais de Lomé. Ayivi has released two series: Heimat (In Quarantine) and Reflections on 'Heimat'. The projects earned the artist the title Foam Talent 2021, and were shortlisted for the Taylor Wessing Photographic Portrait Prize. Galerie Number 8 represents Ayivi at 1-54 New York.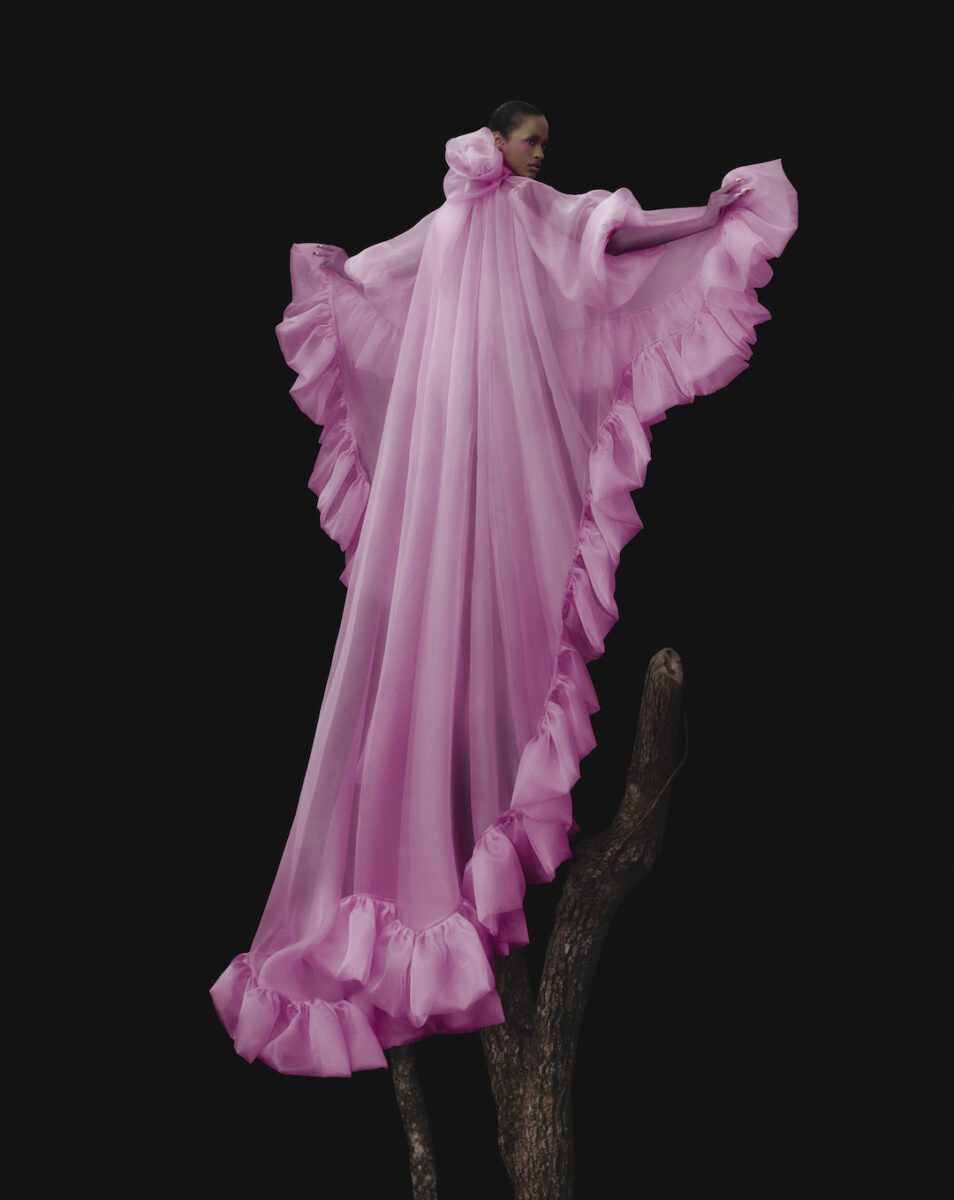 MAR+VIN (above left) is Marcos Florentino and Kelvin Yule, a duo of Brazilian fashion photographers. The pair combine their respective skills in journalism and graphic design to create work defined by curiosity, inquisitiveness and aesthetic details. As rising stars of the Brazilian creative scene, they create visually compelling pieces like A Língua dos Pássaros, Platalea, in which a model stands at the top of a tree in a pink chiffon robe – arms outstretched like a bird of paradise. There's an increasingly political aspect to the duo's body of work, which tackles socially engaged questions pertaining to LGBTQ+ rights and racism. MAR+VIN will be presented by Galerie Number 8.
Malick Welli (b. 1990) is a Senegalese visual artist whose work tackles themes of spirituality, history and memory. Each of Welli's compositions is deeply researched with a given community in mind: models are carefully selected; attire and colours chosen; and landmarks of spiritual significance pinpointed. Welli is interested in the forces and events which shape visual culture, and instances where seemingly independent events coincide and influence each other. Through meticulous curation, Welli delves into dualities and contradictions of human experience – from the convergence of religion and materialism to the impact of economics and global power dynamics. His work will be presented by Galerie Atiss Dakar.
---
1-54.com | 18 – 21 May
---
Image Credits
1. Malick Welli, Forgotten Paradise III, 2022. Pigment inkjet print on Hahnemuhle photo rag paper, 120 cm x 160 cm, Ed 1/1. Courtesy of Galerie Atiss Dakar.
2. Mous Lamrabat The girl with the cheesy earrings, 2022. 4 editions. Courtesy of Loft Art Gallery.
3. Djeneba Aduayom, Alienation, 2018, From the series 'Caspulated', Chromaluxe metal print, 106 x 80 cm – Ed 4. Courtesy of Galerie Number 8.
4. Delali Ayivi x Togo Yeye, The Dance, 2021, From the series 'Racines de l'imaginaire', Pigment inkjet print on Hahnemühle Photo Rag® Metallic, 90 x 60cm – Ed 3. Courtesy of Galerie Number 8.
5. MAR+VIN, A Língua dos Pássaros, Platalea, 2022, Pigment inkjet on fine art glossy paper, 100×80 cm. Courtesy of Galerie Number 8
6. Malick Welli, Forgotten Paradise III (detail), 2022. Pigment inkjet print on Hahnemuhle photo rag paper, 120 cm x 160 cm, Ed 1/1. Courtesy of Galerie Atiss Dakar.