Urban minimalism is growing in popularity through the rise of instagram. George Byrne's images build on this fascination, taking it to another level.
George Byrne (b. 1976) creates large-scale images that depict Californian landscapes as painterly abstractions. Comparable to the works of Lewis Baltz and Ellsworth Kelly, Byrne's collage-like photographs utilise the process of reduction; flattened lines and interjectory shadows become part of a wider dimensional puzzle that revels in texture. Byrne pro- vides an alluring interplay between concrete and colour that is at once minimal and deeply complex. Surfaces become a hive of possibility. The banal metropolis is translated into a multitonal playground, through abandoned sidewalks, luminous bollards and pastel awnings, the seemingly anonymous nature of Los Angeles architecture is illuminated.
Ian Volner is a New York-based editor and journalist who is well-versed in the nuances of architecture and design, and the way it communicates the human condition. He is the author of This is Frank Lloyd Wright (Laurence King Publish- ing), Philip Johnson: A Visual Biography (Phaidon) and The Great Great Wall (Abrams Books). He has also written for Harper's Bazaar, The Wall Street Journal, The New Republic and Architect Magazine, amongst others. Volner discusses Byrne's practice in the context of contemporary culture, with the release of the Post Truth, published 1 November.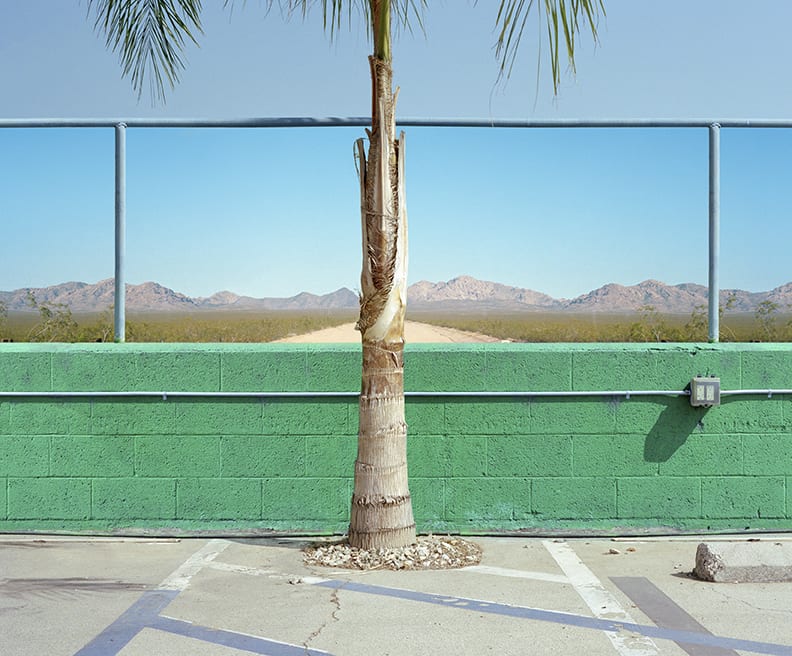 A: How did George Byrne's artistic career begin?
IV: Byrne moved to California a decade ago, but he was born and raised near Sydney, Australia, about as far out of town as one can get. As such, a large part of Byrne's earlier work consists of images of New South Wales – where he received a conservatory degree from the Sydney College of the Arts in 2001 and first came into contact with the work of David Hockney, Ed Ruscha, and a whole cavalcade of west coast artists who, more or less, invented LA in the artistic imagination. Growing up in the dynamic Byrne household meant there was always creativity in the air, and a bit of Hollywood as well: two of his sisters have gone on to have careers in the arts, and a third is now an actress. The subjectivity that inhabits Byrne's work grows, unquestionably, from his cultural consciousness. The effect of his whole corpus is to conjure a very particular variety of viewing – a mind at play in a singular, 21st century urban landscape – seeing it all through a highly specialised lens.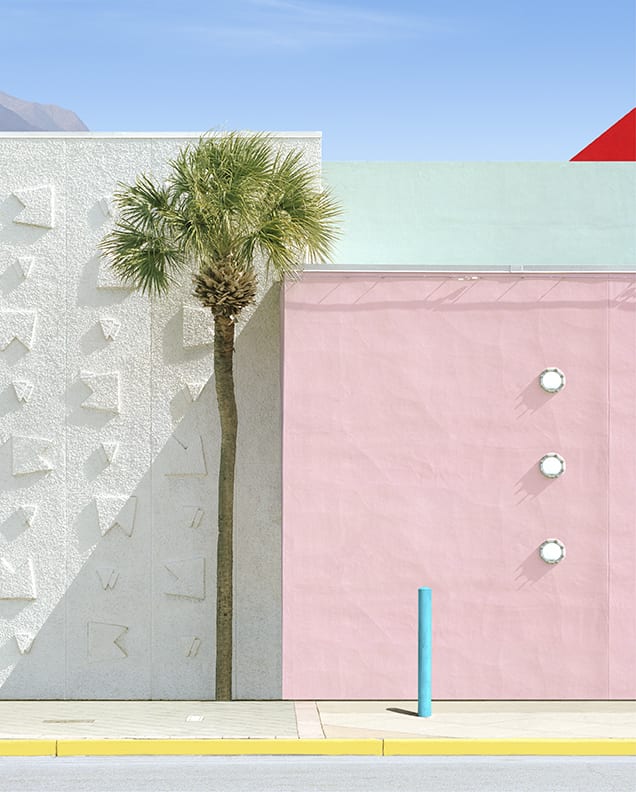 A: Byrne's influences are far-ranging and diverse, draw- ing from contemporary culture through the lens of film and television, as well as the historical – referencing more traditional painting and photography. How does he make sense of these inspirations and where do they come to play within these bright, poppy aesthetics?
IV: Indeed, it's almost impossible to speak about Byrne's work without speaking about its references – Hockney, Matisse and Ruscha, of course, but also Edward Hopper, Paolo Monti, James Casebere and even Wes Anderson. In a fully surf-able world – where everything is a click away from everything else – Byrne creates photographs that are indexes of modern visual culture, embracing the image-obsessed tumult of the Online Age – and translating it into superb artistry.
A: The artist draws from an interest in digital platforms, having come of age with the technological revolution. Where do these images sit within the "canon" of art?
IV: Born in the mid-1970s, Byrne is a generational cusper for whom digital media is basically reflexive, yet still strange enough to be interesting. His subject matter has been coloured by social media – and by a playful search for how that medium sits in relation to "high art" (if such a thing still exists). This much accounts for his techniques, as well as his objective: roaming the streetscape, collecting fragmentary visions and opportunistic snapshots of urban scenes captured in exquisite high definition (and usually in direct sunlight). He then returns to his studio, to the computer, and laboriously sifts through these sharp, contrast-heavy images, and chooses various elements from them. He then starts to meddle, using photographic software to cut, paste, re-colour and generally monkey around. This process is not only the product of digital technology, but fodder for it. Byrne posts many images, in various stages of completion, to his Instagram account, where they routinely draw "oohs" and "ahs" from a substantial number of followers.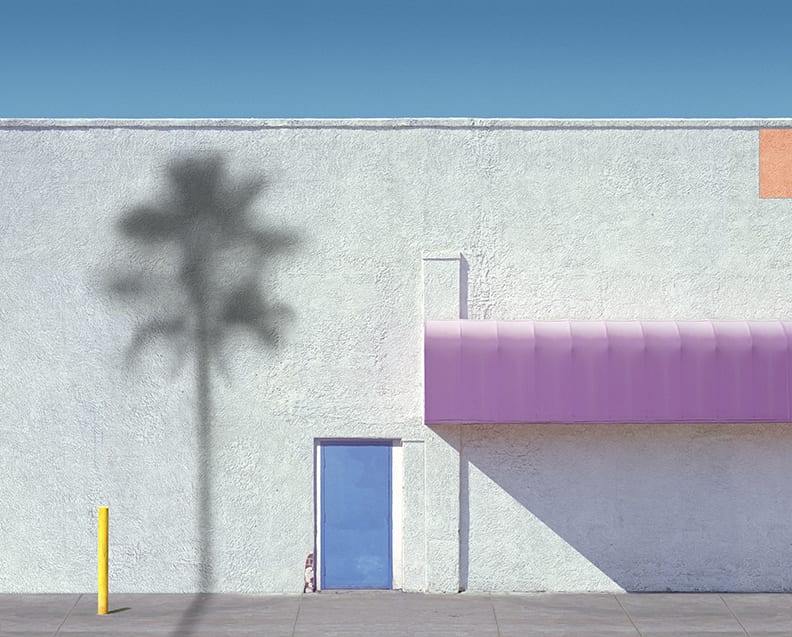 A: Since lockdown, virtual exhibitions are hugely popular, with millions of viewers going online to view artworks in new, interactive ways. Over the last few years, Byrne has achieved an impressive following online, but also places work in a number of physical galleries. How does his practice critically assess a new way of "viewing" art in the 21st century? Is there a best way to "see" the work?
IV: Certainly, their physical presence is astonishing: at the artist's most recent New York solo exhibition – at Olsen Gruin Gallery – a visitor felt they could all but fall into any one of the arm's-width, shoulder-height pieces, and their scale and illusionist intrigue have made Byrne especially in demand for private commissions. However, even in their final, analogue format – fabulously crisp, archival pigment prints that roll hot off Byrne's Epson press – the images do not shake off their digital identity. On the one hand, there is their uncanny artificiality – hovering at times just an inch from painting – inviting the viewer to lean in to figure out how and where the manipulation went down. On the other hand, there is deft composition, a geometric and tonal logic that is instantly apprehensible and therefore optimally suited to scrolling on an iPhone. Flatness, structural rigor, chromatic panache: these all add up to optics that are attuned to the small screen. When Byrne imports these computerised confections into the real world, the stunning ink-and-paper works seem almost like pixellated mirages, shimmering against the white wall of the gallery. Their eminent "internet-ness" is not just visual.
A: Artists have long toyed with the concepts of reality and artifice, imagining new worlds and altering the states of landscapes. What other techniques are at play here? IV: Without attempting to discern what is "real" and what is "invention" (which would probably be fruitless in any case), what is most immediately striking is the four-square, almost mechanistic relationship of image-to-picture plane. The roadway, the buildings, the slash of sky – the three major fields are perfectly rectilinear to the frame, treated more as horizontal registers than as features in a receding, three- dimensional perspective. Historically, this technique might sound familiar: it bears a strong resemblance to Cubism, and its "flatness and opacity of the literal surface," as Rosalind E. Krauss put it, "that anticipates collage." However, using soft- ware like scissors, Byrne goes one step further in this concept of transformation, setting the figurative elements of pilaster, stanchion and palm trees into a complementary arrangement that, for sheer gratification, echoes yet another art-historical standby, the cut-outs of Henri Matisse; and lastly, just for good measure, he tunes his palette to a splashy, florid pitch that is unmistakably David Hockney-esque. Et voila: the Byrne Effect, in all its beguiling splendour.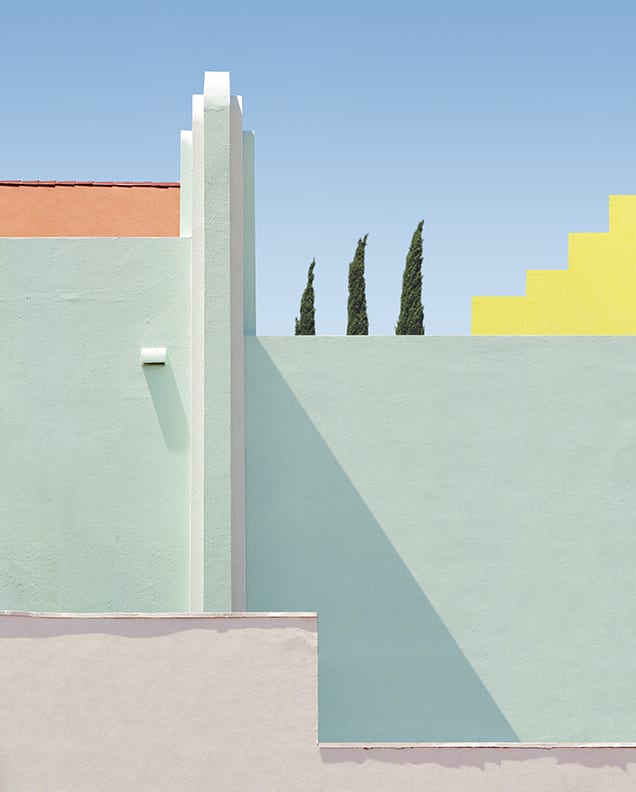 A: Though the images are sparsely populated, allowing the viewer room to revel in bleach blue skies and intersecting shadows, they offer many "signs" – unique details that capture a sense of isolation, or, at times, abandonment. Posters point to nowhere. Doors lead to abandoned buildings. How do these objects explore the state of "progress" in cities today?
IV: In the 2002 essay, Junkspace, architect and theorist Rem Koolhaas states that "Junkspace" is what remains after modernisation has run its course, or, more precisely, it is what coagulates whilst modernisation is in progress; it is fallout. Koolhaas (who, incidentally, also relied on photographs to document this phenomenon) was describing a variety of often-viewed but uncategorised, quasi-architectural residue: cement planters behind the gas station; a sheltered wedge of sidewalk under the marquee of a retail bank; the farthest end of the airport departure lane, beyond the smoker's corner: this is the spatial flotsam of the Anthropocene. Year in and year out, "junkspace" multiplies at an inordinate rate. Its volume is now so great that it is possible to imagine a landscape composed of nothing else: cities populated exclusively by street signs pointing to nowhere, empty disabled parking spaces next to closed storefronts stretching clear to the horizon. This brave new world is hiding in plain sight; all you need to see it is the right set of eyes. Fortunately, George Byrne provides them. Whatever we were before, Byrne's work transforms us into something like an obsessive flâneur prowling an unreal, unpeopled streetscape, full of confounding and often misleading information.
A: Beyond a multitude of cultural references, complex digital techniques and alluring aesthetics, what is it about these images that really pulls viewers in, drawing thousands of "likes" and new followers on Instagram. Why are we so interested in the "urban sublime"?
IV: Byrne reduces the city to its material quintessence: metal safety treads meeting spray paint meeting cracked cement. He pares everything back, leaving nothing but pastel-on- stucco. We have seen these things before, of course, but that is precisely what gives the work its unsettling undertow – its Post Truth, as Byrne titled a previous exhibition – disclosing a deeper truth about the cities we inhabit and how we inhabit them. He manages to induce an eerily familiar mental state – an encounter with the city bound to send a chill down the spine of anyone who has ever spent a lonely afternoon in Las Palmas, or on the eastern reaches of Chinatown, or drifting up North Gower at five o'clock, under the spreading darkness of the hills. The mysterious figure, we realise with a start, is us. Young or old, west coast or not, we all become the anonymous stalker at some point in time: standing at the intersection with a phone pressed to our face, trying to capture the colours of the sunset at the end of the boulevard.
Post Truth is available 1 November

georgebyrne.com
Lead Image: George Byrne, 35 Bank of America #2, 2018
1: George Byrne, 50 Desert Pit Stop, 2018.
2: George Byrne, 71st St. Miami, 2019.
3: George Byrne, 48 Pink Awning with Orange , 2018.
4: George Byrne, Post Truth, 2018.