ArtVilnius'20 opens this week. The fair, which has been postponed twice, returns for its 11th edition with a focus on photography and performance. Taking place 2-4 October at Vilnius' Litexpo, the international event showcases work by over 200 artists from 50 galleries. Discover 5 works to explore at the largest visual arts event in Eastern Europe.
Featured above is Kazys Daugėla's Gymnast, which captures a figure in mid-air, arms outstretched. A ball hovers just out of reach, heading upwards towards a cloud-dappled sky. It is an image that evokes the warmth of summer days, whilst experimenting with movement on film. It was taken in the late 1930s, but remains strikingly contemporary. The photographer is best known for his poignant work during the war, recording the experiences of Lithuanian deportees at the Kempten camp in Bavaria.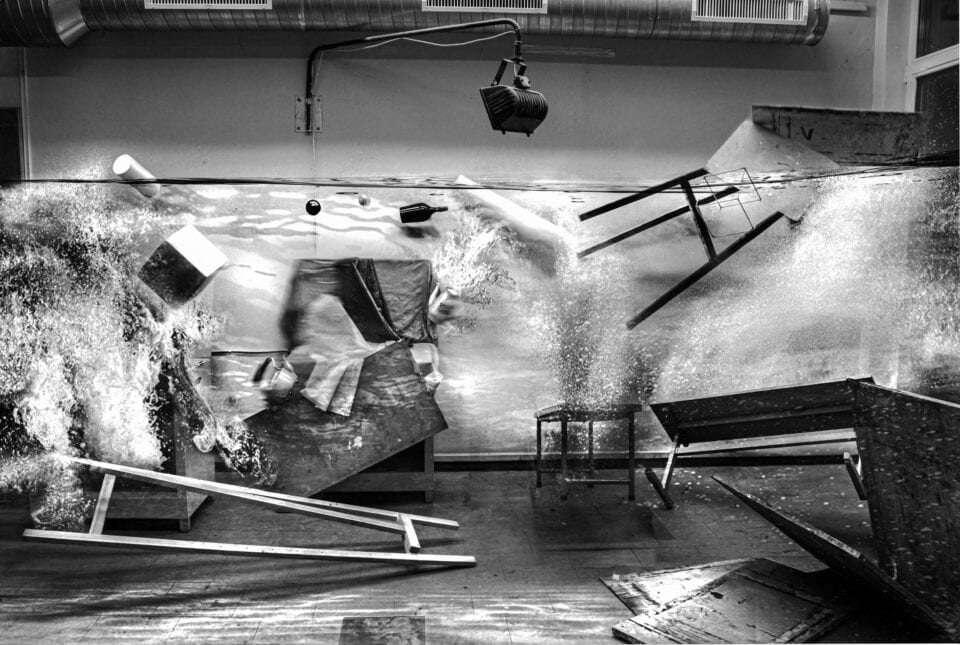 Laura Sabaliauskaitė creates virtual realities. The artist, represented by Meno Niša, films and photographs real objects which, through editing and animation, come to life. They find themselves in different situations or shapes – causing the viewer to look twice and question what is real. The above work, The Flood I, brings to mind Philippe Halsman and Salvador Dalí's surreal image Dalí Atomicus (1948), which features water, chairs and even cats flying through the air.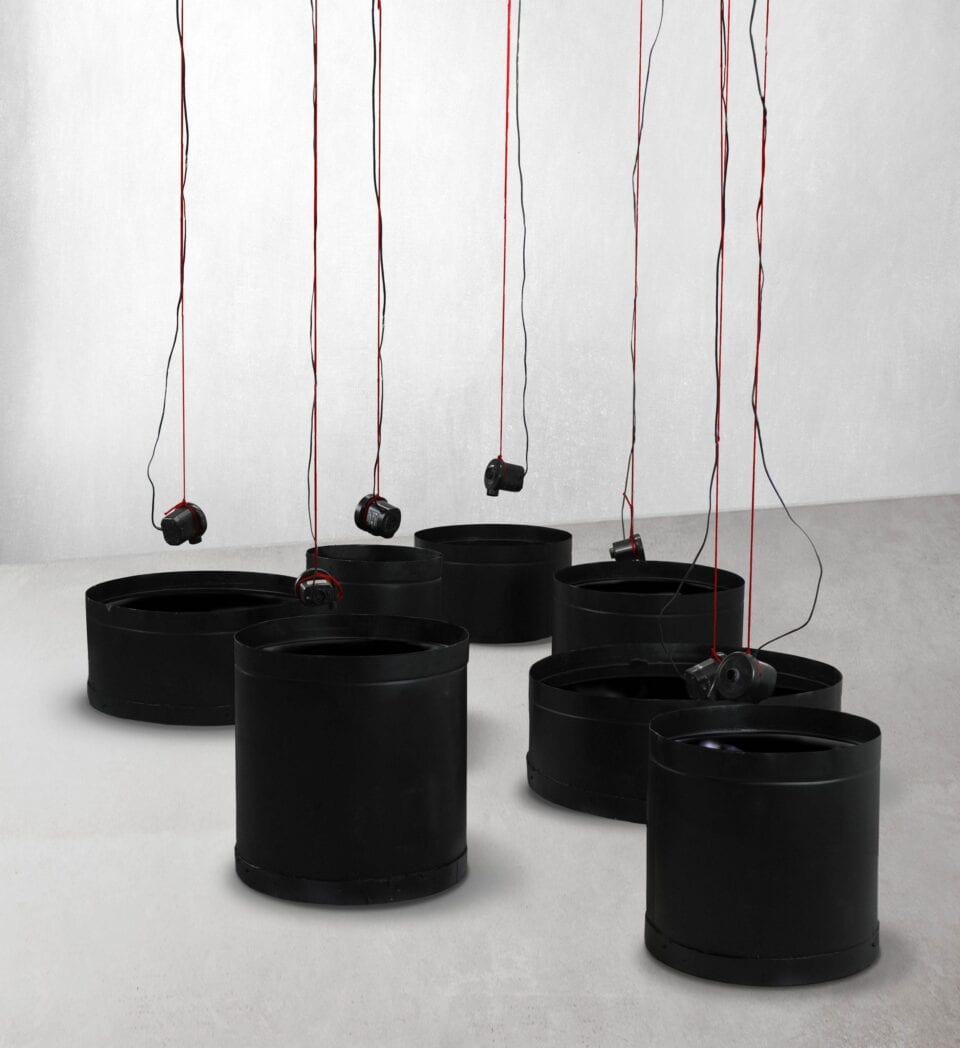 "We live in a time of material abundance when fashions change very often," says Domas Ignatavičius. "With my objects, I try to stop that endless change, to look at things by distracting them from everyday use. I try to see what they encode in themselves." In Tunnels, shown above, each of the seven barrels is illuminated by a single light source. Inside are photographs printed on transparent film, which are brought to life through a bright white glow. The installation is an attempt to reframe familiar objects; to take us out of the fast-paced everyday.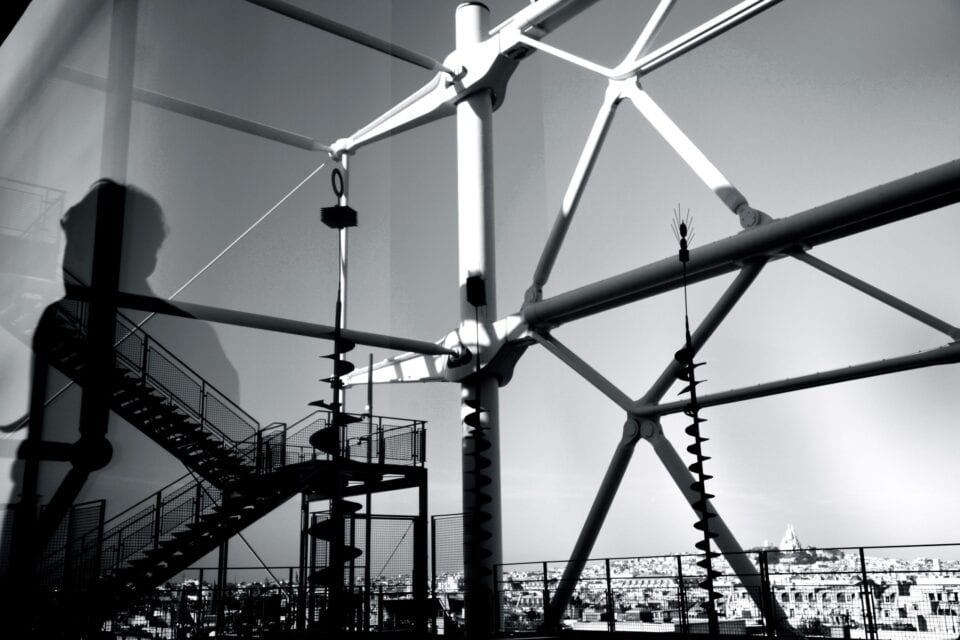 Tifāna Art Gallery presents black and white photography by Ilze Kuišele. Pictured here is Signal II, part of the presentation at Art Vilnius. It captures an industrial structure hovering above the city. In the background, buildings extend towards the horizon. On the left is the shadow of a person – almost ghost-like. The figure's soft, fading form contrasts with the sharp, linear angles of the building, offering multiple interpretations. History, progress and communication are all themes to be considered.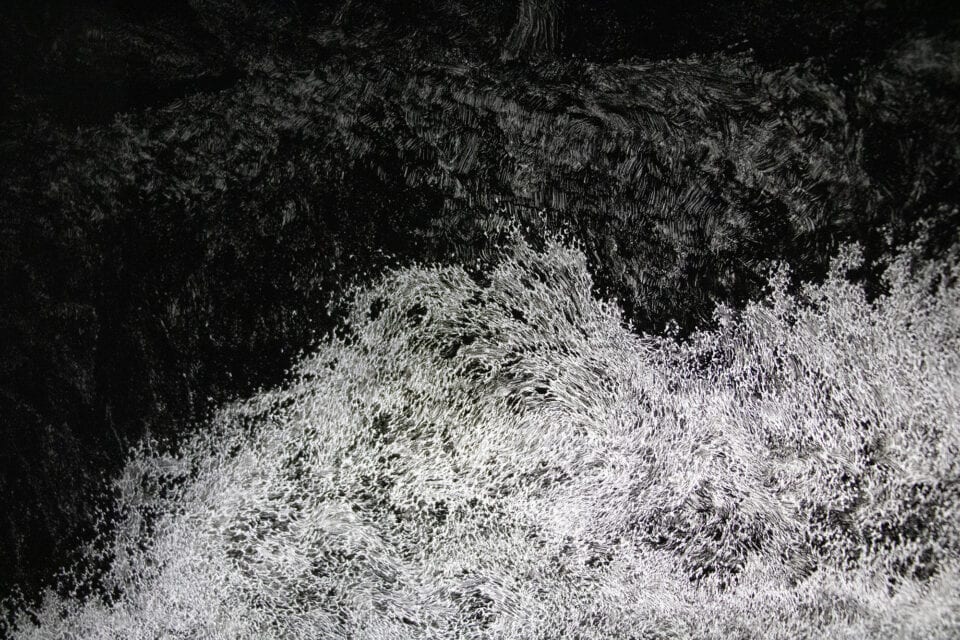 Linas Blažiūnas is interested in the qualities of light – using natural and artificial sources to create experimental graphic artworks. The resulting images often draw on nature: crashing waves, cascading waterfalls, bolts of lightning and glowing moons. They are full of drama and evoke the sublime – giving them an almost romantic sensibility. Once installed in a gallery space, the works are illuminated by bright beams or backlit, focusing the eye.
---
Explore the online catalogue from home.
---
Lead image: Kazys Daugėla, Gimnastė, c. 1938
1. Laura Sabaliauskaitė, The Flood I, Digital Print
2. Domas Ignatavičius, Tunnels, Installation
3. Ilze Kuišele, Signal II
4. Linas Blažiūnas, Šviesupė, 2020