The fifth edition of Dhaka Art Summit, Bangladesh, presents the question: "What is a movement and how do we generate one outside of an exhibition?" Titled Seismic Movements, the event invites over 500 creatives, academics and curators to dissect art history – looking at how to create a more inclusive industry.
For 2020, artists from around the world question how creativity can empower and stimulate social, political and environmental progression as part of the Samdani Art Award. Alongside the prize, panel discussions and performances examine geographical, historical and collective movements. The event explores the benefits of assessing the world broadly – "outside narrow domestic walls." What kinds of issues should we be engaging with? What changes can we be making towards who and what we represent? Under whose terms of engagement will we encourage wider representation in the sector?
One example is Ashfika Rahman, who explores repression and hierarchies through photography. The series The Last Audience (2016), documents an abandoned cinema hall in the heart of Old Dhaka. The building, once a landmark of entertainment and community, is now home to illegal activities and marginalised communities. The bold collection of portraits depicts damp walls and discarded objects which contrast with figures wearing bright saris. These images explore ideas of the individual and their stories, engaging with complex narratives about the isolation of individuals from society.
Another featured artist is Samsul Alam Helal, who is presenting new work, titled Disappearing Roots, at Dhaka Art Summit. The artist's previous series Runaway Lovers is pictured here. It depicts joyful portraits of embracing couples, set within vivid domestic scenes. These idealistic pictures are interrupted by fire, shattered glass and masked faces – visual metaphors for the still-prevalent social and religious dictations around marriage. These images consider a loss of self and partnership through the lens of separation and violence. By presenting these visual narratives, the photographer allows the relationships to exist in a safe setting, offering a progressive vision of acceptance, freedom and security.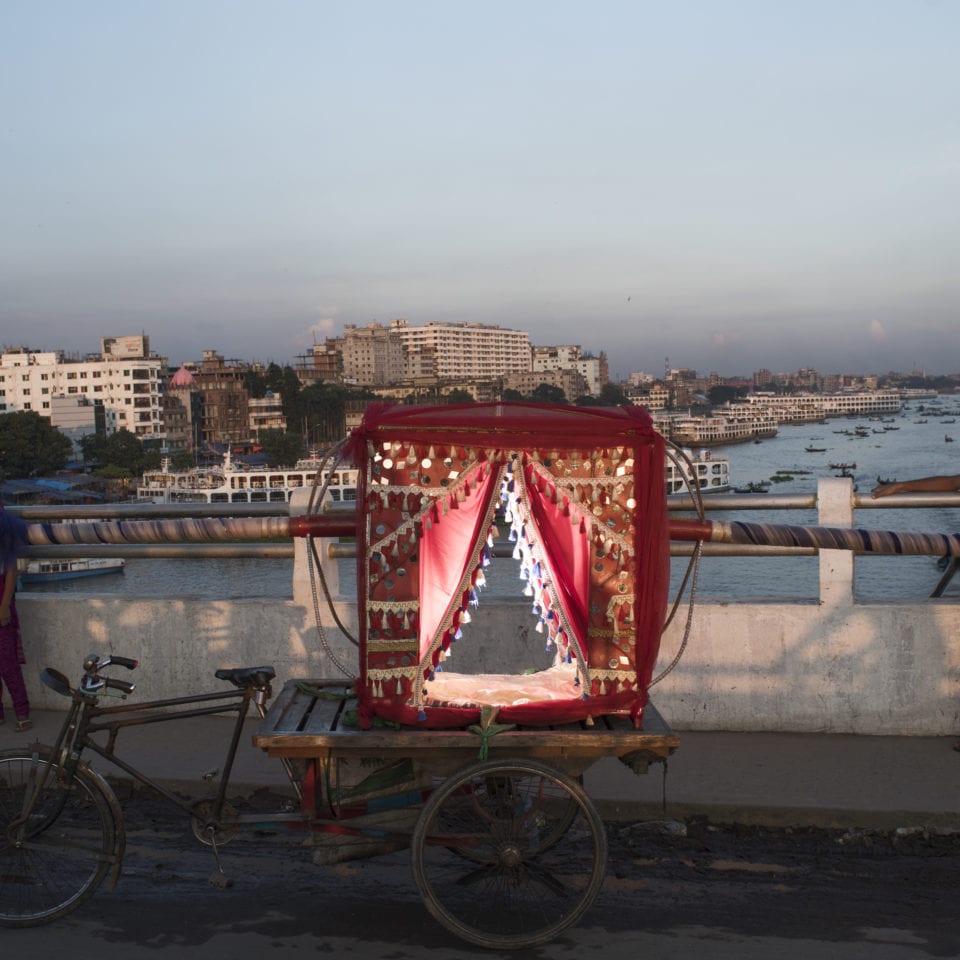 This year's Samdani Art Award-winner, Soma Surovi Jannat (b. 1990), emphasises the importance of sustainable living through an installation titled Into the Yarn, Out in the One (2019-2020). Elongated tables of illustrated handmade paper weave between crafted objects. The work is made from organic materials, including clay, sugarcane and rice straw, drawing attention to alternative substances and bio-resources. The artist collaborated with a prevalent potting village in Lalmonirhat, placing the rural community at the heart of the piece, presenting global environmental concerns with grass-roots inclusion and expression.
Dhaka Art Summit is until 15 February. Find out more here.
Images: Samsul Alam Helal, Runaway Lovers. Image courtesy of the artist. Dhaka Art Summit: Seismic Movements is produced by Samdani Art Foundation, 7-15 February 2020, www.dhakaartsummit.org.